Justin Lyon Joins Boushey Vineyards as Viticulturist
Posted on March 25, 2015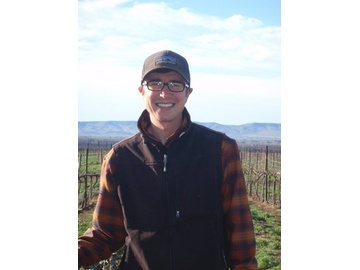 Boushey Vineyards announces the hiring of Justin Lyon. Justin will serve as lead viticulturist overseeing all vineyard activities within the company.

"I am excited and eager to work with Boushey Vineyards. There is a great sense of pride growing up in the Yakima Valley and now having the opportunity to work and impact the area."

Justin grew up in Prosser, WA where he was raised helping work and manage the family orchard. Growing up in the Yakima Valley led to his love and appreciation for agriculture and the wine industry.

Justin attended Columbia Basin College and then took an internship position in enology at Columbia Crest Winery in Paterson, WA. He then attended Washington State University and majored in Fruit, Vegetable and Bramble management with an emphasis in viticulture.

Upon receiving his degree, Justin was hired by Winemakers LLC as a viticulturist. He worked with Winemakers LLC, one of the larger vineyard operations in Washington State, from 2011 to 2015.

"We are glad to have Justin join our team. We know his experience, background and education will enhance what we do and his passion and eagerness will be an asset to our organization," says owner Dick Boushey.

About Boushey Vineyards - The family run farm started growing wine grapes in the Yakima Valley in 1980. The farm started with Apples and now grow Juice Grapes and Rainier Cherries along with Wine Grapes. Boushey Vineyards currently sale wine grapes to over 30 ultra-premium wineries in Washington and other states. Along with their own vineyards, the Bousheys, also manage and develop vineyards mainly in the Red Mountain AVA area for wineries and investment groups.
Region:
Washington
Job Function:
Vineyard Management/Viticulture