David Scurlock Inducted Into the Ohio Wine Hall of Fame
Posted on February 18, 2015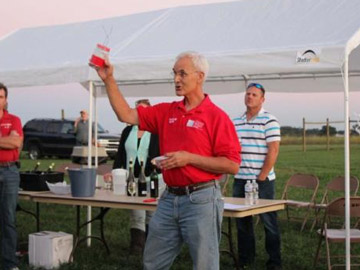 Dublin, Ohio -- At the annual banquet at the Ohio Grape and Wine Conference, February 16, David Scurlock was honored by his peers and inducted to the Ohio Wine Hall of Fame.
It is the highest honor the Ohio Wine and Grape community can bestow.
David joined the OARDC team in 1980 and for 35 years, his work has played a seminal role in the growth of and success in the grape and winegrape industry in the state.
When David began his career, fully 90 percent of Ohio's vineyards were devoted to the traditional native grapes, most being used for juice, with just a small percentage made into regionally popular wines. Over the years much of the original acreage has been converted to hybrids and viniferas which are now producing world class wines. He has visited scores of potential vineyard sites to help those just getting into the business. He has worked closely with long established growers and guided their progress. David's efforts have aided every grower, large or small, new to the business or a veteran in the industry...and he has encouraged all to strive for excellence.
David's winning personality, incredible work ethic, ability to communicate clearly and his easy manner have complemented an extensive knowledge viticulture [grape growing]. His focus on practical application of new research has helped shape the future of nearly every one of the state's vineyards.
He has the utmost respect of the industry and all of his peers: The congratulatory comments, just a few of which are listed below, are evidence of the respect with which he is held by all within the grape and wine community.
From Dr. David Ferree, retired OARDC director: "His enthusiasm was contagious"
From Lee Klingshirn, winery owner of Klingshirn Winery: "David's advice and support has been critical to helping us grow quality grapes here in the Avon Lake area."
From co worker and extension enologist Todd Steiner: "Dave is always looking out for a situation to express thanks, gratitude and recognition of others rather than for himself."
From winery owner Kenny Schuchter of Valley Vineyards in Morrow:
"We at Valley Vineyards recognize that without David and the industry would not be where it is today."
From Dr. James Gallander, retired OARDC enologist; "Dave has established an increddible program at OSU/OARDC inclding workshops, vineyard demonstrations, internet newsletters and numerous site visits."
From Tony Debevc,winery owner at Debonne' Vineyards in Madison: "David's work has contributed mightily to our success."
David and his life partner Mary Cobelntz are residents of Wooster.

The Ohio Wine Hall of Fame was established in 2001 by the Ohio Wine Producers Association to honor those who have made significant contributions to the growth and success of the industry. Currently it is a virtual 'hall' at OhioWines.org but in the spring of 2015 will be officially hosted at the Pairings, the Ohio Wine and Culinary Experience [PairingsOhio]
Region:
Great Lakes, USA