Stephanie Jarvis Named Marketing Manager for Hazlitt 1852 Vineyards
Posted on January 20, 2015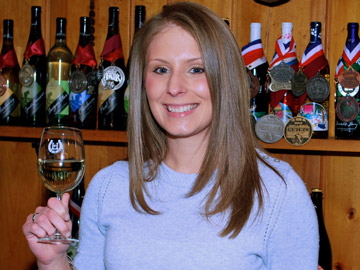 Corning, NY (January 15, 2015) – Hazlitt 1852 Vineyards announces the hiring of Stephanie Jarvis as marketing manager. Jarvis will be developing and executing all marketing plans for new and existing products within the Hazlitt's business units (Hazlitt 1852 Vineyards, Hazlitt's Red Cat Cellars, Hazlitt's Cider Tree, and East Coast Crush and Co-Pack). Jarvis joins Hazlitt 1852 Vineyards after her position as Finger Lakes Wine Alliance's program manager.
"I am thrilled to take on the marketing manager role at Hazlitt 1852 Vineyards. The Hazlitt family and brand are amazing and admirable; and I am honored to be working with them," stated Jarvis. "2015 is a big year for the winery, including celebrating its 30th Wine-A-Versary and I am excited to be part of it and many more milestones to come!"
"The Hazlitt family is excited to have Stephanie Jarvis join the team and spearhead the marketing initiatives for our businesses," said Leigh Hazlitt Triner, owner of Hazlitt 1852 Vineyards. "Stephanie's experience with Finger Lakes Wine Alliance has prepared her to lead our marketing program and take it to the next level. Stephanie is both self-motivated and hardworking. These qualities combined with her experience and passion for the Finger Lakes region make her a powerhouse marketer and we are thrilled to have her."
While at Finger Lakes Wine Alliance, Jarvis was responsible for driving the mission of the organization through creating and executing the annual program of work, managing 30+ winery membership, coordinating national wine publication wine submissions, and web-based marketing initiatives including managing the organization's web site, email campaigns, and social media marketing. As the first full time program manager, Jarvis developed and managed the Virtual Tasting Series, a media-specific tasting event hosted via Twitter, as well as developing and managing Finger Lakes Wine Month and the Vintage Riesling Launch.
Jarvis holds a Masters of Business Administration from Rochester Institute of Technology and bachelor's degree in business administration, concentrating in marketing and sports management from Keuka College. She hails from Horseheads, NY.
About Hazlitt 1852 Vineyards
The Hazlitt family has been growing superb grapes on the eastern shore of Seneca Lake, NY for over 150 years. Established in 1985, Hazlitt 1852 Vineyards celebrates 30 years as a family winery with a tradition of award-winning viticulture and wine production. Its internationally-renowned wines include Riesling, Homestead Reserve Riesling, Pinot Gris, Gewürztraminer, Sauvignon Blanc, Cabernet Franc, Cabernet Sauvignon, White Stag and Bramble Berry. Most notably, Hazlitt is famous for its Red Cat and White Cat – two of the most popular and best-selling New York State wines available. For more information, visit www.Hazlitt1852.com or www.redcatwine.com.
Region:
Northeast, USA
Job Function:
Sales/Marketing, Direct to Consumer