Piattelli Vineyards Doubling Wine Sales in 2015, Hires National US Sales Director
Posted on January 06, 2015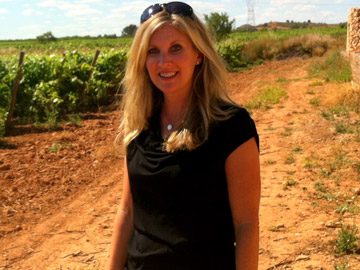 Piattelli Vineyards of Argentina has hired Lisa Runyan to direct national sales in the United States as it ramps 2015 sales efforts to reflect significant production increases in its Mendoza and Salta locations.
Piattelli's wine sales are expected to reach 60,000 cases this year.
Runyan is recognized for her performance and management in international sales and distribution of food and beverage brands for 16 years. She has worked for global brands Coors, Campbell Soup and, most recently, Casa Vinicola Zonin, Italy's largest privately held wine company. She has received several national awards commending her job performance with these Fortune 500 companies.
"2015 is the year we are expanding our national market presence in an exponential way, and we are happy to have one of the top performers in the industry join Piattelli to lead our U.S. sales efforts," said Piattelli Vineyards owner and retired US businessman Jon Malinski. "Her experience of working in many facets of wine distribution as well as with national accounts positions Piattelli to move in many exciting new directions."
Runyan says the combination of the quality of Piattelli's wine, the entrepreneurial spirit of American acumen and the multi-generational expertise of the Argentine winemaking team is a recipe for tremendous success.
"What excites me about Piattelli is the family, the structure of the company and the quality of the wine," she said. "Unlike some new products coming to market, a solid foundation has been laid for this brand. Now we simply need to turn on sales."
Originally founded by descendants of the Italian Piattelli family, the Malinskis purchased the infant winery in Mendoza in 2002. In 2013, they opened a second multimillion-dollar, winery in the remote Salta region of northwest Argentina, a region now becoming known as one of the world's still-undiscovered treasures to explore.
Piattelli has received numerous accolades since releasing its first vintage nearly a decade ago, including recent awards by Wine Spectator of 92 points for the 2010 Grand Reserve Trinità, 89 points for both the 2012 Premium Reserve Cabernet Sauvignon and 2010 Grand Reserve Malbec, and 88 points for both the 2011 Premium Reserve Malbec and 2013 Torrontés.
About Lisa Runyan
Lisa Runyan is a performance and growth-driven sales management executive for international strategy and sales volume, national account development, brand growth, and profitability. Lisa began her career in the beverage industry at the local level advancing her career into national and international consumer product companies. Throughout her career she has consistently delivered growth above market conditions managing national accounts and distributor networks. Lisa is the recipient of several national sales achievement awards showing excellence in job performance working with Fortune 500 companies and most recently with Italy's largest privately held wine company, Casa Vinicola Zonin.
Runyan holds a B.S. degree from Indiana University, Bloomington, Indiana. She is a member of the Society of Wine Educators, the Court of Master Sommeliers, and has completed the E&J Gallo Management Development Program.
About Piattelli Vineyards
Piattelli Vineyards covers 477 acres in Cafayate, Salta (elev. 5,577 feet) and 121 acres in Luján de Cuyo, Mendoza (elev. 3,300 feet). Overseen by Principal Winemaker Valeria Antolin, Piattelli's wines fall between the US $10 to $30 range. Piattelli Vineyards has received many top ratings from such well-known publications as Wine Spectator, Wine Enthusiast, the Wine Advocate and Stephen Tanzer's International Wine Cellar. It is distributed in Minnesota by Vinocopia Inc and operates nationally in the United States under the Zonin USA import umbrella.
Region:
South America
Job Function:
Sales/Marketing