Fox Run Vineyards Names Sarah Gummoe Assistant Winemaker
Posted on September 03, 2014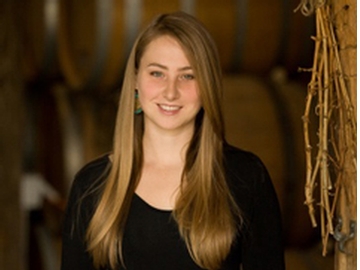 Fox Run Vineyards announced that Sarah Gummoe has been named assistant winemaker. In this position, Gummoe will continue to work with head winemaker Peter Bell on the full portfolio of estate grown, cool-climate wines.
Sarah Gummoe started at Fox Run in 2007 working in the tasting room part-time while in college. A Rochester, NY native and a graduate of Hobart and William Smith Colleges, she earned a degree in sociology, cum laude. After graduation, she took a job in the non-profit sector in Boston but returned to Fox Run in 2011 to pursue a career in winemaking.
"Working in the Finger Lakes has been especially rewarding because of the unique camaraderie and almost family-like spirit that exists among winemakers here. That atmosphere makes for an amazing place to continue to grow and learn in a career," says Sarah Gummoe.
Gummoe is currently enrolled in the UC Davis University of California Winemaking Extension Program and has gained valuable experience while working overseas. During the northern hemisphere "off" season she has traveled to the southern hemisphere for the past two years to work vintages in Marlborough, New Zealand (Saint Clair Family Estate, 2014) and Clare Valley, Australia (Knappstein Winery, 2013).
"Sarah's passion for making wine and her experience working in Australia and New Zealand will add another dimension to the winemaking team here at Fox Run," says owner Scott Osborn.
"I am thrilled that Sarah has accepted this senior position on my winemaking team. She brings a profound understanding of the winemaking process as well as an excellent palate. Perhaps just as important, Sarah is a wonderfully warm and affable individual," says Peter Bell.
Fox Run Vineyards overlooks Seneca Lake in the heart of New York's Finger Lakes, America's premier cool-climate wine region. With fifty acres of vineyards, the winery is one of the region's first artisanal wine producers, creating a remarkable range of limited-production, site-expressive estate wines. Regularly recognized in national wine publications, Fox Run Vineyards was named one of the top 100 wineries by Wine & Spirits Magazine in 2008, and has been a multiple gold medal winner at the Riesling du Monde competition in Strasbourg, France. Visit Fox Run Vineyards online at www.foxrunvineyards.com.

Region:
New York
Job Function:
Winemaking