Fess Parker Winery Appoints Tyler Eck Assistant Winemaker
Posted on August 08, 2014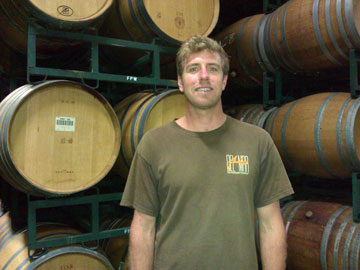 Fess Parker Winery, located on the Foxen Canyon Wine Trail of Santa Barbara Wine Country, has announced the appointment of Tyler Eck as Assistant Winemaker.
Eck, a UCSB graduate (Class of 2007, Arts/Geography) also received his graduate diploma in Viticulture and Oenology from Lincoln University in New Zealand.
Previously, Eck enjoyed successful stints at Domaine Francois Villard, in the Rhone Valley of France. There, he oversaw cellar duties and worked with white wines from the Cote Rotie, Condrieu, Croze Hermitage and St. Joseph regions. He also worked at Stefano Lubiana Wines in Tasmania, Church Road and Waipara Downs, both in New Zealand, and at Sonoma Coast's Peay Vineyards.
Eck will be assisting winemaker, Blair Fox and Winemaker Emeritus, Eli Parker.
Fess Parker Winery was founded in 1987 by Actor Fess Parker (1924-2010), who was considered by many to be an American icon. His portrayal of frontiersmen Davy Crockett and Daniel Boone impacted millions of young viewers in the late 1950's and 60's. Today, the winery is family-owned and operated by the next generation of the Fess Parker family. This year, the winery celebrates its 25th anniversary, while Daniel Boone celebrates its 50th anniversary.
Region:
Central Coast
Job Function:
Winemaking