Peter Becraft Named Anthony Road Winemaker
Posted on June 10, 2014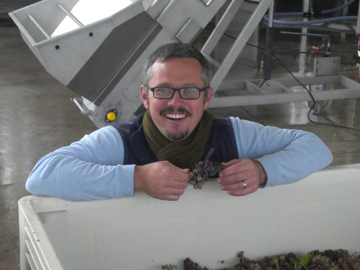 Ann and John Martini, founders and owners of Anthony Road Wine Company, have announced the appointment of Peter Becraft as Anthony Road's head winemaker.
Becraft succeeds Johannes Reinhardt, who steps back and assumes a consulting role at the winery.
"We are pleased to have Peter with us here at Anthony Road, and we are confident he will continue to produce the quality wines as he has working with Johannes for the past six years," John Martini said. "His appreciation for style and quality is evident and reflected in the wines he has made
here."
Becraft comes from a fine arts background but has a passion for anything and everything wine. A chance encounter with Reinhardt in the winery's Finger Lakes tasting room led to a job in the wine cellar. Becraft spent his first two years at Anthony Road splitting his time between the cellar and the
vineyard, gaining both experience and knowledge. In 2008, he was offered a full-time cellar position as associate winemaker.
"When I was in art school, we learned that in general people look at a piece of art for 7 seconds, and then move on. As a winemaker I can use this passion and creativity and connect a lot deeper with people," Becraft said. "With wine you become part of their meals, their lives, I get to make a
bigger connection."
Reinhardt, who has been Anthony Road's head winemaker for 14 years, is stepping down as lead winemaker to focus more on the vineyard and wines at his winery, Kemmeter Wines, which happens to be across the road from Anthony Road.
"Ann and John have been extremely supportive of my efforts and I am truly grateful to have been brought to their winery and into their family," Reinhardt said. "Peter is a great fit for Anthony Road and the wines he makes express the fruit grown here ‹ a reflection of our cool climate."
Anthony Road produces a wide range of wines with estate and Finger Lakes-grown fruit. The winery has a philosophy of respecting the quality and character of the fruit, letting that lead the winemaking process.
With this philosophy, the wines have been well received and recognized in New York State and around the world. Anthony Road¹s 2008 Semi-Dry Riesling captured New York¹s prestigious Governor¹s Cup in 2009 and its 2008 Dry Riesling won a Gold Medal at the Riesling du monde in Strasbourg, France, in
2010.
Anthony Road wines currently are distributed in more than eight states, in Europe and Japan.
Anthony Road Wine Co. is located off Route 14, about 10 miles south of Geneva on the west side of Seneca Lake. For more about the winery, call 800-559-2182 (toll-free) or 315-536-2182, e-mail info@anthonyroad.com
Anthony Road is in the heart of Finger Lakes Wine Country in upstate New York. Finger Lakes Wine Country is the largest concentration of wineries east of California, boasting more than 100 wineries. For more details about the region, go to www.fingerlakeswinecountry.com.
Region:
New York
Job Function:
Winemaking