Jason Wiseman New Owner at Brushy Mountain Winery in Downtown Elkin
Posted on March 11, 2014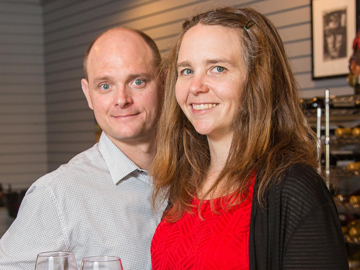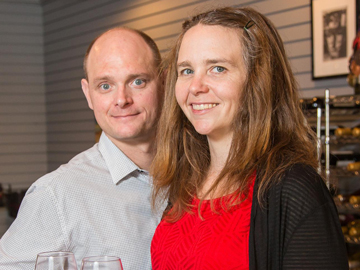 .Jason Wiseman, winemaker at Brushy Mountain Winery since 2008, recently added a new title: owner.
Wiseman and partner Amy Euliss purchased the downtown Elkin winery in December. They plan to continue the vision set forth by previous owner Beth Duncan to remake Brushy Mountain into a vibrant urban winery on Elkin's Main Street.
"Beth's renovation gave the winery a completely different atmosphere - more of an urban feel," said Wiseman. "We've taken that even further. We're hosting live music Friday and Saturday nights. And we want to work with local art councils to hold artist receptions and other events that enrich and enliven this community."
Brushy Mountain will continue offering its 12 established wines under the main Brushy Mountain label, while adding an occasional varietal under a new label, Foothills Folly.
"It's important that people know we've worked with the same vineyards and growers since our very first vintage," Wiseman said. "Even though we don't own vineyards, all wine is made on premise. Our cellar, barrel room, our lab - everything is below this building."
Wiseman takes a classic approach to his craft. He lets the grapes dictate the style of wine with minimal intervention. This has led to consistently high marks for Brushy Mountain wines.
As owners, Euliss and Wiseman form a solid team. She handles operations, accounting, marketing and most of the business side, while Wiseman focuses on winemaking.
Both are North Carolina natives and Appalachian State graduates who lived in Napa Valley for two years, then returned home to be involved in their home state's wine industry.
"We're all about the Yadkin Valley," Wiseman said. "What we're seeing is an industry that is starting to mature. The quality of wines is getting better. People understand North Carolina winemaking more. For consumers, there are all kinds of wine experiences available here."
Elkin's emergence as a popular Yadkin Valley destination was a key factor in the decision to purchase the winery. Downtown has been revitalized and Elkin was recently named one of "America's 10 Coolest Small Towns" by Budget Travel magazine.
"We like the direction of Elkin moving forward," said Wiseman. "The timing was great."
For info on the winery, call 336-835-1313 or visit www.BrushyMountainWine.com.

Region:
North Carolina
Job Function:
Winemaking, President/Owner/GM