Chateau Morrisette Winery Names Brian Cheeseborough New Winemaker
Posted on February 25, 2014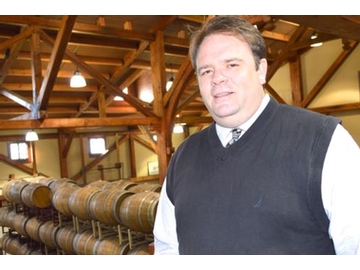 Chateau Morrisette Winery announces the appointment of internationally acclaimed winemaker Brian Cheeseborough as Oenologist and Winemaker effective immediately.
Cheeseborough has an extensive winemaking background along with a collection of award-winning wines. Most recently, he produced wines for Vignobles Garcin, a collection of five Chateaux located in France's Bordeaux region, including Chateau Barde Haut, a St. Emilion Grand Cru Classe. His wines have consistently received ratings in the nineties from both Wine Spectator and Wine Advocate. The 2012 Clos l'Eglise from Pomerol was rated 92-95 points. Additionally, he represented the family and wines with the Union des Grand Crus & Cercle Rive Droite throughout France, North America, and Asia. Also, he has traveled annually to Mendoza for the Malbec harvest, serving as principle winemaker for Bodega Poesia, the family's Argentina venture. Again, his Argentinian wines scored above 93 points with the leading wine journals.
Prior to his winemaker's post in Bordeaux, Cheeseborough served as the founding winemaker and business partner for Grizzly Republic, a California winery where he produced numerous award-winning wines, including the 2006 Tempranillo from El Dorado, which won three gold medals, a "Best of Class" at the 2009 San Francisco Chronicle Wine Competition, and a Platinum award from the Wine Critic's Challenge in San Diego. In 2011, he and his business partners sold Grizzly Republic.
Before becoming a winemaker, Cheeseborough worked in commercial real estate acquisitions and finance. After 9/11, he transitioned into the winemaking profession as an oenologist, associate winemaker, and export winemaker in Sonoma and Paso Robles. He holds a degree from University of California, Irvine and has completed post baccalaureate and graduate studies at California State University, Fresno.
While preparing for his first Virginia harvest in Fall 2014, Cheeseborough will be inheriting the prior vintages currently in the cellar, and monitoring their elevage through to bottling. "I am very happy to come to work for Chateau Morrisette," said Cheeseborough. "The winery has done very well on the regional level and produced some very nice wines. I hope my knowledge and approach to winemaking will help realize the potential of Virginia terroir and elevate the wines to the highest standards of quality."
David Morrisette, President of Chateau Morrisette, said, "We are very pleased Brian accepted this appointment. I've tasted some of his wines, and they are truly excellent. He has extensive knowledge and a world-class background. I'm looking forward to seeing where he takes us with future vintages."
About Chateau Morrisette
Chateau Morrisette has retail distribution throughout Virginia, North Carolina, West Virginia, Eastern Tennessee, and Tianjin, China. The direct to consumer program provides wine to customers in most areas of the country. The winery currently produces over 65,000 cases each year with plans to increase production. Chateau Morrisette is located at milepost 171.5 on the Blue Ridge Parkway in beautiful Floyd County, Virginia. For more information, visit www.thedogs.com, call (540) 593-2865, or follow us on Facebook.
Region:
Virginia
Job Function:
Winemaking