Castello di Amorosa Promotes Peter Velleno to Winemaker
Posted on February 19, 2014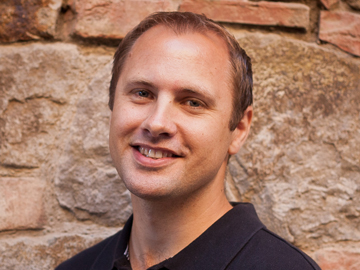 Brooks Painter, director of winemaking for V. Sattui Winery in St. Helena and Castello di Amorosa in Calistoga, has announced the promotions of winemaking staff at both companies. Associate winemakers Laura Orozco at V. Sattui and Peter Velleno at Castello di Amorosa were promoted to the position of winemaker. Orozco and Velleno will have equal responsibilities for winemaking at each winery.
"Laura and Peter show tremendous leadership in all aspects of our winemaking," said Painter. "The recent success in competition and with the wine critic community is a testament to their increasing winemaking skill."
Velleno was born and raised in San Francisco where he and his two older brothers were the fifth generation of their family to be born in the city. He attended the University of California at Davis, where he took one class in the university's renowned Food Science department, then quickly changed his major from chemical engineering to fermentation science. After intensive study in winemaking, brewing science, microbiology and food engineering, he earned a Bachelor of Science in fermentation science, the only student in the 2003 UC Davis graduation ceremony to receive such a degree.
After graduation, Velleno worked for William Hill Winery in their laboratory. He quickly worked his way up to the assistant winemaker position, specializing in Chardonnay production. He then worked for the ultra-premium small winery Hartwell Vineyards, where he worked hands-on to help craft some of the most highly regarded Cabernets in the Valley.
"Dario Sattui has a long history of recognizing and rewarding those employees who work with passion," says Velleno. "Certainly becoming winemaker was my aspiration for years, so my new role brings a sense of personal achievement."
About Castello di Amorosa
The authentically styled 13th century medieval Tuscan-style castle and winery opened to the public on April 9, 2007. It took fifteen years to build and includes five defensive towers with battlements, a Great Hall with a coffered ceiling featuring hand-painted frescoes and a 500 year-old fireplace, chapel, drawbridge, dungeon, watch tower, torture chamber and secret passageways. Situated in the hills above Calistoga, Castello di Amorosa- a family-owned winery- produces world-class wines which are sold only at the winery direct to the consumer. The castle winery was made with brick, wood and iron imported from Europe and combined with over 8,000 tons of local, Napa Valley stone. Today, Castello di Amorosa, a popular Napa Valley destination, offers a variety of wine tasting and touring options in a unique Tuscan castle setting.
Castello di Amorosa's current releases are the Italian-inspired Il Barone, La Castellana, Il Brigante, Sangiovese, Pinot Nero, Pinot Grigio, Il Passito, Gioia, Barbera, Zingaro, Il Raggio di Sole, Simpatico and La Fantasia. Other wines are Chardonnay, Bien Nacido Vineyard Reserve Chardonnay, Merlot, Cabernet Sauvignon and four different Gewurztraminers.
Castello di Amorosa Winery is located at 4045 N. St. Helena Highway in Calistoga, five miles north of St. Helena. The winery is open seven days a week from 9:30 am -6:00 pm March - October and 9:30 am - 5:00 pm November - February. No reservations are necessary for groups under twelve; the Castello offers a variety of tours and tastings, detailed at www.castellodiamorosa.com or 707-967-6272.
Region:
California, USA
Job Function:
Winemaking