Laura Orozco Promoted to Winemaker at V. Sattui
Posted on February 19, 2014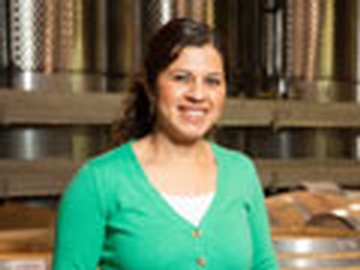 Brooks Painter, director of winemaking for V. Sattui Winery in St. Helena and Castello di Amorosa in Calistoga, has announced the promotions of winemaking staff at both companies. Associate winemakers Laura Orozco at V. Sattui and Peter Velleno at Castello di Amorosa were promoted to the position of winemaker. Orozco and Velleno will have equal responsibilities for winemaking at each winery.
"Laura and Peter show tremendous leadership in all aspects of our winemaking," said Painter. "The recent success in competition and with the wine critic community is a testament to their increasing winemaking skill."
Orozco is the first generation in her family to graduate from college. As a winemaker, she feels is continuing a family tradition of working in Napa Valley vineyards; she has fond childhood memories of her father's work in the county. She grew up in Yountville and graduated in 1998 from UC Santa Cruz with a molecular biology degree. With degree in hand, she returned to Napa and began her career as a harvest lab assistant at Franciscan Winery, all while taking winemaking and viticulture classes at Napa Valley College, was was promoted to lab supervisor. After seven years at Franciscan she was offered a position in the lab at V. Sattui.
"I love working with the many different types of wines we make here," she explains. "I love the dynamics and scope of what we do, from walking the vineyards, running the crushers and presses, pumping tanks over and seeing how the new wines develop," she adds. "I feel very fortunate to be able wake up every day and come to work to do what I love to do."
About V. Sattui Winery
V. Sattui is a small, family-owned winery, founded in 1885, that crafts over sixty different wines, with dozens of 90+ point rated wines among its current vintages. In 2014 the winery was named Winery of the Year at the Winemaker's Challenge, the third year in a row for this recognition at this competition. This marks the tenth time in the last decade that V. Sattui Winery was recognized at a major national competition as Winery of the Year. In addition, for the third year in a row the winery garnered "Best Winery in the Bay Area" in the reader's poll of the San Francisco Bay Guardian.
But especially notable was the recent recognition given to V. Sattui Winemaker Brooks Painter as "Winemaker of the Year" at the San Francisco International Wine Competition, an event featuring wines from 29 states, 30 countries, 1400 wineries and over 4500 wine entries.
V. Sattui wines, which are sustainably farmed, some from its own organic vineyard, are sold exclusively from the winery. With no outside distribution, the wines are priced much lower than many other premium brands available in retail stores. V. Sattui Winery is located on a 38-acre vineyard in the center of the Napa Valley, along Highway 29 about 1 1/2 miles south of St. Helena at White Lane. The winery welcomes visitors daily for wine tastings between 9am- 6pm daily (9-5 Winter) and features a broad selection of its 60 different wines. Information for V. Sattui Winery is available on the website www.vsattui.com or 707-963-7774.

Region:
California, USA
Job Function:
Winemaking