Justin Smith to be Honored as the 2013 Paso Robles Wine Industry Person of the Year
Posted on February 07, 2014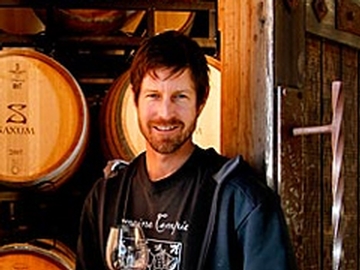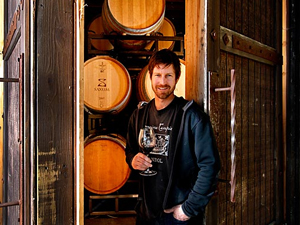 Each year Paso Robles Wine Country comes together to recognize one of their own who has exemplified the spirit of the Paso Robles wine community with outstanding leadership and vision in promoting the region. Justin Smith of Saxum Vineyards is set to receive the 2013 Paso Robles Wine Industry Person of the Year award at the Paso Robles Wine Country Alliance's annual winter gathering titled Evening with the Stars, themed after the recent Wine Enthusiast Wine Star Award for the 2013 Wine Region of the Year.
Justin Smith is a second generation farmer who began making wine in 1998. Growing up in a farming family, respect for the land and passion for farming was established early in life and carries on in his philosophy as a winemaker and grower. In 2002 Justin and his wife Heather established Saxum Vineyards, whose wines quickly gained critical acclaim bringing attention to the Paso Robles region.
"Justin's influence on the region beyond what he has achieved with his personal brand (Saxum) is incredible and inspiring," said Terry Hoage, winemaker/proprietor, Terry Hoage Vineyards. "His input along with the other wine industry pioneers has helped raise the level of quality coming from our region to a point that now, we all benefit from the resultant national and international notoriety. Even more importantly, Heather and Justin are committed and tied to San Luis Obispo County, graciously increasing their philanthropic footprint in our community which benefits each and every resident."
Justin and Saxum Vineyards gained his most notable accolades with the 2007 vintage of James Berry Vineyard wine, scoring a perfect 100 point score with The Wine Advocate and subsequent number one wine in 2010 with Wine Spectator Magazine. Both recognitions were milestones for the Paso Robles region as this single wine was the first to be recognized with such honors from both publications.
In 2011 Smith was awarded the San Luis Obispo County Agriculturalist of the Year, further establishing him as a leader in the agricultural community and reinforcing the honor of earning the 2013 Paso Robles Wine Industry Person of the Year. The Evening with the Stars event hosts more than 200 members of Paso Robles' wine community with elected officials and representatives from national, state and local offices on hand to commemorate the honor.
Board of Directors Installation
The evening also recognizes outgoing Paso Robles Wine Country Alliance Board of Directors, thanking them for their years of service:
Paul Hoover, Still Waters Vineyard – Outgoing Board Member and Past Chairman (2008 - 2013)
Alex Villicana, Villicana Winery – Outgoing Board Member and Past Chairman (2008 - 2013)
Mike Mooney, Chateau Margene – Outgoing Board Member (2012 - 2013)
In addition, the 2014 Paso Robles Wine Country Alliance Board of Directors and Executive Team is announced:
Chairman: Austin Hope, Treana and Hope Family Wines
Vice Chairman: Jason Haas, Tablas Creek Vineyard
Treasurer: Matt Dusi, Ranch 7
Joe Barton, Grey Wolf & Barton Family Wines
Carl Bowker, Caliza Winery
John Crossland, Crossland Vineyard
Joe Plummer, Plummer Vineyard
Bob Tillman, Alta Colina Vineyard & Winery
Amanda Wittstrom-Higgins, Wittstrom Family Vineyard
The Evening with the Stars event is by invitation only for Paso Robles Wine Country Alliance members. The event is currently sold out. It will take place at the Park Ballroom in Paso Robles beginning at 6 p.m.
About Paso Robles Wine Country Alliance
The Paso Robles Wine Country Alliance represents wineries, growers and businesses in Paso Robles Wine Country. Centrally located between San Francisco and Los Angeles, along California's Central Coast, Paso Robles Wine Country is California's third largest wine region. It encompasses more than 32,000 vineyard acres and 200 wineries. For more information, visit www.pasowine.com.
Region:
California, USA