Carly Laws Joins Dalla Terra Winery Direct as Portfolio and Projects Manager
Posted on January 08, 2014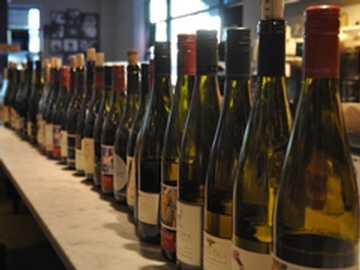 Dalla Terra Winery Direct pesident Dave Holt announced that Carly Laws has joined the team as portfolio and projects manager. In this newly created position, Laws will be in charge of internal portfolio management and supplier visits, as well as events and special project management. She will share an office with Holt in Portland, Oregon.
"We're excited to have someone with Carly's energy and experience, and look forward to her help with managing a number of very important projects within Dalla Terra," says Holt.
After having attained her B.A. in English literature from Portland State University, Laws began her career in 2005 as a member of the serving staff at Annisa, a New York City-based restaurant owned and operated by award-winning chef Anita Lo. Laws relocated back to Portland, Oregon in the spring of 2006 to take on the duties of general manager and wine director for Clarklewis. In 2007, she joined the sales management team of the Ace Hotel in Portland. Laws helped open the first location of Olympic Provisions in 2009 as co-owner, manager and wine director, before moving on to Le Pigeon in 2011. Most recently, Laws was wine director at both Ava Gene's & Roman Candle Bakery, and general manager and wine director for The Woodsman Tavern & Market.
About Dalla Terra Winery Direct
The Dalla Terra Winery Direct roster reads like a who's who of some of the most esteemed family-owned wineries in Italy. Each producer has played a major role in the significant strides Italy has made over the last twenty years in improving the quality of its wines. Dalla Terra Winery Direct® is changing the nature of the wine importing and distribution business. The company's unique business model skips national importer level in the three-tier distribution system, allowing U.S. distributors to buy directly from the producer. Dalla Terra's business model offers a more efficient, economical and consumer-friendly way of shipping, distributing and marketing wine, eliminating on average 20- to 25% in markups on each bottle. While Dalla Terra's services are sought after by winemakers all over Italy because of the company's economically competitive edge, producers are also attracted by the company's commitment to highlighting individuality by choosing to work with only a few top producers from each wine-growing region in Italy. Founder Brian Larky considers each of the producers he works with part of a roundtable on innovation and quality, at which each producer has a voice. In 2009, Wine Enthusiast nominated Dalla Terra for Importer of the Year for its annual Wine Star Awards. On January 24, 2011, Larky was inducted into the Italian Trade Commission's Wines of Italy Hall of Fame at the opening reception for Vino 2011 at the Waldorf Astoria Hotel in New York, NY. This marks the highest level of distinction presented by the Italian government to wine industry leaders. In 2013, Tascante, a new label from the Mount Etna region of Sicily joined the Dalla Terra portfolio. For more information on Dalla Terra and the wineries they work with, go to www.dallaterra.com or call 707-259-5405.