Adelaida Cellars Welcomes New Winemaker Jeremy Weintraub
Posted on May 29, 2013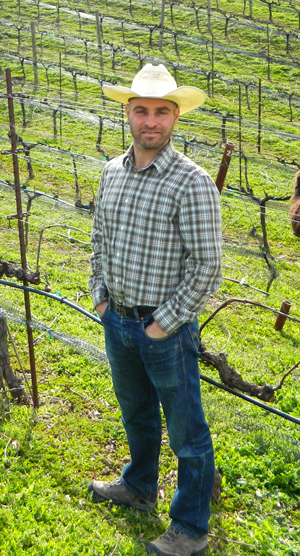 Adelaida Cellars announced the appointment of Jeremy Weintraub as winemaker for the Paso Robles estate. In his new position, he will supervise a team of consultants and experienced wine growers as well as all winemaking at the winery.
"Jeremy brings a great amount of experience and perspective to our winery," says Adelaida general manager, Jessica Kollhoff. "We are very excited about what he sees in our vineyards and how he works with the vineyard and cellar crews to bring the best product to our customers. Jeremy has a proven track record with multiple 95+ scores from Robert Parker, Antonio Galloni, and The Wine Spectator. Not to mention, he's absolutely wonderful to work with and is a real team player. We are excited to have Jeremy on board and can't wait to experience his wines."
Weintraub has a B.A. from Clark University in Massachusetts and studied at Fresno State and UC Davis, where he received an MS in viticulture and enology. He earned scholarships from The Wine Spectator and the American Society of Viticulture and Enology while he was at UC Davis. He held internships at Tenuta Tignagnello in Italy, in Central Otago and Martinborough, New Zealand, and at wineries and vineyards on Long Island, New York. He had great success as winemaker for Seavey Vineyard in Napa Valley and he has a wealth of experience on the Central Coast.
"I have always thought of myself as a winegrower more than a winemaker," says Weintraub. "Adelaida owns some of the most dramatic and compelling vineyard sites in Paso Robles, and those vineyards promise fruit of great depth and concentration. I'm thrilled to be working with the Adelaida team."
Adelaida Cellars
Adelaida Cellars was founded in 1981 and has pioneered winemaking in the Paso Robles region. The winery's estate includes the legendary HMR Vineyard, a limestone-rich site which was planted in 1964 and now features the oldest producing Pinot Noir vines on the South Central Coast. In addition, Adelaida owns and farms five other distinctive vineyards on the west side of Paso Robles and recently planted another 20 acres of dry-farmed vines on the HMR property. Adelaida farms all of its vineyards in accordance with the Sustainability in Practice (SIP)™ Certification program and the wines have won widespread acclaim from the top writers and competitions in America.

Region:
Central Coast
Job Function:
Winemaking