Frank Leeds Named 2013 Napa Valley Grower of the Year
Posted on April 01, 2013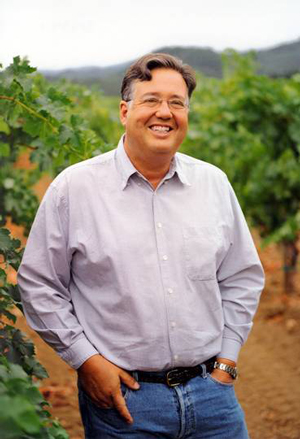 The Napa Valley Grapegrowers (NVG) announced that longtime grower Frank Leeds has been selected as the 2013 recipient of the prestigious Napa Valley Grower of the Year award. Leeds will be honored for his broad contributions to Napa Valley agriculture and the community on May 17 at the 39th NVG Annual Dinner at Black Stallion Winery.
Leeds led the Napa Valley Grapegrowers to becoming an independent organization in 2004, at the end of his 2-year term as president. As president and throughout his 9-year service on the board of directors, Leeds was instrumental in the development of programs focused on sustainability, organic farming, and proactive pest exclusion and management efforts. He was a founding member and served in leadership positions on the Napa County Wine Grape Pest and Disease Control District Board from 2002 to 2010; the CDFA Pierce's Disease/Glassy Winged Sharpshooter Board from 2001 to 2008; and the Rutherford Dust Society from 1994 to the present.
Leeds currently serves as the vice president and director of vineyard operations at Frog's Leap Winery, managing partner at Chavez and Leeds Family Vineyard and partner at Leeds & Pesch Vineyard Consulting. Frank is also active in the United Methodist Church of St. Helena, the Napa County Farm Bureau, and the Sierra Club.
He is a past honoree of the North Coast Green Entrepreneur Award. NVG president Jon Ruel commended Leeds on his long-term commitment to quality winegrapes and to the Napa Valley community. "Frank is a thoughtful farmer and an outspoken advocate for organic practices. His passion reaches beyond the vineyards he works in, as evidenced by his years of service benefiting our local industry. He is a respected past president of the NVG and we're delighted to bestow this well-earned award on him," he said.
Frank was born in San Francisco in 1956. He attended Lowell High School and Abraham Lincoln High School, received an AA degree in history and AS degree aircraft tTechnology from City College of San Francisco. He married Beth, his high school sweetheart, in 1980. Today, they live on their family's historic 40 acre vineyard in Rutherford. They have two daughters; Lauren Pesch, 28, who is a partner with Frank in Leeds & Pesch Vineyard Consulting as well as Chavez and Leeds Family Vineyard; and Ali Leeds, 25, who lives in Portland and is following in her mother's footsteps as an artist.
Anyone who knows Frank is acquainted by default with his beloved Uncle Roy Chavez, who taught him the intricacies of dry farming and truly sustainable grape growing. When Frank is not in the vineyard (and he is almost always in the vineyard) he can be found indulging in his other love, sailing, which he learned at a very young age from his father. He holds a private pilot's license, sailing and scuba certifications.
Nominations for the Napa Valley Grower of the Year come from the NVG membership and the recipient is chosen by a Selection Committee made up of past presidents of the organization and current committee members. The award criteria are: a strong commitment to sustainable practices; recognized leadership in agricultural preservation; dedicated community focus, contributions to the Napa Valley community; and someone who actively promotes Napa's reputation for the highest quality vineyards
Region:
Napa & Sonoma
Job Function:
President/Owner/GM, Vineyard Management/Viticulture