Dr. Richard DeScenzo to Discuss Fixing Problems in the Winery at WiVi Central Coast
Posted on March 13, 2013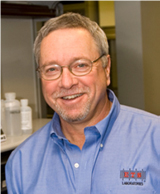 Fixing problems in a winery can be one of the most difficult challenges a winemaker/owner faces. Dr. Richard DeScenzo, microbiology group leader at ETS Laboratories, will help identify some of the most common problems and the way to fix them in an enology breakout session next week at WiVi Central Coast 2013, held in Paso Robles, California. He will join Samantha Kollar, technical sales manager for Enartis Vinquiry, and Signe Zollar, president of Zoller Wine Consulting in the March 19 panel discussion led by Wine Business Monthly editor in chief, Cyril Penn. Tickets are available at www.wivicentralcoast.com.
Richard DeScenzo received his master's and doctorate degrees at the University of New Hampshire, in the areas of plant pathology and molecular biology. Following the completion of his Ph.D., he conducted post-doctoral studies on disease resistance genes in barley with the United States Department of Agriculture/Agriculture Resource Service at Iowa State University. He joined the research group at E&J Gallo in 1996 and led research on grape genomics and development of diagnostics for grape pathogens.
Beginning in 2001, he focused his efforts on investigating malolactic fermentation and development of rapid diagnostics to detect and distinguish between strains of the bacteria responsible for malolactic fermentation. DeScenzo joined ETS in January 2006 and led efforts in the microbiology group to modify the existing Scorpion Wine Spoilage detection methods and develop the Scorpion Wine Spoilage Detection Kit. He currently splits his time between helping clients with microbial problems in their wine and developing improved diagnostic tools for the wine industry.
About WiVi Central Coast 2013
California's Central Coast is quickly becoming one of the world's most popular and celebrated wine regions. Since December 2009, 95 new wineries popped up in the Monterey, San Benito, San Luis Obispo, Santa Barbara and Santa Cruz counties. In 2012, nearly 7 million cases of wine were produced in the region. This burgeoning area faces many unique issues in its wine-growing and winemaking efforts, and WiVi Central Coast 2013, a new symposium and trade show hosted by Wine Business Monthly and Precision Ag Consulting, has been created to address those topics.
WiVi will be held March 19-20, 2013 at the Paso Robles Event Center in Paso Robles, California. It is the only trade show and symposium to address the issues facing the Central Coast wine industry, one of the fastest growing regions in the country. For more information, visit www.wivicentralcoast.com.

Region:
Central Coast
Job Function:
Sales/Marketing