Dana Merrill Discusses "Water: The New Liquid Gold" at WiVi Central Coast
Posted on March 07, 2013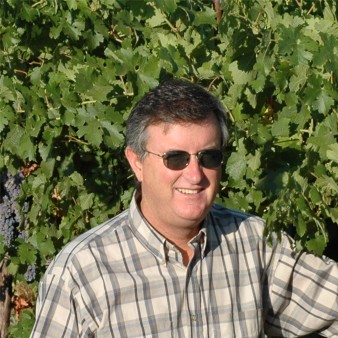 Water is the hottest commodity on the Central Coast, and a two-part viticulture session will address two important facets of winegrape growers' biggest concern at WiVi Central Coast 2013, held in Paso Robles, March 19-20. The first part of the breakout session "Water: The New Liquid Gold" will focus on the latest updates from the 2012 Regional Water Quality Control Board Ag Order Update.
Dana Merrill, president of Mesa Vineyard Management, will discuss how growers can manage growth opportunities with a limited water supply and increased regulations in the second portion of the session. He joins Lisa Bodrogi, land use and public policy advisor at Cuvee Consulting and Chris Alakel, water resources manager for the City of Paso Robles in providing insight and opinion to this important topic. Don Neel, editor of Practical Winery & Vineyard, will moderate.
After growing up and farming in the Santa Ynez Valley, Merrill obtained a degree in agricultural business management from California Polytechnic University, San Luis Obispo. He entered the vineyard management business by starting Mesa Vineyard Management, Inc. in 1989, where he is president. Mesa developed and manages 5,900 acres for multiple owners as well as their own vineyards. The firm added a bulk wine division in 2007, Mesa Wine Company, to expand their offerings beyond grapes, as well as Mesa Realty that provides brokerage services primarily on vineyard properties.
In 2008, Dana and wife Marsha Merrill created the Pomar Junction Winery in Templeton with 120 acres and a very popular tasting room.
Dana has been active in industry groups including serving as Chairman of the California Association of Winegrape Growers, as a charter member of the Central Coast Vineyard Team, and as a board member of the Paso Robles Wine Country Alliance and the Monterey Vintner and Growers Association. He is past president of the state Pierce's Disease/GWSS Board, as well as the Central Coast Vineyard team, and was voted San Luis Obispo's Agriculturist of the Year and Grape Grower of the Year in 2005.
About WiVi Central Coast 2013
California's Central Coast is quickly becoming one of the world's most popular and celebrated wine regions. Since December 2009, 95 new wineries popped up in the Monterey, San Benito, San Luis Obispo, Santa Barbara and Santa Cruz counties. In 2012, nearly 7 million cases of wine were produced in the region. This burgeoning area faces many unique issues in its wine-growing and winemaking efforts, and WiVi Central Coast 2013, a new symposium and trade show hosted by Wine Business Monthly and Precision Ag Consulting, has been created to address those topics.
WiVi will be held March 19-20, 2013 at the Paso Robles Event Center in Paso Robles, California. It is the only trade show and symposium to address the issues facing the Central Coast wine industry, one of the fastest growing regions in the country. For more information, visit www.wivicentralcoast.com.

Region:
Central Coast
Job Function:
President/Owner/GM