Quality vs. Yield: Mark Greenspan to Share His Thoughts at WiVi Central Coast 2013
Posted on March 05, 2013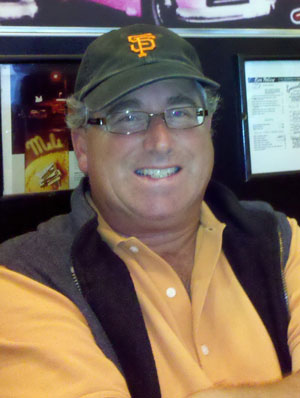 Quality versus yield is the age-old debate between growers and winemakers. How to find ways to balance the two promises to spark a lively discussion amongst top viticulturists Keith Patterson, Mark Greenspan and Lowell Zelinksi, and winemaker Scott Hawley, during the general session on Wednesday, March 20 at WiVi Central Coast, the industry's newest and largest tradeshow and symposium.
Mark Greenspan, viticulturist and founder of Advanced Viticulture LLC, will bring his unique knowledge to the round table discussion, which will focus on finding the balance between quality and yield size. The ongoing debate about quality versus yields becomes a hot topic as predictions of winegrape shortages and smaller crops lead to increased global demand for winegrapes. What does this mean for the Central Coast? Understanding the viticulture research, implications of alcohol in wine and the demands of the marketplace bring together a lively discussion.
Greenspan has nearly 25 years of viticultural experience, comprised of scientific, technical and practical field efforts. His background includes a master's degree in viticulture and a doctorate in agricultural engineering, both from the University of California, Davis. He is one of very few private practitioners who have been elected as an honorary member of Gamma Sigma Delta, the Agricultural Honor Society. He holds CCA (Certified Crop Advisor) and CPAg (Certified Professional Agronomist) certifications from the American Society of Agronomy.
Greenspan is regarded as one of the world's leading experts in winegrape irrigation and has written scientific and trade journal articles on the subject. In addition to his command of grapevine irrigation practices, he has extensive experience in vineyard mineral nutrition, crop load management, vineyard uniformity, soils investigation and vineyard design, grape maturation, climate and viticultural technologies. He is a regular contributor to wine industry publications, and has penned a viticulture column for Wine Business Monthly since 2005. He operates Advanced Viticulture, Inc., a vineyard consulting, technology and management firm based in Sonoma County, and works with vineyards all along the California coast as well as out of state.
About WiVi Central Coast 2013
California's Central Coast is quickly becoming one of the world's most popular and celebrated wine regions. Since December 2009, 95 new wineries popped up in the Monterey, San Benito, San Luis Obispo, Santa Barbara and Santa Cruz counties. In 2012, nearly 7 million cases of wine were produced in the region. This burgeoning area faces many unique issues in its wine-growing and winemaking efforts, and WiVi Central Coast 2013, a new symposium and trade show hosted by Wine Business Monthly and Precision Ag Consulting, has been created to address those topics.
WiVi will be held March 19-20, 2013 at the Paso Robles Event Center in Paso Robles, California. It is the only trade show and symposium to address the issues facing the Central Coast wine industry, one of the fastest growing regions in the country. For more information, visit www.wivicentralcoast.com.

Region:
Central Coast
Job Function:
President/Owner/GM