Lowell Zelinski Leads Panel Discussion Over Age-Old Debate: Qualtiy vs. Yield
Posted on March 05, 2013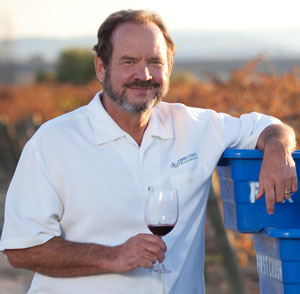 Quality versus yield is the age-old debate between growers and winemakers. How to find ways to balance the two promises to spark a lively discussion amongst top viticulturists Keith Patterson, Mark Greenspan and Lowell Zelinksi, and winemaker Scott Hawley, during the general session on Wednesday, March 20 at WiVi Central Coast, the industry's newest and largest tradeshow and symposium.
The session will be moderated by Lowell Zelinski, Ph.D., owner of Paso Robles-based Precision Ag Consulting and co-founder of WiVi. He will lead experts Keith Patterson, formerly the head of the viticulture program at California Polytechnic University, San Luis Obispo; Mark Greenspan, Ph.D., viticulturist and owner of Advanced Viticulture; and Scott Hawley, consulting winemaker and owner of Torrin Vineyards in Paso Robles in discussing their experiences striking the perfect balance between quality and yield.
Zelinski, Ph.D. is a well-respected leader who has worked in the agricultural industry for more than 30 years. He earned his doctorate degree in soil science and his bachelor's degree in soil and water science from the University of California, Davis. He also holds a master's degree in agricultural science from California Polytechnic University, San Luis Obispo. Zelinski began his career as a farm advisor for the University of California Cooperative Extension in Fresno County specializing in soil and water management and cotton production. He headed up agronomic services for the world's largest cotton seed production company—Delta & Pine Land Company—and was the vice president of production for California Cotton Planting Seed Distributors.
Zelinski has also taught at four universities including California State Universities in Bakersfield and Fresno, and California Polytechnic Universities in San Luis Obipso and Pomona. He went back into private consulting in 2003 and currently owns his own business, Precision Ag Consulting, which focuses on providing vineyard technical consulting services, irrigation and environmental monitoring and vineyard management. Zelinski serves on the board of directors of the Independent Grape Growers of Paso Robles, the San Luis Obispo County Water Resources Allocation Committee, and the Paso Robles Wine Country Alliance education committee. Zelinski and his wife, Becky Zelinski, founded the Central Coast VINE Symposium, which has turned into the renowned WiVi Central Coast.
About WiVi Central Coast 2013
California's Central Coast is quickly becoming one of the world's most popular and celebrated wine regions. Since December 2009, 95 new wineries popped up in the Monterey, San Benito, San Luis Obispo, Santa Barbara and Santa Cruz counties. In 2012, nearly 7 million cases of wine were produced in the region. This burgeoning area faces many unique issues in its wine-growing and winemaking efforts, and WiVi Central Coast 2013, a new symposium and trade show hosted by Wine Business Monthly and Precision Ag Consulting, has been created to address those topics.
WiVi will be held March 19-20, 2013 at the Paso Robles Event Center in Paso Robles, California. It is the only trade show and symposium to address the issues facing the Central Coast wine industry, one of the fastest growing regions in the country. For more information, visit www.wivicentralcoast.com.

Region:
Central Coast
Job Function:
President/Owner/GM