George Carter Selected for Washington Wine Hall of Fame
Posted on July 05, 2012

WSU Research Winemaker George Carter, who worked side-by-side with Dr. Walter Clore, has been selected as the 2012 inductee into the Legends of Washington Wine Hall of Fame.
The Walter Clore Wine and Culinary will honor Mr. Carter during the Legends of Washington Wine induction gala to be held at 6:30 p.m. on Friday, August 10, 2012 on the grounds of the Clore Center in Prosser.
George Carter graduated from UCLA in 1935 with a Bachelor of Science in Chemistry, and took graduate courses at both U.C. Berkeley and Washington State University. With his background as a chemist, Carter made wine from more than 100 grape varietals that were planted by Dr. Clore throughout the state and at the research block at WSU Irrigated Agriculture Research and Extension Center (IAREC) in Prosser.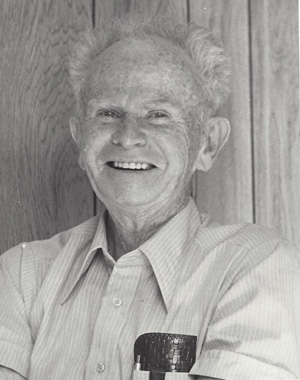 Carter and Clore became fast friends and traveled together to some of the world's best known wine and grape growing regions. When dining, they were known to ask for Washington wines and demand that they be added to the restaurants' wine lists. Together they transformed the state's wine industry and proved that grapes grown in Washington could produce world-renowned wines. His position as WSU research enologist continued until his retirement in 1977.
As part of his day-to-day activities, Carter developed a system for classifying American, European and hybrid grape varietals. In recognition of his wine making accomplishments, Carter was elevated to a Supreme Knight in the International Brotherhood of the Knights of the Vine.
Carter enjoyed 69 years of marriage to his wife, Susan. The couple had eight children, with whom he enjoyed camping and hunting. Following retirement, George continued to make wine and work in the family vineyard until his passing in 2007 at the age of 94.
A George and Susan Carter scholarship has been established with the Washington State Wine Industry Foundation that will provide yearly scholarships to individuals who pursue education in wine making or enology. For more information, go to www.washingtonwinefoundation.org.
Legends of Washington Wine are selected for their contributions of historical and lasting significance to the community and the wine industry. Nominations are received from the public, and an industry-based selection committee evaluates and scores recommendations based on specific criteria.
Previous inductees include: S.W. "Bill" Preston, Preston Premium Wines; John and Ann Williams and Jim and Pat Holmes, Red Mountain pioneers; Stan Clarke, a 30-year industry veteran; John Anderson, a visionary and mentor to the Washington wine industry; Guy W. "Bill" Powers, whose Badger Mountain Vineyard was the first Washington vinifera vineyard to be certified organic; David Lake, Master of Wine and long-time winemaker for Associated Vintners/Columbia Winery; and Myles Anderson, Co-Founder of the Institute for Enology and Viticulture at Walla Walla Community College.
Legends of Washington Wine is a program of the Walter Clore Wine and Culinary Center, named after the late Dr. Walter J. Clore. The Clore Center will be a learning center that promotes Washington wine and food by engaging visitors to experience the diversity and quality of Washington's food and wine products.
Tickets and sponsorships for the Legends Gala, supporting the Clore Center, are available via PayPal at www.theclorecenter.org. More information is available by calling the Clore Center at 509-786-1000. Reservations may also be made by calling the same number.
Region:
Washington