2012 Unified Wine & Grape Symposium State of the Industry
Headed into a shortage of supply
Backed by excess inventory and deep discounting, 2011 was called a "dream market" for wine consumers at the annual State of the Industry address at the Unified Wine & Grape Symposium. However, with winery inventories now in balance and several years of limited vineyard development, the wine industry is predicted to be headed into a shortage of supply.

"It looks like we are on the cusp of shortage," said Nat DiBuduo of Allied Grape Growers. "The tonnage that is needed, based on [sales trends], is more than we're going to produce. We're going to be short. We're going to be short for the next three years."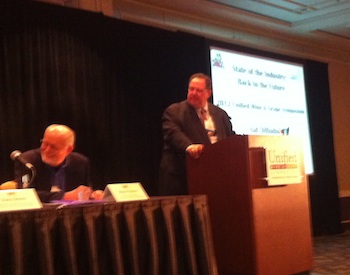 Nat Dibuduo's survey indicates 17-23,000 acres worth of nursery material was likely planted in 2011

.

Economist Mike Veseth, left, moderated the session
Over the last several years, vineyard plantings have been at or sometimes below replacement level. Among other reasons, financing was difficult to obtain and wineries were still dealing with oversupply. However, strong sales in 2011 have now created a situation where wineries may soon be struggling to fill demand.

Wine shipments grew to 345 million cases in 2011, an increase of about 4.5 percent over 2010, said Jon Fredrikson of Gomberg, Fredrikson & Associates. "It has been a wild, tumultuous time. This has been a marketing free-for-all in the market this past year," said Fredrikson. "This was an all-time great market for wine consumers." He indicated that over 120,000 labels were approved by the TTB in 2011.

Fredrikson explained that the "brutally competitive market" full of "staggering discounts" was the product of an oversupply situation created by weak sales in the recession. "What happened in 2009 was that inventories backed up enormously. People stopped selling wine and they had to relieve those inventories," he said. "We had a discount boom here that lasted for a year and a half that drove up scanner numbers in food stores to almost double the level. But, the most recent numbers are slowing, suggesting that we may already be seeing some of the impact of these price increases."

Steve Fredricks of Turrentine Brokerage said that after 10 years of excess supply, the wine industry is now headed into what his company calls the "emerging shortage" part of the wine cycle. "That change in the market is going to be drastic and it's going to affect every aspect of the wine business," he said. "It's going to affect sourcing, blending, marketing, distribution and it's going to determine who the winners are going to be."

Fredricks showed that the bulk market, which he described as "the best proxy" for the overall wine industry, is at the lowest inventory levels in at least 11 years. "Throughout these 11 years, consumption in the United States has continued to grow and our supply has not."

"The time for acreage expansion is here, and you've never heard me say that," DiBuduo said. "But, it must be done in moderation. We've got to do it smartly." He reviewed the long history of over-plantings leading to excess supply, and urged the wine industry to "learn from our history" and make reasonable decisions for the future.

"I do believe growers want a fair price, but they don't want too high a price because it screws it up back at the wineries and they have to increase prices and we lose that market share," DiBudus said at a press conference after the presentation. "We're only as successful as the wineries are."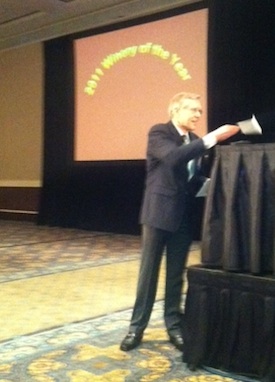 Jon Fredrikson's presentation concludes as he names DFV Wines, "Winery of the Year"
"That's a great philosophy for doing business," said Fredrikson. "We've all learned that over the years, that extremes don't work. It has to be that kind of relationship. Otherwise you'll price yourself out of the market."

"We were in excess for a long period of time," said Fredricks. "We have competition for acres with other commodities in key areas. So it's going to be difficult to put in that many new acres. So the price [to spur vineyard development] has to come back to above where the benchmark was before. It will be a longer time than we've seen in the past to come out of this."

Increased competition for land is a critical issue. DiBuduo indicated that almond orchards, for example, are cheaper to develop and yield higher prices than wine grapes on the market. "But [prices] are getting closer," he said. "Wineries are getting closer to getting that enticement back for those investors. But we do have interest."

According to the Allied Grape Grower survey, between 17,000 and 23,000 acres of grapes were planted in 2011. "There has been a shift in the dynamics of what's been planted," he said. "We've always reported that over half the plantings have been red wine grapes. This year, it has shifted to predominately white wine grapes." The growth has been driven primarily by Moscato, with Muscat Alexander and Muscat Canelli combining for 25 percent of all vines sold in 2011. With red wines, Pinot Noir is strong, while Ruby Red and Malbec are in much higher demand.

DiBuduo also stressed that wineries will look to imports to fill demand. "This is the worst one for me," he said. "In order to keep the shelf space that the wineries need, when California doesn't have the fruit they need, they are going offshore."

Fredricks said that inventories on the bulk market are at their lowest levels for most countries. He did indicate that wineries are looking to the global market to fill demand when domestic supply is unavailable, but the process is long. "We can't solve our [supply] problem quickly."

While the U.S. is the world's largest wine market (surpassing France in 2010), at 2.6 liters, per capita consumption is still among the lowest of all major wine-producing countries. "We're still in our infancy in the wine industry," said Fredrikson. "I'm still quite optimistic about future growth."

For California wines in particular, over 61 percent of sales are priced below $7, but Fredrikson said that consumers did trend into higher price points in 2011.

"What happened this year was serving the nation's sweet tooth," said Fredrikson. Sweet wines drove growth in the industry, with Moscato's 64 percent rise in 2011 leading the way. In addition, sweet red wines grew 202 percent off a small base. Sangria and chocolate-infused wines were also strong sellers.

"This amazing diversity of choices, with unpretentious label designs, packaging and branding are driving this market," said Fredrikson. "It's a free-for-all. There are so many great marketing ideas and the only barriers are getting space on the shelf."

Fredrikson indicated that new market opportunities abound for the wine industry, particularly among women, Echo Boomers (also called Millennials) and Baby Boomers. Direct-to-consumer channels are also an avenue for growth. With the addition of New Jersey, wineries can now ship directly to 39 states. The proliferation of wine blogs, flash sale sites and third-party deal sites like Groupon are contributing to growth.

Fredrikson also announced DFV Wines as the 2011 Winery of the Year.

Held annually in Sacramento, Unified is expected to attract a record number of attendees in 2012. In 2011, more than 12,400 people attended the event.