Using Social Media to Promote Wine Tourism
If you believe traditional marketing tools such as brochures, websites, and magazine ads assist with wine tourism, then you're right. However, new research shows that the main method tourists use to determine which winery to visit is "word of mouth," and increasingly this is being accomplished via social media.
In a recent study conducted in the Finger Lakes wine region of New York, 334 wine tourists were surveyed on sources of information they used to decide which wine region and wineries to visit. Results showed that 59% used word of mouth. This is consistent with studies in other countries and wine regions showing that tourists rely on suggestions from friends and family to determine where to visit, stay, and eat. Therefore knowledge about tapping into the "word of mouth" aspect of social media can be beneficial.
The Six Channels of Social Media for Wine Tourism
Social media can be defined as "Internet-based applications that allow the creation and exchange of user-generated content (Kaplan & Haenelein, 2010)." In the past 5 years the different types of social media have expanded rapidly, and it has become complicated to determine which tools are best for wineries to use. One method to address this issue is to divide social media into six channels for marketing and public relations as illustrated in Figure 1.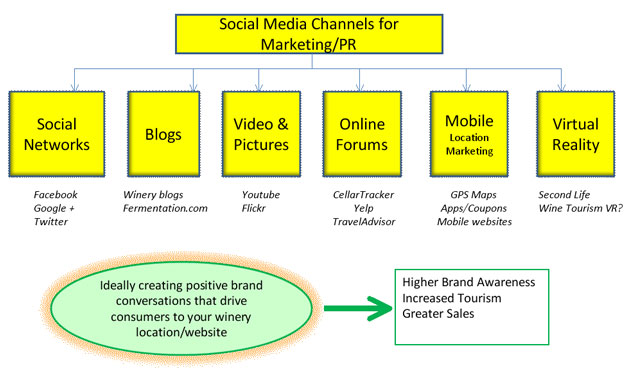 1) Social Networks are the channel that many US wineries have been using to engage wine tourists, including Facebook, Twitter, and Google +. According to Pew Research, 65% of US adults use a social networking site. By using this channel effectively, you can encourage tourists to visit your winery, advertise events, create fans, have online conversations, and engage in dialogue. Some tourists will share both positive and negative winery experiences with friends using this channel.
2) Blogs are a second channel that have been utilized by some wineries, and many individual wine writers. They may include information on happenings at the winery, wine ratings, recipes, and even controversial stories. There are now more than 700 wine blogs around the world. Wine blogs are usually read by the more involved wine consumer, and if written in an interesting style with useful information, can drive many people to your website, create dialogue, link to your social network sites, and hopefully, bring tourists to the tasting room.
3) Video & Pictures are a third channel that is growing rapidly. Many tourists will post videos and pictures of their vacation on such sites as Youtube, Vimeo, and Flickr. In 2010 (Pew), 71% of online Americans used video sharing sites, and the trend is growing. A search on Youtube for "wine" will bring up over half a million videos. Wineries can encourage customers to upload videos and pictures, as well as track and comment on postings of their winery.
4) Online Forums have become increasingly popular with tourists as a source of word of mouth information on where to go and what to buy. Examples include TripAdvisor, Yelp and CellarTracker. Tourists read reviews from other travelers on these sites. They can also be used to post pictures. According to Highland Business Research, user generated content is utilized by 40% of online travelers. Wineries should monitor and respond to what is said about their brands on these sites. In some cases, they can establish partner accounts to help promote their brand in a positive fashion.
5) Mobile/Location Marketing is a channel that has exploded with the growth of smart phones. This allows users to consult apps or GPS on the phone to find a business or winery near-by. Savvy wineries are creating mobile websites, as well as providing mobile promotions, such as two-for-one tastings, via apps. Tourists can also let friends know where they are by using location service apps – especially if wine businesses provide free Wi-Fi. According to Pew Research, 23% of US adults now use smart phones to get directions or recommendations based on their current location – and this is growing rapidly.
6) Virtual Reality is a channel that is just starting to grow. It is a method for consumers to interact online with a business and others in a "virtual world." Examples include Second Life and many online games. Other examples include the use of avatars and intelligent software assistants, such as Apple's Siri. Though currently not available in a wine tourism application, it is expected this channel will grow in the future. Wine tourists will be able to travel "virtually" to any wine region in the world and interact with wineries. Some experts suggest that tasting rooms and wine retail stores will create friendly avatars to engage with virtual visitors, and provide a "tour and tasting" online.
Some Positive Examples of Wineries Using Social Media to Attract Tourists
Many winery CEO's and controllers ask about the return on investment for social media. Since it is a relatively new marketing and PR source, hard data is not readily available. However, there are some success stories as illustrated by two wineries in Northern California.
Stryker-Sonoma Winery started a Facebook fan page in the summer of 2008 and a blog in 2010. They update at least once every 24 hours with winery news, events and response to consumers. Results to date show an increase in tasting room visitors of 1000 more each year and a decrease in marketing costs per sale by 10-12%.
Flora Springs Winery in Napa Valley organized a "Tweet Up" campaign where they sent Twitter invitations to followers around California to meet at local restaurants to taste their wine. "Tweet Team" met visitors at the door and engaged them in a fun, educational event. In addition they created an entertaining Youtube video. Results included an increase in Twitter followers from 1639 to 3055 in one year, with stronger brand awareness and consumer loyalty.
Developing a Social Media Strategy to Promote Wine Tourism
It is not recommended to jump into social media channels without a clear implementation strategy. Wineries that have been successful have used the following processes:
• Clear Strategy: Determine if social media should be part of your Marketing Strategy. If so, set clear objectives for results.
• Trained Staff: Identify or hire trained staff that can implement social media correctly or consider outsourcing to a skilled provider.
• Funding: Make sure to provide appropriate funding for social media.
• Teamwork: Identify and train others within your company to support the social media strategy. For example, the winemaker may want to assist in writing blogs or responding to consumer comments.
• Website Integration/Mobility: Make sure your website is designed correctly, including clear tags for SEO, mobile web design, and tasteful ecommerce promotions.
• Track Results: Track and analyze results on a monthly basis.
• Continuous Improvement: Stay abreast of changes in technology, critique your strategy, and continuously improve.

About the Authors: Dr. Liz Thach (lizthach@aol.com) is a Management & Wine Business Professor at Sonoma State University's Wine Business Institute. Dr. Johan Bruwer (johan.bruwer@adelaide.edu.au) is a Wine Business Professor specializing in wine tourism at the The University of Adelaide's School of Agriculture, Food and Wine in Australia.