Iconic Napa Valley property will remain in agriculture in perpetuity
December 07, 2011
The Land Trust of Napa County is pleased to announce a new conservation easement on the historic Rossi Ranch property located just south of Saint Helena in the Rutherford Appellation. Property owner Frog's Leap Winery worked closely with The Land Trust in crafting an easement that insures that the highly visible 52-acre parcel will retain its picturesque rural charm for generations to come.
The parcel, which sits on the west side of Highway 29 between Whitehall Lane and Zinfandel Lane was originally part of the 1846 Vallejo Land Grant. Records indicate that the Norton family acquired the property and planted the first vineyards in 1866, however old-time Valley residents know the land as the Rossi Ranch, named for the Rossi family who purchased and farmed the land continuously from 1906 until the death of Louise Rossi in 2008. The family completed construction of the winery and adjacent water tower in 1908 and the buildings have become iconic fixtures in the landscape.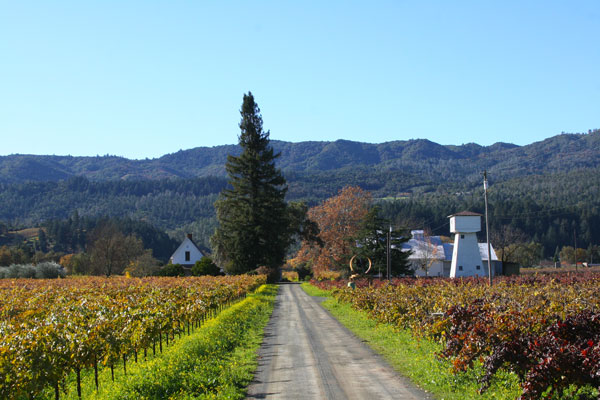 "As my friendship with Louise evolved over the years, I was struck by her deep attachment to this land and her strong commitment to keeping the property intact as a working family ranch," says Frog's Leap Winery proprietor John Williams. "By placing the land into a conservation easement my family and Frog's Leap Winery are building on the farming heritage of the Rossi Family and those who came before us - protecting this land and preserving this landscape in perpetuity."
Land Trust CEO Joel Tranmer noted, "This is a classic example of the intersection of land protection and historic preservation. When we talk about protecting the character of Napa County, by permanently protecting land, it requires that we think about what defines that character. There is no better example than the Rossi Ranch and we must all thank the Williams Family and Frog's Leap Winery for this important legacy.
In addition to being one of the premiere grape-growing properties in Napa Valley, the Rossi Ranch is one of the most iconic, featured in innumerable paintings and photographs as the embodiment of the idyllic Napa Valley landscape. Its vibrant spring mustard, the pitched-roof farmhouse dwarfed by a towering redwood and, of course, the signature water tower offer a splendid visual reminder of the bucolic beginnings of America's most noted wine growing region.
For more information, visit the Land Trust of Napa County website www.napalandtrust.org, or contact the Land Trust of Napa County at 707-252-3270.
About Land Trust of Napa County
Land Trust of Napa County is a community-based nonprofit dedicated to preserving the character of Napa by permanently protecting land. Established in 1976 by seven founding members, today the Land Trust has 1,700 active members and supporters. In its 35-year history, the Land Trust has completed over 150 projects, protecting more than 53,000 acres of land – 10% of Napa County.