Robert Lawrence Balzer: 1912-2011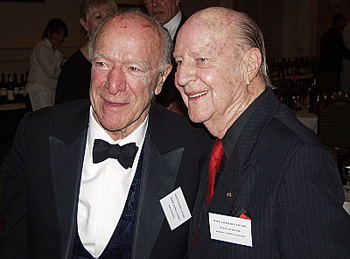 Robert Mondavi, left, with Robert Balzer during the 2004 Wine Appreciation Guild Dinner
Robert Lawrence Balzer, one of California's first wine writers and certainly one of the most influential of his time, has died. Balzer was known for the column he wrote for The Los Angeles Times for 32 years; for his newsletter, Robert Lawrence Balzer's Private Guide to Food & Wine (1970-1984); and for having been a wine merchant to the stars, among other things. His first wine book appeared more than sixty years ago.

Balzer was active as a wine educator and writer well into his nineties, leading wine classes on a cruise ship. Until about ten years ago, he had been leading trips to wine regions of Europe. Though he was slowing down, Balzer even judged during the LA Times Wine Competition at age 93.
News of Balzer's passing first appeared in Dan Berger's Vintage Experiences newsletter. Berger had spoken to Balzer about a month prior when Balzer had quipped, "I'm still here – I may make it to 100."

Balzer was in his prime during the second renaissance of the California wine industry in the early 1970s and was one of the first to write about many of the new wineries of the day, Robert Mondavi Winery among them.
"He was really a pioneer and did a lot to put California wine on the map," Berger told winebusiness.com. "He was on top of a lot of things."

"I have some hilarious stores about Balzer you can't write about," Berger said.
After graduating from Stanford University in 1935, Balzer served as an Air Force pilot and flight instructor in 1941-42. He would later study Buddhism and a temple in Cambodia would ordain him as a teaching monk.

Balzer 's articles appeared in Sunset, Travel/Holiday, Flightime, Les Amis Du Vin Magazine, Wine Enthusiast and Wine Spectator. He wrote or contributed to more than a dozen books.

Balzer wrote his first wine column for the Beverly Hills Citizen newspaper in 1937 and by the time his first wine book was published in 1948 was already quite influential in the world of wine through his ownership of Balzer's, a wine and food retail shop in Los Angeles. Balzer had taken the shop over from his father while he was still in his early twenties. Much of his knowledge of wine was self taught.

Through the shop, Balzer came to be close friends with many of Hollywood's biggest stars. At one point he dated Gloria Swanson. In his newsletter, Berger recalled Balzer's 90th birthday party at the Beverly Hilton Hotel, where screen actress Olivia DeHaviland flew in from her home in Paris to deliver a tribute.

The luminaries that would be in the room during Balzer's annual tastings for the LA Times Magazine were quite remarkable and included vintners such as Jack Davies of Shramsberg, Robert Mondavi, Rodney Strong, Warren Winiarski, and many more.

Balzer was honored in 2004 as the Wine Literary Award winner by the Wine Appreciation Guild. He received many other honors over the years, including being named "Wine Writer of the Year" by Wines & Vines magazine in 1986.

At the time of his death, Balzer was working on his memoirs. Christine Graham, who had been assisting Balzer with his memoirs, said she will soon have them ready in preliminary form for consideration by publishers.