France: Vintners go back to the future with clay vats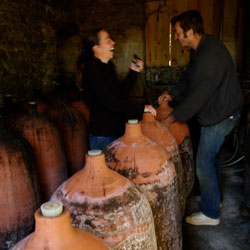 A handful of French winegrowers are currently using egg shaped clay vats in view of adding complexity to their unoaked wines. If these vintners express different schools of thought on the best techniques to associate with this sort of container, they all share the same objective, that of preserving the true characteristics of their wines.
Organic and biodynamic growers make a point of exploring the best ways to elaborate wine as naturally as possible. La Mas de Tourelles, an estate situated on Roman ruins near Nimes in Southeast France came up with the idea in 1991, of creating a museum with a vineyard and cellar, producing wine according to ancient methods. This initiative has since stirred the imagination of some modern-day vintners, interested in finding out if terracotta oval casks can be a viable substitute for concrete, stainless steel or oak vats.
One of the first vintners to take the plunge in 2003 was Stephane Azemar, the owner of Clos d'un Jour, a wine estate situated in Cahors. After some trial and error, he found that 140-liter egg-shaped unlined clay casks were the most suited to his needs. He employs these to mature his wines for a year, after fermenting them in stainless steel. Large-sized clay jars are more time consuming to use for winemaking than conventional containers as they require gentle handling and have to be carefully monitored to minimize evaporation. Azemar feels however that the benefits of clay outweigh the inconveniences. "Clay tanks offer the same micro-oxygenation obtained with barrels, without imparting oak flavors," he explained. At present his cellar boasts around 50 jars. All of his four wine brands are matured in a combination of new and used clay containers, acquired from a local pottery-maker for around $250 each. "We have found that baking the clay at 1080 degrees in the center of the oven produces the best type of vats for winemaking," he stressed. The quality of Stephane Azemar's offerings appears to have convinced some fellow winemakers about the virtues of clay, as he is now also sharing his insight as a consultant.
Led by Domaine Viret in the southern part of the Rhone Valley, a group of winemakers is taking the experience a step further by also macerating and fermenting their wines in very large jars. The dozen or so environmental friendly vintners, most of whom have officially obtained organic and or biodynamic certification, are situated in different French vine-growing regions where the grape varieties, production techniques and wine styles are anything but homogeneous. Philippe Viret inspired the others in 2005, after experimenting with a couple of clay containers shipped from Andalusia in Spain. As the transportation costs were higher than the price of the actual vats, he rapidly turned to Alain Bertheas, a nearby artisan who agreed to supply him with his first set of 400-liter, 160-cm tall clay vats. Viret uses these to elaborate and mature his most expensive wines sold for around $30 a bottle. According to the vintner, the continuous flow of liquid brought about by the containers' form and texture provides a stable and low fermentation temperature adapted to natural yeast, but also resulting in longer maceration and fermentation periods. Despite the extra work involved, Viret is highly satisfied with the end result, characterized by wines that remain fresh on the palate even when high in alcohol. In the near future, he plans on building a cellar specifically designed for his clay vats, half of which will be buried in the earth, inspired by Georgian growing techniques.
In recent years, Viret has been emulated by a modest number of vintners, including Beaujolais-based Jean-Claude Lapalu, who started to work with clay as of the 2009 vintage. At present, he has acquired five 400-liter vessels from Alain Bertheas, representing an investment of around $1,500 each. He points out that brand-new clay vats can only be used for winemaking, as they are much too porous for maturing. One of his red Brouilly appellation wines undergoes a 40 to 45-day maceration period in the containers where it also remains until the end of its fermentation and maturing. "Terracotta helps to produce well-rounded and fat wines that are all the while tight and mineral on the palate. Compared to my other brands, they give the impression of expressing better acidity and a special type of freshness," he said. "The same can be said for my colleagues' products, indicating that clay vats are capable of generating a distinct style whatever the region of origin," he added.
The small group of independent vintners is currently setting up an association, including a production charter of quality to uphold the standard of the wines made in egg shaped clay containers. Alain Bertheas, who has agreed not to sell his wares to outside producers, counts among its exclusive members.