San Joaquin Winegrowers: The Times They are A-Changing
Insight and Opinion
Well, it has been a while, but the good times have finally returned for Central Valley Winegrape Growers, and it was certainly evident at the recent meeting of the San Joaquin Winegrowers in Fresno on November 18. Highlighted by the appearance of Joseph Gallo as keynote speaker, the meeting enjoyed a large turnout of growers in a festive mood. And Mr. Gallo had more good news for the growers in his unprecedented appearance, pledging continued growth of capacity to process grapes in the Valley and even ending up extending offers of more new long-term grape contracts. He presented a compelling argument for growers deliberating the decision to plant wine grapes, rather than the crop du jour, nuts.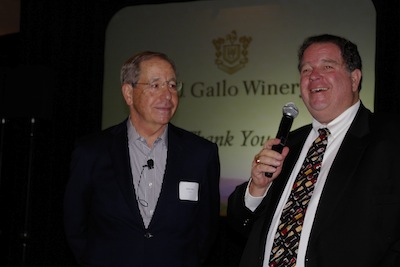 Joe Gallo left, and Nat Dibuduo, right
With a graceful economy of illustration, Mr. Gallo presented just a few clean and concise slides depicting the rapidly increasing production of all of the currently popular nut crops, almonds, pistachios, and walnuts, but also highlighted their dependence on export markets, with 60 percent to 70 percent or more of those crops exported to markets outside the US. While immediately attractive in light of today's metrics, those nut crops all face dramatic production growth, and are highly sensitive to the slings and arrows of global markets and currency exchange rates, as opposed to the domestic potential of wine grapes. Clearly, the most significant moment of the day came as the head of California's largest winery, Mr. Joseph Gallo, very publicly extended an offer of new long term grape contracts to San Joaquin Valley Growers.
The day included a plethora of speakers, including a panel of wine industry writers, a grape market roundup, and a legislative update.
This writer, Tony Correia, presented a review of vineyard values, versus localized grape prices, for the major wine production areas of California, with a hint that such values will follow rising grape prices in coming years. My basic vineyard economics theorem continues to hold true: "Wine prices drive grape prices which drive vineyard prices." Seminar attendees received complimentary copies of the annual Trends in Agricultural Land and Lease Values published by the California Chapter of the American Society of Farm Managers and Rural Appraisers (CALASFMRA) as a courtesy from CALASFMRA. I ended my presentation with my perennial call for growers, and vintners, to continue the quest for quality, and the perception of value in the consumers' mind.
Nat Dibuduo of Allied Grape Growers painted a rosy picture of increasing grape prices in light of the growing demand and stagnant supply metrics. As usual, Nat entertained the crowd with a replay of an old video from a similar meeting many years ago; pictures of bulldozers removing and stacking vines for burning, to the accompaniment of the plaintive refrains of "You're gonna miss me when I'm gone". Those vines are gone, and now we are going to miss them. Nat projects continuing strong demand for local grapes for many years in the wake of his projection for the 2011 crop of 3.25 million tons of wine grapes. 2011 would appear to reflect a "sea change" in California grape markets. Prices for all grape varieties have risen considerably already, and would appear to suggest even stronger prices for the 2012 crush. Nat presented the following chart of historical and projected prices, by variety, for District 13, Fresno and Madera Counties.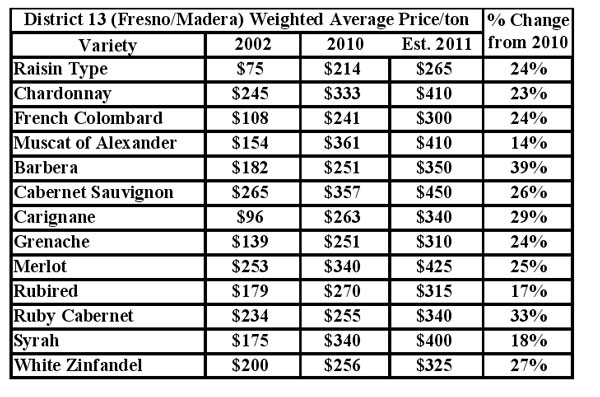 The "sea change" in grape markets is clear from Nat's estimated prices for 2011. Nat emphasized that 2010 prices were mostly in the $200 range, while ALL wine varieties were $300 or better in 2011. Bearing and non-bearing acreages were also explored, with the obvious finding that we have simply not planted sufficient new acres in recent years to supply the demand now anticipated for 2012 and beyond. Nat once again stated his position that growers deserve an adequate return on their investment in vineyards, including a reasonable profit. To achieve such returns on today's land prices, growers will need to garner total revenues per acre in the range of $5,000 to $6,000, or roughly yields at 15 tons/acre at prices of $350 per ton or better.
Rob McMillan, founder of Silicon Valley Bank's Fine Wine Division, and bon-vivant Rock Star, shared his perspectives on wine markets in light of the struggling economy, the quixotic Euro, and youthful indiscretions. Earlier remarks regarding the Central Valley's place in California's wine business had unfortunately been misinterpreted, and Rob took this opportunity to clarify those remarks. He presented information on financial markets, fragile currency exchange rates, and the impact of such factors on import and export markets. Rob also focused on the emerging youth markets, and the power of social media among such consumers, closing with a call for a unified marketing approach for authentic California appellation wines.
The continuing theme throughout the day was a focus on the value, and importance, of the California Appellation, although no clear consensus on how to maximize this value was reached this day.
The most effective advertisement for wine is not print media, or television, or today's equivalent of roadside billboards, internet banners. It is in the bottle. Good wine sells itself - even more so in today's world of instantaneous mass communication, where consumers can pass the word among themselves. Today's consumers are their own wine critics. The most effective method for selling more wine would appear to be continuing to produce better quality wine, at a good dollar value, and to let the wine sell itself, a lesson Mr. Gallo learned from his father.
The Writers Panel, moderated by Lew Perdue, expanded upon the California appellation issue. Dan Berger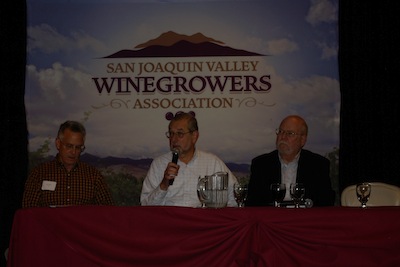 The writers panel, left to right, Lew Perdue, Dan Berger, Paul Franson
explored consumption, and import statistics, in some detail, reiterating California wine's global reputation for quality and consistency in the face of continually increasing imports. Paul Franson agreed, while Lew disagreed.
California Association of Wine Grape Growers President John Aguirre presented an update of CAWG's recent, and continuing efforts to inject common sense into the persistent, polarized, political paralysis in Sacramento and Washington. He touched on the challenges facing agriculture in a political environment where compromise is a lost art, and elected officials remain focused on the more delicate nuances of the art of statesmanship; reelection. Budget cuts are destined to affect California education significantly, while some progress may be made in water legislation, labor, and TTB petitions. John, and most of the audience, including myself, are enthusiastic about new CAWG Chairman, Bill Pauli.
Mr. Gallo's polished, professional, presentation was the obvious highlight of the day, including his personal anecdotes of his early years working on the family farm, learning to appreciate the hard work demanded and the element of risk associated with farming. He recalled his observations from his father's, Ernest Gallo, personal notes regarding wine marketing and advertising. Ernest had abandoned large scale advertising programs to concentrate, instead, on providing the best possible quality at all price points to the consumer, letting the wine sell itself. Focus on the product taste, he told a rapt audience, listen to the personal preferences of the consumers, and develop products which will satisfy and delight them. Gallo expects the wine market to double in the next ten years, riding the wave of the "Demographic Dividend", the global sea of young consumers as they mature into affluence.
Private companies are uniquely suited to the wine business, he noted, as the owners' relationships carry social accountability and responsibilities. Family companies are not shackled by the constant "Wall Street" demand for financial results, but can enjoy the luxury of making investments focusing on the longer term, and can think in terms of Generations, not Quarters. The personal values of the owners form the business ethics of the company, and will attract employees, suppliers and growers with similar values. He emphasized his company's commitment to making better wines, and more of them, promising major expansions in their wine facilities in the Central Valley, and noting they have already contracted for 10,000 acres worth of grapes so far in 2011. Then, with the focused attention of his audience of grape growers, he asked the growers to contact the company regarding long-term grape contracts. Coming from Joseph Gallo there could be no clearer message speaking to the bright future of the wine business in California's Central Valley.
Tony Correia is widely recognized as a leading authority on the valuation of vineyards and wineries. He holds the professional designations of Accredited Rural Appraiser (ARA) and Professional Member of the Royal Institution of Chartered Surveyors (MRICS). He is the former president of Correia - Xavier, Inc., and is an instructor of valuation courses and seminars throughout the nation and Mexico, and is also a frequent public speaker on agricultural, appraisal, taxation, estate planning issues, water rights, and the vineyard and wine industries.