Global Bubbles - Differences in How Millennials Perceive Sparkling Wine Around the World
In which country do Millennials spend the most money on sparkling wine and Champagne? On which occasions do Millennials prefer to drink sparkling wine? What type of advertising works best in promoting "bubbly" around the world?
These were just a few of the questions posed in a study of 174 Millennials in the five English speaking nations of Australia, New Zealand, South Africa, United Kingdom and the USA. The purpose was to examine consumption attitudes and behavior towards sparkling wine and Champagne in Anglophone countries. The 2 year study was conducted by a group of global researchers*, and involved 23 focus groups of Millennials resulting in 490 pages of transcript for analysis.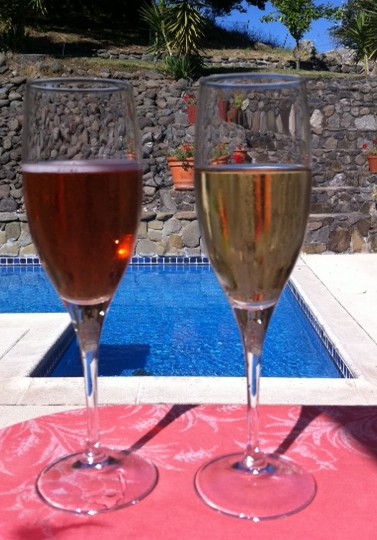 Common Millennial Perceptions of Sparking Wine in 5 Countries
Four common perceptions regarding sparkling wine were identified amongst Millennials in the five countries:
1) Sparkling Wine is a Separate Category from Still Wine. Focus group participants described the "dynamic" nature of sparkling wine with "bubbles" and "moving texture" as making it quite different from still wine. They perceived it as a distinctly separate category to be used for different purposes. As one participant described "It is a drink of action, of liveliness, of moving on; whereas still wine is a drink of reflection, of being static (sitting at dinner) of restraint."
2) Sparkling Wine is a Social Drink. All participants were in agreement that sparkling wine is to be used for social occasions. "To sit at home alone and have a glass of sparkling would seem rather strange," reported one participant. Examples of social occasions were inevitably linked to celebrations, such as a 21st birthday, a day at the races and graduation. However many stated that they did not drink it socially in bars and nightclubs much because it was too expensive in those settings.
3) Sparkling Wine is Considered a Women's Drink. Even though males in the study drink Champagne and sparkling wine, both men and women admitted that it is primarily perceived as a women's drink. Many men commented that it was a woman who first introduced them to sparkling wine. The only slight exception was the UK, where Champagne (not sparkling wine) was considered normal as a drink for men in certain occasions.
4) Millennials Will "Grow Into" Sparkling Wine as They Gain Maturity. Participants agreed that they expected to drink more wine as they grew older. "Right now I drink beer and spirits pretty much… I think you kind of grow into wine as you get older," explained one participant. In analyzing the data, three general stages of alcohol behaviour emerged: Under 22 – a focus on clubbing and getting drunk with beer or spirits; Ages 22 to 25 - a transition to drink more wine; Ages 26-30 – a strong enjoyment of wine, especially sparkling wine and champagne, but drinking less alcohol overall.
Differences in Millennial Viewpoints of Sparkling Wine
Several differences emerged between Millennials from the five countries, many which may be culturally explicable.
1) UK Millennials Drink More Champagne while USA, Australia, South Africa and New Zealand Drink More Local Sparkling Wines. This is most likely explained by the fact that the UK is one of the oldest and largest importers of Champagne with close proximity to France. When asked, UK Millennials were able to recall many more Champagne brands than Millennials from other countries who had a tendency to name local sparkling brands. Interestingly, those in wine producing areas (Australia, New Zealand and the Sonoma region of the USA) tended to display more understanding of production issues.
2) Price Millennials Willing to Pay Varies by Country. Many Millennials commented that a low price was desirable, but it was not an inevitable target. In Australia and New Zealand, particularly, participants stated they preferred higher quality sparkling wine and were willing to pay a premium for it. UK respondents also said they spend more on Champagne because it is usually given as a gift at a social occasion. On the other hand, in South Africa and the USA, and amongst younger participants generally, there was a much greater focus on buying cheaper sparkling wine. For example, one USA participant said, "(I buy) good old Andre's at $4.99- I didn't say it was good; it's cheap. If it's a really good occasion I stick with brand names I know, like Korbel."
3) Millennials Have Different Responses to Champagne Advertisements. Participants were shown eight print ads of different Champagne brands and asked to provide descriptors and rankings. The results varied widely by country. For example, an ad for Champagne Mumm, showing a bottle lying on its side, was very popular in New Zealand and Australia, considered classy by Americans, but perceived as boring to UK Millennials. Through analysis of all eight ads, it became clear that, the use of image, color and positioning differs markedly from country to country amongst Millennial consumers.
Conclusion – Implications for Wine Marketers
This study is useful to marketers of global Champagne and sparkling wines in that it provides clearer information on Millennial perceptions regarding occasions, pricing, and promotion issues. It is especially helpful when developing an export/import marketing strategy into the specific countries included in the study, and shows that sparkling wine should be promoted as a social drink, and as something which is dynamic. The overriding result of this study shows that Millennials are different in different countries. Therefore one form of targeting will not reach all of them, and -- as always with marketing -- the key is to know your market and adapt to them.
* Global Research Team for Study
In addition to the authors, data for this study was gathered by a team of researchers around the globe including: Joanna Fountain from Lincoln University, NZ; Caroline Ritchie from Cardiff School of Management, UK; Nicola Fish from Swinburne University of Technology, Australia; Natalia Kolyesnikova and Tim Dodd from Texas Tech University, USA; Frikkie Herbst and Nic Terblanche from University of Stellenbosch Business School, South Africa.
About the Authors: Dr. Liz Thach, MW is the Korbel Professor of Wine Business and Management at Sonoma State University's Wine Business Institute in California. Dr. Steve Charters, MW is Professor of Champagne Management at the Reims Management School in France. The complete study is available in the International Journal of Wine Business Research Journal. Volume 2, No., 2, 2011. For more information please contact: Lizthach@aol.com or stephen.charters@reims-ms.fr