Governor Jerry Brown Attends California Wine Grape Growers Foundation Wine Dinner
March 02, 2011
Press Release from CAWG: Sacramento, Calif., March 2, 2011 – Last night Governor Jerry Brown made an impromptu appearance at the ninth annual California Wine Grape Growers Foundation (CWGGF) Capital Wine Dinner with a message of collaboration. The event, which took place at the Sutter Club in Sacramento drew more than 100 attendees this year.
"California is facing unprecedented challenges," said Governor Brown. "We have to come together and find the higher objective, which is improving our state. That is my goal."
Governor Brown spoke briefly and then met winegrape growers face-to-face, asking questions and discussing issues important to the winegrape growing community. He continually spoke of the need for a unified effort to resolve California's standing fiscal and economic challenges.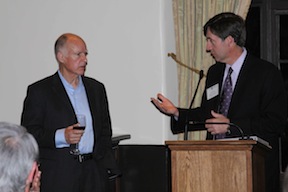 While Governor Brown's attendance was a highlight of the event, it's important to note that more than $47,000 was raised during the March 1st dinner held at the Sutter Club in Sacramento. This total is up $15,000 from last year's $32,000 raised.
"Today's difficult economic times make it even tougher for deserving students to go to college. Thanks to the generosity of dinner attendees, we'll be able to provide more scholarships for graduating seniors whose parents or legal guardians are vineyard employees," said JR Shannon, CWGGF's chairman.
This year's dinner was sponsored by E&J Gallo Winery, Pan American Insurance Agency, Vintage Crop Insurance, Trinchero Family Estates, California Association of Winegrape Growers, Dow AgroSciences, Vino Farms, Inc., Allied Grape Growers, G3 Enterprises, Mary Roach Insurance Agency and Scheid Vineyards. Wine was generously provided by associations from around the state, including: Amador Vintners Association, El Dorado Winery Association, Lake County Winegrape Growers, Lodi District Grape Growers Association, Lodi- Woodbridge Winegrape Commission, Monterey County Vintners and Growers Association, Paso Robles Wine Country Alliance, Santa Barbara County Independent Growers and Sonoma County Winegrape Commission, Sonoma County Vintners and Suisun Valley Vintners and Growers Association.
The scholarship program was created by CAWG in 1998 to promote education for the children of vineyard employees. One year later, CWGGF, a 501(c)(3) nonprofit charitable organization, was created to support and maintain the scholarship program in perpetuity. The Foundation now awards at least six scholarships annually, two scholarships of $2,000 per year for four years to any campus in the UC or CSU system, and four scholarships of $1000 per year for two years to any California community college.
The wine dinner was held in conjunction with CAWG's winter board meeting and Winegrape Day at the Capitol. Nearly 30 CAWG members personally visited with more than 50 legislators, legislative staff and agency staffers. Growers reminded decision makers that wine and grapes contribute more than $61.5 billion to California's economy. They stressed the importance of protecting wine grapes from invasive pests and explained that even in these tough budgetary times an excise tax on wine would only disproportionately trickle down to the grower.
Contact:
Sharlene Garcia
California Association of Winegrape Growers
916 379 8995