U.S. Wine Consumer Trends: Boomers' Tastes Evolve, Millennials Continue to Drive Market Growth
This new year marks 17 years of consecutive growth of wine consumption in the U.S., John Gillespie, president of the Wine Market Council, reported on Friday at the council's sixth annual U.S. Wine Consumer Trends presentation in Santa Rosa, California, at the Wells Fargo Center.
"So we are now entering what I fully expect to be our 18th consecutive year of growth," Gillespie continued. "And please note that this growth continued through two recessions, if at reduced rates. Our estimate of about 1 percent overall growth for 2010 is on par with the growth figures for 2008 and 2009."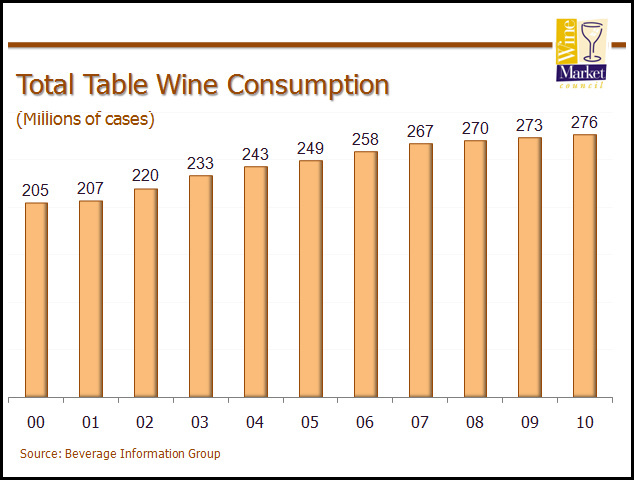 Wine Market Overview
In 2010, total table wine consumption continued to rise, up to 276 million cases, in the Wine Market Council's estimate. But it is the core wine-drinking segment—20 percent of the population, representing 46 million U.S. adults—that clearly moves the market, Gillespie said. And this 20 percent of the adult population accounts for 91 percent of all wine consumption.
Core wine drinkers are those who drink wine daily (9 percent), several times a week (29 percent) or about once a week (19 percent) while marginal drinkers are those who drink wine less often than weekly—the greatest number of whom drink wine two to three times a month. Marginal wine drinkers represent 31 million U.S. adults, making the total of U.S. wine consumers 77 million.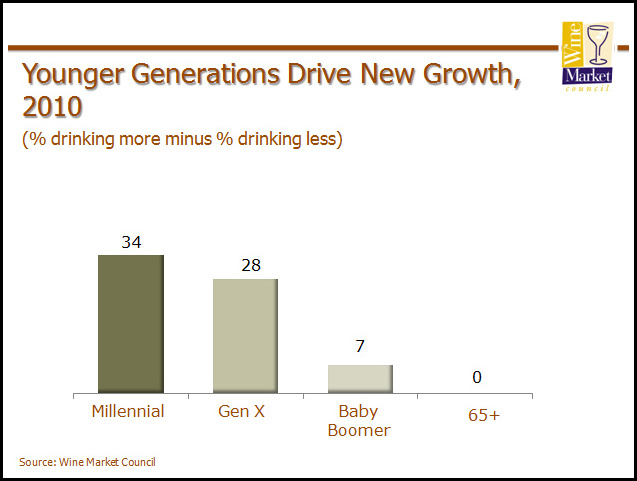 Generational Trends
Six percent of Millennials (ages 17 to 34; 70 million) are drinking wine daily, 26 percent are drinking wine several times a week, and 19 percent drink wine once a week on average. This comprises the core wine-drinking segment of Millennials, accounting for 51 percent of them, compared to only 37 percent five years ago, Gillespie said.
Generation X (ages 35 to 46; 44 million) was late in coming to the table for wine, but are making up ground, Gillespie said, as 62 percent are core wine drinkers compared to only 41 percent five years ago. Baby Boomers (ages 47 to 65; 77 million) have also continued the trend toward more frequent wine consumption in the past five years. Thirty percent of Baby Boomers reported that they drink wine several times a week compared to just 17 percent in 2005.
"And last but not least, in that they have the largest proportion of daily wine drinkers, are the over-65 wine drinkers who show only modest shifts in consumption frequency over the past five years, said Gillespie. But looking at recent consumption shifts of all generations together, the Millennial and Generation X segments are driving the growth of the wine market.
"A Decade of Remarkable Change"
The U.S. market has gained 71 million cases in total table wine sales in the past decade. What has this first full decade of the 21st century meant to the wine industry? Gillespie said, in his mind, it has been the most transformative 10 years of positive change since the 1970s. Ten years ago, 57 percent of all U.S. wine drinkers were marginal wine consumers, but today the core and marginal proportions have reversed. This is a sign of aculturation, Gillespie said.
Baby Boomers Evolve
The Wine Market Council presented a special study on Baby Boomer wine preferences and behavior. The study was conducted in October 2010 and surveyed 800 Baby Boomers who were all core or marginal wine drinkers. "We put a focus this year on Baby Boomers, not only because they have begun to reach a milestone age," Gillespie said, "but also because they still account for nearly one of every four bottles of wine consumed in the U.S."
The Boomers were asked about their wine consumption habits today compared to five years ago. A growing taste for wine is the top reason for younger boomers (ages 46 to 49) increasing their consumption while perceived health benefits along with more time to enjoy wine are more frequently cited by the older boomers (ages 60 to 64). Both the younger and older Baby Boomers are cutting back on wine consumption due to the poor state of the economy.
The study also asked Boomers about their varietal preferences. Cabernet Sauvignon and Merlot were the most preferred among both the younger and older Boomers. When asked which varietals they once drank but now no longer drink, both age groups reported Dry Rose and White Zinfandel or blush wines. "More significant, I believe, is the higher skew along the oldest boomer group in no longer drinking Champagne or sparkling wines," Gillespie said.
Consumer Direct and Social Media
The Wine Market Council also conducted a survey on 598 core and marginal wine drinkers and their social media and winery direct purchasing habits. The study looked at the frequency of tasting room purchases, numbers of bottles purchased in a typical tasting room visit and reasons for not buying winery direct. The most frequently-cited reason for not purchasing winery direct was not having visited a winery in the past year. But the economy, satisfaction with buying wine from the store and confusion about shipping laws were other common reasons. The study also looked at wine club memberships and purchases, online wine purchases and winery newsletter subscriptions.
The social media portion of the survey asked respondents about how they use the Internet and about their social media habits. "From the tracking study, we know that two-thirds of core wine drinkers and 40 percent of marginals use the Internet to get information on wine," Gillespie said. The study also found that more than half of all wine drinkers are on Facebook while about 25 percent also use MySpace, YouTube and Twitter. Also, 41 percent of core wine drinkers use a Smart Phone and, of those, 39 percent said they have wine, food or restaurant applications on their phones. Only 25 percent of marginal drinkers use a Smart Phone.
Gillespie wrapped up the market overview, concluding that the wine market continues to grow and that the growth is coming from more than just the Millennial generation, though they do continue to drive much of the incremental gains. Additionally, the evolving tastes among Baby Boomers and the studies on consumer direct and social media give today's wine marketers much to contemplate.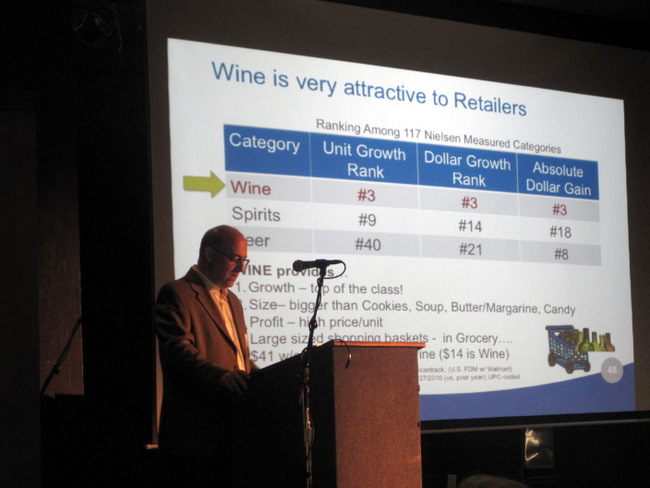 The wine category is faring relatively well, said Danny Brager, VP Group Client Director for the Nielsen Beverage Alcohol Team.
Nielsen Data
It's tough to talk about the consumer today without talking about the economy, Danny Brager, VP Group Client Director for the Nielsen Beverage Alcohol Team, said. Consumer confidence is relatively steady but still low, he said, and it differs significantly by generation, with Millennials being the most positive and Baby Boomers the least.
On-Premise. Recovery is still bumpy but restaurant operators are feeling a whole lot better than they were, Brager said. While the dining scene in 2008 was bad, and got even worse in 2009, the picture improved in 2010. The on-premise share of wine was reduced by the recession but still remained a critical channel, and some growth is returning. Yet, Brager said, it will likely take several years for the on-premise sales to return to pre-recession levels. On-premise may be improving, but will remain pressured, he said.
Off-Premise. In the off-premise market, Brager reported that wine growth is well ahead of beer and spirits. For table wine, trading down was a 2008/2009 event. But with recovery through 2010, we saw trading up come back. And while growth of the over $20 segment surged, there was broad downward pricing heading into the 2009 holidays and 2010. When looking now at the brands in the reset $20+ price range, prices are more stable, Brager said.
Wrapping Up
In conclusion, Brager wrapped up with a few points:
- The economy is recovering, but slowly--consumers remain cautious and pragmatic;
- On-premise sales are improving but will likely trail off-premise for some time;
- The wine category is faring relatively well;
- Wine growth returned at mid to higher end price ranges, but consumers are still acknowledging good quality wine at lower prices;
- Wine prices are stabilizing; and finally
- The future is positive.
The last two speakers included Steve Fredricks, president of Turrentine Brokerage, and Gregory Carpenter, the James Farley/Booz Allen Hamilton professor of marketing strategy. Fredricks presented detailed supply and demand data for the grape and bulk wine market and said that supply is down and inventories are balancing out.
For more information on the Wine Market Council and their reports, visit www.WineMarketCouncil.com or email info@winemarketcouncil.com.