Marketing "Green Wine": New Study Provides Insight to Encourage Consumers to Buy Organic and Eco-Friendly Wines
Global sales of organic food and beverages are growing dramatically. According to the Organic Monitor, revenues doubled in size from 2003 to 2008, to reach $50.9 billion. In the US alone, sales of organic beverages and food achieved $24.8 billion in 2009. Yet where is organic wine in these positive numbers? Are organic and eco-friendly wine sales growing just as rapidly as other organic consumer products?
These questions are difficult to answer, because of the multitude of confusing terms that can be found on labels regarding "green" wine. These not only make it difficult for the consumer to understand what to buy, but also challenge tracking systems in wine retail establishments. Also very little information is known about the values of organic and eco-friendly wine consumers. How do they differ from non-organic wine consumers? In order to answer these questions, a research project was conducted by the Wine Business Institute at Sonoma State University. This article provides a high-level overview of the results.
Wine Consumers in the Study
A sample of 321 wine consumers from across the US participated in the study by completing an online survey regarding their values and wine purchase behavior. The average age of the respondents was 49; 51% were female and 49% male; 57% were married; 47% were college grads, and the average annual income was $60,000. The wine consumers were divided into 3 groups: 1) organic wine consumers; 2) occasional organic wine consumers, and 3) non-organic wine consumers.
Protecting Environment Important to All – But Only Organic Wine Consumers Willing to Take Action
When asked to describe their personal values about the environment, the majority of wine consumers in the study rated this as high. In fact, there was no significant difference between non–organic wine consumers and those who purchased organic wine – they all felt that protecting the environment was a worthwhile goal and value.
However, organic wine consumers clearly stated that purchasing organic products makes a difference to the cause of environmental protection. Non-organic wine purchasers did not see a connection here, and therefore see little reason to change their behavior, especially if it means making a self-sacrifice (see Figure 1).
Figure 1:Belief of Positive Impact to Environment
(Scale: 1 =Strongly Disagree, 2 = Disagree, 3 = Agree, 4 = Strongly Agree)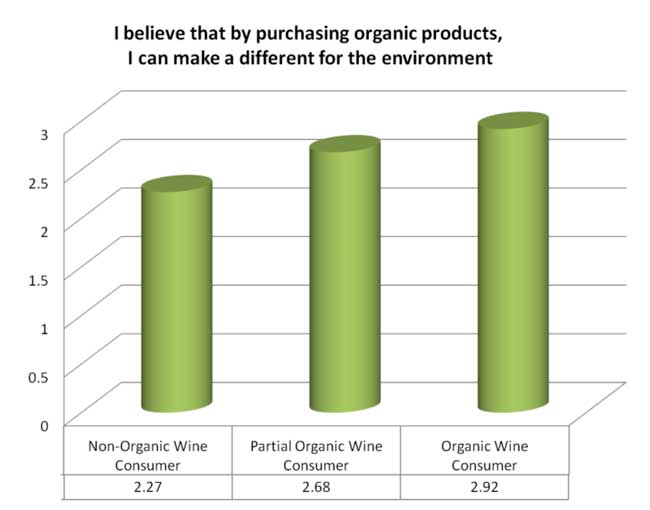 The wine marketing implications here are obvious. Wine marketers need to:
1) Clearly communicate how the production of organic wines has a meaningful benefit to protecting the environment.
2) Describe how protecting the environment requires the help of everyone. If you value environmental protection, you have the ability to make a difference by changing the wines you purchase.
Wine is Already Healthy – Why Buy Organic?
The study showed that organic wine purchasers are more likely to believe that organic products are better for your health. However, all wine drinkers in the sample saw wine as a healthy product anyway. Wine marketing implications here are rather restricted. Since it is not legal to advertise the health benefits of wine of the US, and given that it would not be a good idea to convince wine drinkers that non organic wines are bad for your health, marketing messages should focus more on the indirect health benefits of living on a more sustainable planet.
Organic Wine Purchasers Believe Organic Products Are Worth a Premium Price
The study illustrated that organic wine consumers are willing to pay more for organic products, whereas non-purchasers of organic wines do not believe that organic products are worth a price premium. This finding is also supported by other research in Europe and Australia. Therefore, wine marketing implications to encourage non-organic wine drinkers to try "green wines," are to remind consumers that organic wines can be purchased at attractive price points compared to non-organic wines. There are many examples of organic and eco-friendly wines on the market for less than $10 per bottle.
Non-Organic Wine Purchasers Less Likely to Seek Advice and Try New Brands
Non-purchasers of organic wines are not as likely to ask for advice or recommendations compared to organic wine purchasers. Wine marketing implications here include providing information about organic wines in an easily accessible way, such as clearer point-of-sale communication and promotion.
Non-organic wine drinkers were less interested in trying new wine brands, nor did they show as much concern about reputation and consistent quality. Wine marketing implications here illustrate an opportunity for established brands to launch into organic wine offerings.
Consumers Are Confused About Multitude of "Green" Wine Labels – Some Wineries Elect Not to Advertise Eco-Friendly Practices
In a review of the literature for this study, previous research confirmed that wine consumers are confused by the multitude of "green" wine labels available in the market. Following are some of the terms consumers can find on wine labels: 100% organic wine, organic wine, made with organically grown grapes, biodynamic, made with sustainable practices, eco-friendly, Fish-Friendly Farming; Lodi Rules, Oregon Certified Sustainable Wine, and Fair Trade Wine.
Because it is difficult to determine what the different terms mean by just looking at a bottle of wine, consumers must take the time and effort to learn what specifically goes into the bottle of "green" wine. As wine is already an intimating product for many consumers, most will not make this extra effort. Wine marketing implications here indicate that the wine industry should work together to create a system that is less confusing.
Perhaps in a response to this, many wineries who engage in eco-friendly practices choose not to communicate this on their labels. Instead they communicate this information more informally during conversations, and/or on their website and technical winegrowing information. The fact that some of the original organic wines to be marketed did not taste as fresh as non-organic may still have some impact on this decision, but the high quality of most organic and eco-friendly wines on today's market have dispelled most of the old negativity.
Conclusion: In 10 Years Will All Wine Be Sustainable Anyway?
In conclusion, it is obvious that based on the growth of organic food and beverage revenues around the world, consumers are interested in purchasing products they believe are more healthy and protect the environment. The issue with "green" wine, however, is more complicated as many consumers already believe that wine is healthy. Indeed, there are those who wonder if we are in a phase similar to that of the "total quality movement" in the 1980's. Then if you weren't implementing TQM, you were behind the times – but now quality is a given in most production processes and products. Could the same hold true about organic and eco-friendly practices in the wine industry? In ten years, will all wine be sustainable anyway?

ABOUT THE AUTHORS: Dr. Liz Thach (Liz.Thach@sonoma.edu) and Dr. Janeen Olsen (Janeen.Olsen@sonoma.edu) are wine business professors at Sonoma State University in California.