ZAP Launches $500,000 Scholarship at Sonoma State's Wine Business Institute
September 01, 2010
Press Release: Rohnert Park, CA: Zinfandel Advocates and Producers, known to wine lovers around the country as ZAP, launched the Donn P. Reisen scholarship for Wine MBA students at Sonoma State University.
Paul Draper and Mark Vernon of Ridge, Duane Dappen and Rebecca Robinson of ZAP, Marilyn Reisen, and other friends of Donn and the Wine Business Institute gathered at the University to launch the $500,000 endowment with a $25,000 check that will enable scholarships to begin this spring.
Donn Reisen, a founding Board Member and past President of ZAP who passed away early in 2009, was renowned for his passion for Zinfandel and his commitment to education.
"Donn was our evangelist—his natural warmth, intelligence, and generosity allowed him to connect with people in a deep and very personal way. These relationships helped pave the way forward for our entire industry, including every member of ZAP," explained Vernon. "This scholarship is a fitting way to continue his legacy," he added.
"Today ZAP is putting a finger on the scale and influencing the future of the wine business, long beyond what we see today. This partnership for our students will help us realize our vision to be the leading school for wine business around the world, the place where the business of wine happens," stated newly appointed Director of the Wine Business Institute, Ray Johnson. Visit www.Zinfandel.org or www.sonoma.edu/winebiz to learn more.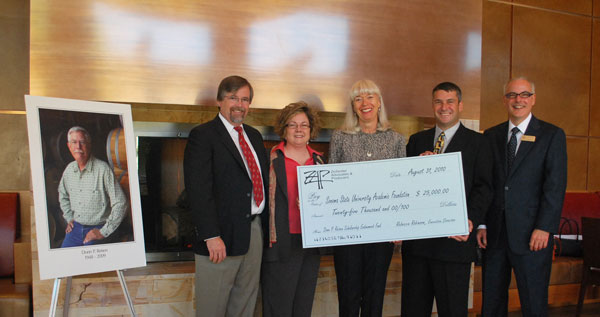 Dean Bill Silver and Director Ray Johnson accept the first check to launch the endowment
Zinfandel Advocates & Producers
The Association of Zinfandel Advocates & Producers is a non-profit, 501(c)(3) educational organization. ZAP is dedicated to advancing public knowledge of and appreciation for American Zinfandel and its unique place in our culture and history. Winegrowers, winemakers and wine enthusiasts combine to form the membership. The common focus is the preservation and recognition of Zinfandel as America's heritage wine. The 20th Annual Zinfandel Advocates & Producers Festival takes place January 27-29, 2011 in San Francisco and will welcome heritage blends to be poured at the Grand Tasting on Saturday, the 29th. More at www.Zinfandel.org.

Sonoma State University's Wine Business Institute
Sonoma State University's Wine Business Institute is located in the heart of California wine country and was created through a public-private partnership between the university and the wine industry. Founded in 1995, it is the first program in the United States to offer undergraduate and graduate degrees focused exclusively on the business aspects of the wine industry. In addition to its academic programs, the Wine Business Institute offers professional development courses for the industry, including an online certification program to be launched in spring 2011. The Wine Business Institute is located within the University's School of Business and Economics, a fully accredited AACSB institution. More at www.sonoma.edu/sbe.