Humanitarian World Wine Tour 2010 Takes California:
Next Stops, Canada, the Northwest, and New York
July 27, 2010
Georges Janssens of the United States and Anja Cheriakova of the Neatherlands are on a mission. They're spending a year traveling the world's wine regions collecting bottles for charity. Their goal is to raise $150,000 for a foundation providing basic necessities such as medical care and fresh water for the poor in Laos.
"We are glad to be able to link the generosity of vintners with charity and to be able to raise money for the foundation," said Janssens.
Already the mission has taken them to several countries and they've collected roughly 150 special bottles for a charity auction being held next Spring at Robert Mondavi Winery. The bottles are being shipped to California by logistics specialist JF Hillebrand, one of the project sponsors. Other sponsors include Seguin Moreau, Saury, Lafeet, Canton Cooperage and several others.
The tour started in Asia, including a visit to Laos, and has already generated a considerable amount of media coverage.
Since launching their tour in Moscow, Russia on January 2, the pair has traveled to China, Laos, Vietnam, Singapore, Thailand, India, South Africa, Australia and New Zealand.
This week Janssens and Cheriakova were in California, and among other things, made a quick stop at WineBusiness.com's Sonoma office.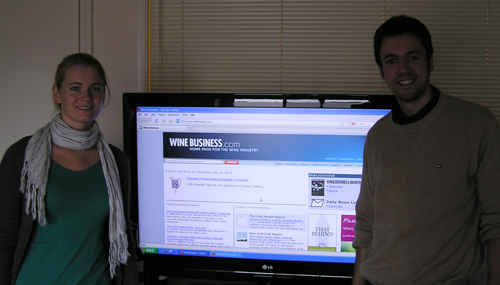 "We've learned so much," said Cheriakova.
"We're thinking of having a sister auction in Hong Kong," said Janssens, and maybe doing something online."
"We really appreciate the sponsors helping us," Cheriakova said.
Janessens and Cheriakova are blogging about the wineries they visit while their media partners also help spread the word about where they've been. They are also writing an ongoing column about their trip for Mutineer Magazine.
They are pursing the project independently, though the World Wine Tour concept began in 2004 with Vignes Sans Frontières, a year-long journey for wine donations. The 330 bottles collected from 12 countries were then auctioned to raise money for Partage, a charity that provides aid to Vietnamese victims of the Vietnam War. Since 2004, similar annual World Wine Tour trips have resulted in thousands of winery visits and more than 2,500 bottles of wine collected on behalf of various charitable causes.
Cheriakova and Janssens (son of Robert Mondavi winemaker Genevieve Janssens) are the first American and Dutch couple to embark on the tour (they met while working on graduate degrees at the University of Utrecht in Holland). All others have been French. The pair plans to visit 21 countries and collect over 300 bottles, which will be auctioned off in May 2011. They are documenting their experience at www.worldwinetour2010.com, and plan to release a book following the completion of the project.
Cheriakova and Janssens are now headed for British Columbia and then New York State, where the New York Wine and Grape Foundation will serve as their sponsor. Starting in August, they will spend time in South America, where they will visit Argentina, Chile, Uruguay and Brazil. Their entire Brazil itinerary, including winery visits, accommodation and travel, has been made possible exclusively by Wines from Brazil. They have also recently added Germany as a destination, where they have been personally invited by the Geisenheim Research Center.
The Lao Rehabilitation Foundation Inc, works on a variety of projects, from caring for a school for blind children, to operating medical missions in remote areas, to building schools, building clinics, and bringing medical supplies into the country The charity is currently supervising the construction of an aquaduct to bring water to a village of over 500 inhabitants whose fresh water supply has dried out. The funds raised by the auction in 2011 will go to help rebuild a school destroyed by massive flooding of the Mekong River in 2008.
What's next after the charity action? "Good question," said Janssens.
"I want to do something in Internatioal relations," said Cheriakova.
"I'm looking to do a PhD in something like biomedical science," said Janssens.
Both, however, also expressed an interest in making some wine along the way.
To follow their journey, see their website.