Bronco's Fred Franzia Speaks out on Farm Workers and Immigration
"Is there any grape farmer in California that will say that he can operate his vineyard today without Latino labor?"
"The question isn't whether illegal immigration is a problem, but how to solve it," said Bronco Wine chief executive Fred Franzia. "I believe we should all oppose in today's world, the excessive bashing and stereotyping of Latino immigrants by our politicians and the press. On the whole, our Latino immigrants are an asset to America, not a liability. We benefit from their labor, they benefit from the jobs. Our laws should acknowledge and reflect this reality, not deny it."
Franzia was speaking to the press yesterday at his Barrel Ten Quarter facility in Napa Valley, which bottles some 50,000 cases of wine a day.
"Let me tell you, you wouldn't have any wine on your table if it wasn't for Latinos working in the field," he said.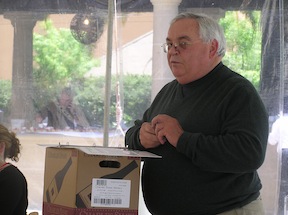 In his first such press event in about two years, Franzia noted that it has been 23 years since the Immigration Reform and Control Act of 1986 granted a path toward legalization to certain agricultural seasonal workers and immigrants.
Bronco produced 80 million gallons of wine in the past year, including 5 million gallons of Pinot Noir from the San Joaquin Valley.
Franzia said the Immigration Act of 1986 was designed to toughen sanctions against employers for hiring undocumented workers. "Because of this and other reasons, many more farm employers such as ourselves have opted to use the services of farm labor contractors to provide their vineyard workforce."
"Historically, the best results have come from providing more legal ways for immigrants to enter the country," Franzia said. "I am sure many of you can relate to how other ethnic groups such as Italians, Irish and Japanese were labeled as criminals and Mafioso and in some cases, stripped of their rights and sent to interment camps due to ignorant discrimination and racism. Most immigrants are not predisposed to crime nor are they terrorists in waiting. They are economic migrants who would gladly use the front door if it were open to them."
Noting that farm labor contractors provide more than 75 percent of the workforce in California agricultural production, Franzia said agricultural occupations continue to rate among the most hazardous.

He said that because there are many challenges in managing a workforce composed primarily of non-English speaking immigrants in a highly regulated environment, his company is committed to supporting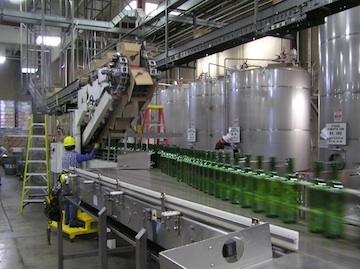 An employee helps load new lighter weight "eco-friendly" glass from Saint-Gobain for bottling Charles Shaw wines, now a 6-million case brand. The lighter glass doesn't "jiggle out of the case' as easily as others because it isn't as heavy (hence a little help from the worker).
the "California Farm Labor Contractor Association" because members are "dedicated to providing safe, healthful and compliant workplaces for agricultural workers."
(In July 2008, a 17-year-old woman who turned out to have been two-months pregnant died after passing out from heat exhaustion while pruning vines in mid-90 degree weather. She worked for Merced Farm Labor, a farm labor contractor which was working in vineyards owned in part by Franzia. There have been several heat-related fatalities in California agriculture in recent years.)
Franzia said providing safe, healthful and compliant workplaces for agricultural workers "means knowing: how to comply with heat illness prevention regulations; how to deal with association members wage and hour regulations; preventing sexual harassment, first aid and CPR certification; worker transportation requirements; and how to conduct a safe grape harvest operation."
Franzia also took the opportunity to discuss imports and the San Joaquin Valley's role as the backbone of the American wine business. "I believe the reduction of import wine sales in America can be accomplished," he said. Along those lines, the Franzia family has invested more than $1 million to date in the American Vineyard Foundation and is investing up to $1 million for viticulture chairs at Fresno State University dedicated exclusively to San Joaquin Valley vineyards. The first viticulturist appointed to the Bronco Wine Company Viticulture Chair at Fresno State University is Dr. S. Kaan Kurtural.
The press event included a look at Bronco's massive bottling facility but was also was an opportunity for the company to: highlight a new solar-powered distribution warehouse in Napa that stores some 700,000 cases, roughly 32-days of inventory; introduce Franzia family members (13 work for Bronco); and showcase new wines, including the Forest Glen Pinot Grigio Tehachapi Clone and new organic wines, such as the Cottonwood Creek Cellars White Table Wine from organic grapes (a similar wine, Green Fin, is sold through Trader Joes).
The new distribution facility includes 85,000 square feet of solar panels, and is highly energy efficient with a thermal storage unit for air conditionining. It features 3 ft. exterior concrete walls, 3 ft. of foam insulation for thermal mass, and an 8 ft. layer of interior concrete.
Fred Franzia indicated that plans to build a glass plant in Napa to produce wine bottles are in flux for now while Paul Franzia said there is discussion of perhaps situating such a plant in the Sacramento area. "The glass suppliers have gotten the message," Fred Franzia said. "I'll let you read between the lines."