The market for fine wine in the United States
Americans are drinking more wine, despite the recession. How do you reach these consumers? Delegates at the Fine Wine 2010 conference in Ribera del Duero (Spain) were given some advice. Graham Holter reports in the third segment of a five-part series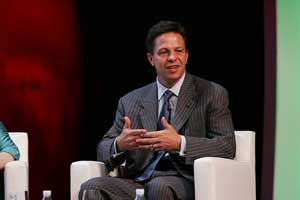 David Franke of Folio Wine Partners discusses competition in the wine market, noting that "when a producer in Napa takes a wine that used to be $150 and is now selling it for $75 – your wine that used to be $75 no longer represents the same value proposition."
"The US market is one of the few in the world where the drinking population and per capita drinking are increasing." So says David Francke, managing director of California's Folio Fine Wine Partners. America loomed large on the agenda of the Fine Wine 2010 conference in Ribera del Duero. Recession, market consolidation and new competition from Asia have failed to dampen the enthusiasm for a market many believe still represents a huge growth opportunity.
"It remains a very high value market: people are still spending more money on the wine they're consuming," Francke said. There are, he added, plenty of reasons to expect further expansion in the US market.
"We still sell to a very small segment of the US population," he said. "Forty-three per cent of the population drink no beers, wines or spirits."
According to the data presented by Francke, US wine drinking is compressed into a small segment of the population. Sixteen per cent of core wine drinkers consume wine once a week or more frequently, which accounts for around 96 per cent of consumption. Thirty-five million adults drink virtually all of the wine sold in America, Francke said.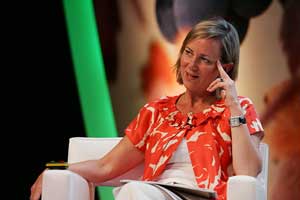 Erica Donoho, Wine Intelligence's country manager for the USA on wine purchasing behavior

Wine Intelligence has studied the US wine market in detail and categorised the wine drinking population – which it measures at 47 million – into profile groups. Two of these segments – Millennial Treaters and Experienced Explorers – were introduced to conference delegates by Erica Donoho, Wine Intelligence's country manager for the USA.
Millennial Treaters, she said, represent just 6 per cent of wine drinkers, but they account for 13 per cent of market value.
"They're a young group, under 30, and they're exciting market players to look at," she said. "Wine was introduced to them at a young age and it's something they're embracing wholeheartedly. When we ask them lots of questions, one theme that keeps coming up is there's a pressure – especially among the men in this group – to know more about wine. They're receptive to information; they want to be marketed to with some instruction.
"They're really interested in sharing knowledge with friends and family, and it's an amazing way to target this group. They want to share their experience and their knowledge.
"The social etiquette of wine choosing is becoming increasingly important."
Typically, such consumers will use the varietal as a major buying cue, but two thirds of them are also influenced by country or region of origin.
This is also true of the Experienced Explorers group (which accounts for 17 per cent of the wine drinking population and 33 per cent of market value), though there are important differences between the two consumer segments.
"Experienced Explorers are a bit older, they're over 40, but they're the powerhouse," Donoho said. "They have embraced wine as a central part of their lives. They're explorers, but they're experienced. They have the ability to rely on some of their own knowledge and incorporate a broad range of influences when making their choice."
She added: "Unlike Millennials, they have brand awareness. To many of this group, region can represent a brand, and that's an interesting way to market this group.
"This group will look to the in-store sales person or the wine critic as a source of information.
"They're open to being fed more information. They're not really going and looking specifically for the information, but when it's presented to them by a trusted source – emails that say this is what's good, this is what I recommend – it's so effective, especially when they can press the button and make the sale."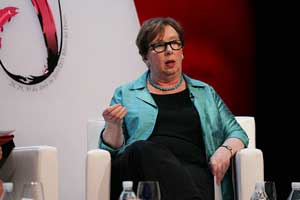 Elin McCoy of Bloomberg comments on the chenging role of the wine critic
Bloomberg wine critic Elin McCoy said the way American consumers receive information about wine has changed dramatically since the days when writers like Robert Parker enjoyed a virtual monopoly.
Such critics would "taste thousands of wines, rate them on a 100-point system and write tasting notes underneath each score, but the score was what counted – and that was people's idea of what a wine critic did," she said.
"Part of Robert Parker's power also came from the fact that the wine landscape was very different. People didn't know anything about wine, retailers really knew nothing about wine, restaurants certainly knew little about wine. There was an opportunity for a single critic to be incredibly powerful.
"Fast forward to 2010 and everything is different. Everything. There's more wine from more places in the United States, and a lot of it is very good.
"Parker himself has weakened his brand. He's hiring a bunch of different wine critics so he has more voices on his website as well as his print publications, and that's a signal of the change everywhere."
McCoy said traditional critics had been joined by legions of bloggers and regional specialists. "I like to think of it as the democratisation of wine criticism," she said. "Hundreds of thousands of collectors and general wine drinkers can go and read those reviews anywhere they want, for free.
"Gary Vaynerchuk has utilised YouTube to show his Wine Library TV videos of himself tasting three wines and using language that is very much pop culture language, comparing wines to pop stars and bubble gum. This is wine criticism as entertainment."
Critics still have a role to play at the upper end of the market, McCoy said. "Parker is still influential. When people are spending a great deal of money – they're buying Bordeaux and looking to buy for wine investment – they're looking for some kind of guarantee that what they're buying is going up in value or they're not wasting their money.
"Distributors are consolidating and looking for things that sell easily. They still believe if a wine has a high score that will make it sell more quickly."
McCoy's core audience is the investment banking community. "They have a lot of money. Wine is part of the good life for them," she said. "They want to know about it but they don't want scores from me or tasting notes. They want to be an insider and know about something before anybody else. They want to know stories: compelling stories that are going to give them an insight into what they're buying and also makes them somebody special."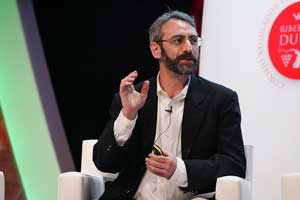 Joshua Greene, editor of Wine & Spirits magazine discusses wine styles and the latest Wine & Sprits Restaurant Poll
Joshua Greene, editor of Wine & Spirits magazine, said the US wine market had seen some fundamental – and more subtle – changes in recent times.
"In the States we were known for going for very large wines, very rich wines. There's a 'Robert Parker style' that's bandied about in the trade … in the last few years much more balance has come into our market," he said. "People still enjoy those rich wines but also people are much more interested in looking at lighter styles.
"There really is not anything like an 'American palate'. There's a very diverse population and within that you find a lot of people drinking a lot of different styles of wine. It's part of the growing maturity of the wine market in the United States."
Greene highlighted esoteric Italian wine, and Spanish wine, as two growth areas in the American market, although French sales have been suffering, he said, quoting from the magazine's Annual Restaurant Poll, which reports on top end establishments.
"The percentage of total sales that wine accounts for in restaurants [in the poll] has decreased pretty rapidly in the last two years. Even with these decreases we didn't see a lot of sommeliers losing their jobs. Instead, sommeliers were being asked to do a lot more and not pay as much attention to their lists as they had in the past. They had to sell twice as much wine and make up for the fact that wine prices were coming down dramatically."
Brands which succeed in the US are likely to have some "authenticity" about them and be owned by producers prepared to visit the market personally and engage with the trade, rather than leave matters with their distributors, Greene said. Some brands have developed a strategy which just targets restaurants, but a new breed of independent wine retailers are also acting as "gatekeepers" to the category, he added.
Greene said by-the-glass sales have become "critically important" for the on-premise sector. "People began to do a lot more wine pairing which created a lot more work for the sommeliers, but it created an opportunity where a wine could be featured on the by-the-glass programme and then step up to the list," he said.
Francke at Folio said the USA's three-tier system – involving producers and importers selling to distributors, who in turn deal directly with consumers – had not necessarily been helpful during the economic downturn, especially as distributors consolidated.
Distributors almost share ownership of wine brands, he said, "and there's also extra cost built into the structure because those distributors are still expecting to make the same margin they were before [the recession]".
Distributors, Francke said, "gained the reputation of being brand collectors". Prior to the downturn they were "more involved in brand development. It led to huge wine lists in many places; wine lists that didn't make financial sense for restaurants".
"Retailers were expanding their wine selections. Consumers were facing a dramatically expanded selection from all over the world. It led to a weakening of the big recognised brands.
"Many retailers behaved in what I consider a very irrational way. They would reduce the facings on a well known brand and put something new in its place. No one would think of taking Coca-Cola off the shelves to replace it with a brand nobody ever heard of."
For the past 30 years or so, the US consumer market has been "driven by overspending", Francke observed: between 1980 and 2010 household debt doubled to 130% of disposable income. This had a limiting effect on wine sales at a time when the credit market was closing up, which caused problems for restaurants and retail operators. Add a wine oversupply problem to the mix and it's easy to see why prices have fallen.
This has consequences for everybody, even if they hold the line on prices. "When a producer in Napa Valley takes a $150 wine and reduces it to $75, your wine no longer represents the same value," Francke told delegates.
Indeed, he added, "the idea of brand loyalty is something that doesn't exist any longer".
"The days when we were catching someone when they're 25 years old and keeping them for life don't exist anymore. I have to be telling my story over and over again. This is a luxury purchase, this is an expensive purchase, [consumers] want to know that they can rely on it. Many of the traditional brands that people thought of as leaders are falling by the wayside."