2010 Food Network South Beach Participants discuss Market Trends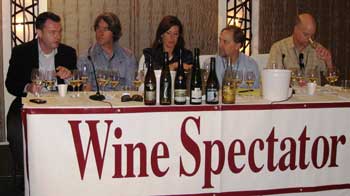 Bruce Sanderson from Wine Spectator moderates the Rieslings from Around the World seminar with panelists Richard Betts,MS, Laura DePasquale, MS, Doug Frost, MS, MW, and Eric Hemer, MS.
Cold, windy temperatures, flight canceling east coast storms, and a sagging economy, didn't seem to deter enthusiasts from attending the 2010 Food Network South Beach Wine & Food Festival (SOBE). The festival, which ran February 25-28th, stated attendance held at approximately 53,000 people for the second year in a row with a profit of $2,200,000 down from $2,400,000 in 2009.

Despite a dip in revenue, the SOBE venues and seminars were well attended with many events being sold out well in advance. Additional evening dinners and parties were added to accommodate the overflow of previous years. An interesting addition was the Lifestyle Wine Seminars sponsored by Bank of America which included speakers such Kevin Zraly and Gary Vaynerchuk. According to SOBE officials, the Lifestyle series was designed to be more casual and fun, and was not a conflict with The Wine Spectator series which is geared toward a more educated consumer.
Participants attending the various events discussed their thoughts on trends and what would boost wine sales.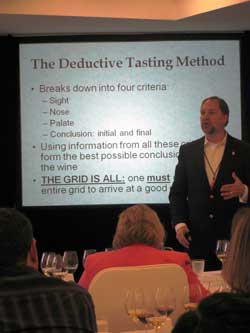 Doug Frost, MS,MW, discusses tasting methods during the Taste Like A Master Sommelier seminar
"What the current economy is doing is opening up the opportunity for new wines and regions such as less expensive sparkling wines from the Loire and Southern France," said Ira Norof, CWE. A Southern Wine & Spirits employee since 1983 who works in the Southern California market. "As the market becomes more challenging retailers and restaurants need to make adjustments. Restaurants should be doing flights of wines to expose and hand sell a variety of wines to their customers. Half bottles especially of higher end wines are a good idea, people may shy away from the price that comes from having to purchase a full bottle of ultra premium wine but look at a half bottle as less extravagant."

Norof also believes that retailers need be more proactive and go back to "old line" marketing by using shelf talkers to promote wines and change the look of their stores frequently to keep their customers interest and bring attention to a variety of wines.
Serafin Alvarado, MS, also a Southern Wine & Spirits employee based in the Chicago area and believes that a wine by the glass program is the route restaurants should be taking today. "Many restaurants in Chicago have found going to wines by the glass very success. People will venture by glass to experiment, finding something they like, and then buying it by the bottle." Alvarado is a big proponent of education but beyond the basics. He teaches classes to restaurant and retailers three Mondays a month that all include blind tastings. The most recent being a quality symposium series that included subjects such as what is quality, ratings put to the test, and the impact of quality and technology. "Knowing versus understanding is the key."
Alvarado says the distributor's role has changed. "How distributors sell wine is different in today's market. Pricing is now a main consideration not just availability. In the past you would walk into an account and say, 'I have a five case allocation of this how much do you want?' Retailers and on-premise accounts are more selective. They want information and want a dialog before making a decision."
Norof and Alvarado both agree that consumers are gravitating back to classics and brands they are familiar with. "Solid brands such as Mondavi, Jordan, Ferrari Carano are doing well," stated Alvarado. They both also feel strongly that wines that don't have solid brand identification in today's market are in big trouble.
Juan Furne, President of Gloria Ferrer Vineyard and Winery, during the California Great Sparkling seminar
Looking at trends in both parts of the country the only overlap seems to be the popularity of Pinot Grigio and Malbec. "In L.A. Italian restaurants are popular and the casual drinker has no problem ordering Pinot Grigio or Chianti. People here are seeking out Pinot Noir, Merlot consumption is on the raise, and consumers are much accepting and comfortable with screw caps," stated Norof.
"Pinot Grigio is strong here in Chicago as are un-oaked whites," said Alvarado. "Syrah is popular and Grenache/Rhone blends are starting to take off as well as Spanish wines. What's exciting here right now is restaurants with substance that are not extravagant are emerging. A lot of them are BYOB some even want you bring your own glasses as well."
Importers are also adjusting the way they currently do business in order to maintain their foothold in the marketplace. "We are very fortunate that our sales numbers were up in 2009, said Laura DePasquale, MS, and Vice President of Fine Wine Development at Palm Bay International, ranked in the top five importers nationwide. DePasquale attributes the company's success to integrating South African wines into their portfolio back in 2002. Their moderately priced brands such as Santa Rita and MontGras have remained very popular and the company's Malbec sales increased 68% last year. "Being a family-owned, family run business we are able to re-act and respond quickly to changes in market. When the on premise business slowed downed we made prompt changes and put focus more focus on our retail accounts. We also have a portfolio rich in Italian wines and as consumers shifted to being more value conscious our more conservatively priced Italian reds and sparklings sales increased dramatically."
Instead of cutting employees last year Palm Bay added 8 new people to support their brands. "There were some extremely talented people out there that were let go because of company downsizing and we saw this as a great opportunity for us."

DePasquale is optimistic about an upswing in US wine market. "I saw a shift in on premise accounts
in Las Vegas when I was there in September. The interest in high end wines is beginning to come back and we anticipate sales in 2010 will be strong."
All proceeds from "The Food Network South Beach Wine & Food Festival" benefit the students of Florida International University's School of Hospitality and Tourism Management.