California 2009 Wine Grape Crush Totals 3.7 Million Tons--CASS
February 10, 2010
In the preliminary crush report released yesterday, the California Agricultural Statistics Service (CASS) said the 2009 wine grape crush totaled 3.697 million tons, up by a total of 682,000 tons compared to the relatively light 3.05 million ton crop.
It was the second largest California wine grape crop in history, second only to the 3.76 million ton 2005 crop.
Red wine varieties accounted for the largest share of all grapes crushed, at 2,073,703 tons, up 24 percent from 2008. The 2009 white wine crush totaled 1,623,190 tons, up 21 percent from 2008. Tons of table type varieties crushed totaled 84,907, down 49 percent from 2008. CASS also said 499,323 tons of grapes were crushed for concentrate, 12 percent of the total.
The 2009 average price of all wine grape varieties was $601.44, down 2 percent from 2008. Average prices for the 2009 crop by type were as follows: red wine grapes, $648.93, up less than 1 percent from 2008; white wine grapes, $537.73, down 1 percent from 2008; raisin grapes, $171.03, down 24 percent; and table grapes, $143.10, down 21 percent.
CASS had previously forecast a total of 3.4 and revised it to 3.5 million tons. Glenn Proctor of the Ciatti Company noted that an increase of 682,000 tons (compared to 2008) is equivalent to roughly 47 million cases. He said it is important to consider, though, that even at 3.5 million tons the increase could have been on the order of an equivalent 35 million cases.
"This gives the wine industry the opportunity to fuel growth in many of the growing segments and to potentially limit some of the import competition that has been brought in because of shortages or lower pricing," John Ciatti of the Ciatti company said. "The value end of our business remains strong and growing and a larger vintage was needed – but given the size of this vintage we may see some weakness in demand even in that growing segment. This crop will put additional pressure on the already struggling premium segment of the wine business."
While the total was close to the record 2005 crop, it isn't expected to create the inventory backup that occurred after 2005. "For the most part in the Central Valley and in the value segment, most of the large wineries went in this year with as low of inventory as they've had in many years," John Ciatti said. "There was a lot of capacity that was available too. We didn't run in with a lot of full tanks. They're full now, but they were empty going in. We feel this is an opportunity to fuel growth."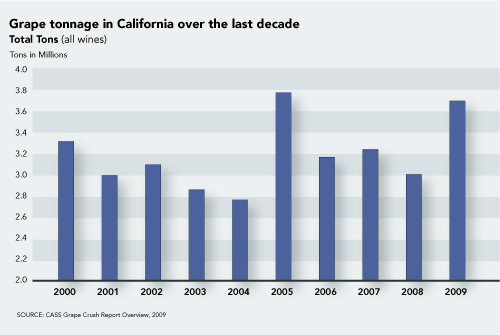 "We didn't have a lot of inventory because we had three relatively shorter crops before 2009 – so 2009 is going to create bigger issues for the super-premium end," Proctor said. "Given that we have continued growth in the value segment, we should be able to chew through the inventory."
Prices overall for wine grapes for 2009 were down 8 percent. "Many factors went into this pricing decrease – economy, struggling premium wine segment, and larger crop were all factors," Proctor said. "Over the last few years – wineries have been shortening their contract commitments and this forced more growers to sell their grapes in the spot market – thus being more subject to market pricing fluctuations."
"Wine sales have grown since 2005, Steve Fredricks of Turrentine Brokerage said. "It's a bigger base and I don't think we have the same non-bearing acreage. It's a big yield but we were sitting on pretty low inventories."
Fredricks noted that Chardonnay saw a huge increase, with state-wide tonnage up 14 percent over the five year average, much of it -- some 170,000 tons -- from Lodi, where it Chardonnay tonnage was 26 percent above the 5-year average
Putting the overall tonnage increase in perspective, Fredericks also noted that based on 2008, 2009 appears huge, but that 2008 was small, largely because of frost and water problems.
"Consumers are the winners because it was a large harvest and good quality," Fredricks said. "There's plenty of wine at good prices. Growers in the interior did well because there's strong demand for value wines and they went into harvest with very low inventories of those. Part of the byproduct was some increased importing of wines to satisfy that demand. The exception is Chardonnay. We will probably feel some effects from that. On the coast, the crop is going to be tough for wineries and growers – especially for people who didn't have their grapes under contract."
"It's a relatively large crop and surprisingly, at least in Napa and Sonoma, grape prices held up fairly well considering the economy and considering the large crop itself," George Schofield of George Schofield and Associates said. "Part of that is that there tends to be a one year lag in price recognition. Most prices are negotiated prior to the crush and that has an effect. Long term grape prices held up but there's a lot of nuance underneath."
For the full report and summary tables, visit http://www.nass.usda.gov/Statistics_by_State/California/Publications/Grape_Crush/Prelim/index.asp