Informal Test of Wine Shippers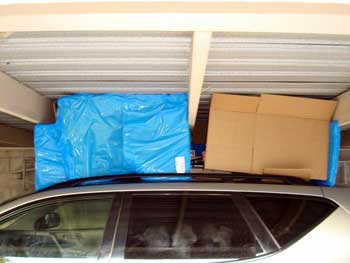 Simulating conditions inside a delivery van
Consumers want to believe the packaging materials used by wineries actually protect wine from temperature extremes that can damage wine during shipping.

Until recently, the vast majority of wines were shipped inside molded Expanded Polystyrene Foam (EPS) in cardboard boxes. EPS is felt to be a good insulator by virtue of its low thermal conductivity. There has been a shift, of late, away from EPS towards molded paper pulp trays. This material is said to be more Eco-friendly. A major objection to EPS is that it is not recyclable. This is not entirely true, but there is no infrastructure in place to efficiently recycle polystyrene.

Most people expect EPS to be a far better thermal insulator than paper molded pulp trays. A February 2009 Wine Business Monthly article suggests that the belief that EPS is a superior insulator for wine shipments is widely held by people in the wine industry. I decided to conduct some tests to determine which packaging material is best at protecting wine from heat.

I compared several two-bottle shipping systems. One test sample consisted of molded paper pulp trays in a corrugated cardboard box (0.98 lbs). Another version of this system uses folded molded paper pulp packaging (a "clamshell" design) inside a corrugated cardboard box (1.40 lbs). The second sample was a molded EPS shipper inside a corrugated cardboard box (0.66 lbs). The third sample was the WineAssure system.

While WineAssure is proprietary to Inertia Beverage Group's fulfillment operations (formerly NewVine Logistics) it is not the only system of its kind. It piqued my curiosity when I heard about it, nonetheless. It is the most complex and heaviest system of all tested (a two-bottle shipper weighs 9.8 lbs). The bottles are placed in molded paper pulp trays inside a corrugated cardboard box. This is sealed and placed on top of frozen PCM Bags inside a larger cardboard box lined with 1/2 inch thick fiberglass batting which is sealed in plastic. PCM stands for "Phase Change Material", which is a mixture of minerals and water in gel form. According to packaging, the PCM Bags may be re-used.

To test the insulating ability of each system, I placed them in a high-temperature environment for 12 hours and recorded external and internal temperatures. I used five identical digital thermometers (specifications) for each sample. These thermometers record minimal and maximal temperatures but cannot provide a more detailed history. While a history of temperature readings inside the shippers would have been desirable, minimum and maximum internal readings were sufficient for this informal test.

Each of the thermometers received a new battery from the same batch the night before the test and were then allowed to stabilize overnight (along with the packaging) in a room whose temperatures ranged from 69° to 72° Fahrenheit. The WineAssure packs were frozen for 24 hours prior to testing.
At 9:00 am Sunday Sept 27, initial thermometer readings were recorded, the max/min memory of each thermometer was cleared and each shipper was sealed with a thermometer inside. The samples were placed on the roof of my car which was parked under a low carport. There is an approximate 20" -- 24" clearance between the metal sheeting roof of the carport and the roof of the car. A fourth thermometer was placed next to the boxes to monitor the external ambient temperature.

To increase the ambient temperature around the boxes and minimize cooling from wind, an enclosure was improvised from corrugated cardboard and fiberglass batting intended for 6 and 12-bottle WineAssure shippers. The temperature outside the boxes was recorded regularly. At 9:30 pm, the boxes were opened and the current temperatures, as well as maximal temperatures were recorded (chart 1).

Going into this informal experiment, I suspected that the WineAssure system might demonstrate the best thermal protection. I also expected the EPS to insulate better than paper molded pulp. These results did not confirm my expectations - the EPS shipper did not seem to insulate as well as the either the flat or clamshell molded pulp packers.
Wine Business Monthly senior technical editor Curtis Phillips explains the results this way:

"Both fiber and EPS insulate for the same reason: Internally, they're mostly air and air is a lousy conductor of heat. It takes far less heat to raise a given volume of air one degree than to melt the same volume of ice. Assuming, for a moment, that the PCM (Phase Change Material) is just ice, it works by absorbing heat. It uses that heat energy to break the crystal lattice of the ice. It takes about the same amount of energy to melt ice, going from -0.1ºC to 0.0ºC as it does to raise the temperature from 0.1°C to 99.9°C. That is: from just above freezing to just below boiling. The critical temperature and heat-capacity will vary for different PCMs, but the principle is the same."
The flat trays, clamshell packers and EPS saw an increase of 35.3°F, 35.3°F and 37.6°F from starting point, respectively. Relative to the maximal external temperature, the flat trays insulated the best (-6.6°F difference between external max temperature and internal max temperature), while the EPS shippers showed the poorest insulation from external temperatures (-4.6°F difference between external max temperature and internal max temperature). The clamshell packers fell in between.

At 9:30 pm, there was still considerable amount of frozen material in the WineAssure PCM packs. After 12 hours, the temperature inside the inner box had actually dropped by 21.8°F from the starting temperature. During this test, the temperature inside the inner box had initially risen by only 0.2°F (max of 71.1°F). What's more, at its highest, the internal temperature was 41.3°F below the maximal external temperature, although I can't say if those occurred at the same time or how long this lasted. Relative to the maximal external temperature, the internal temperature at the time of completion of testing was 63.3°F lower.

I was concerned that there might have been an error with the EPS test. I suspected that since the tested packing did not have an inner lip for locking the two pieces of the shipper, hot air was entering the shipper. To verify this, I tested three two-bottle EPS shippers. The first test sample was a non-locking two-bottle shipper taped together at the joint with clear packing tape and exposed to heat without being placed in a corrugated cardboard box. The second test sample was the same non-locking two-bottle EPS shipper inside a corrugated cardboard box as was used in the preceding day's test. The third test sample was a locking two-bottle EPS shipper inside a corrugated cardboard box.
All three were placed on the back seat of my car at 11:30 am on Monday Sept 28. The car was moved out of the car port and into direct sunlight. Although the car's rear windows are factory-tinted, care was taken to keep the packaging out of direct sunlight. The results of this test are summarized in chart 2.

As expected, the EPS shipper without a box showed a greater rise in internal temperature (38.2°F), indicating an insulating role of corrugated cardboard. The non-locking shipper inside a box registered a 33.5°F temperature increase, while the locking EPS shipper inside a box registered a 32.1°F temperature increase. With only one measurement for each sample, statistical significance of the difference between these last two results cannot be determined. Nevertheless, these results continued to defy expectations (and conventional wisdom).

Of all the numbers and temperature readings presented here, one is most concerning: The internal temperature of each of these conventional shippers (EPS and pulp) exceeded 100°F. These findings seem to suggest that EPS's insulating capacity is comparable to a pulp and cardboard system. These are surprising findings. It could be that the temperatures to which the shippers were exposed are beyond the functional range of EPS. The findings continued to haunt me.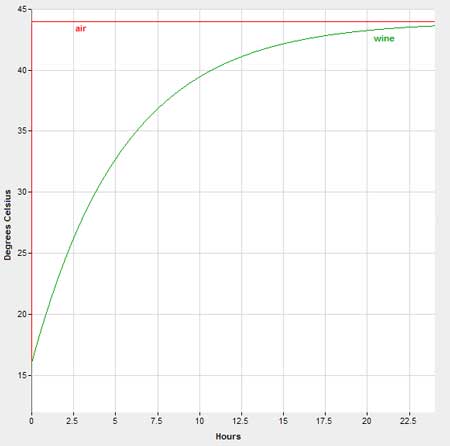 I contacted
Tom Mansell
-- wine blogger and PhD candidate in Chemical Engineering at Cornell University in Ithaca, NY. He postulated that while air temperature inside an EPS shipper may reach exceed 100°F, wine might not reach that temperature. Wine requires more energy to elevate its temperature. Tom ran some calculations to estimate the rise in wine temperature if it were stored in a conventional EPS shipper in external temperature of 112°F -- or 44°C.
According to Tom's calculations (which accounted for the varying thermal conductivities of all materials: EPS, glass and wine) indicate that after 2 hours in an EPS shipper stored at an ambient temperature of 44°C (112°F), the wine temperature can reach 25C. That is about 78.8°F. Extended exposure results in greater wine temperatures. Just three hours of this exposure could elevate the wine temperature to 82.4°F.
In all experiments, reproducibility is the key to validity of results. A more definitive study would need to involve the real-time temperature recordings taken inside a bottle of wine placed in EPS and pulp shippers and exposed to temperatures in excess of 100°F.
The results I obtained with the WineAssure sample, however, are in line with the results of testing conducted by NewVine (according to IBG representatives, this testing was conducted on 2, 6 and 12 bottle shippers).
Wine is a perishable good and it should be protected as such. This applies to shipping and transport as well as storage. Some producers recognize the potential damage heat poses to wine and avoid shipping wines during hot days. Others do not take this precaution. My findings demonstrate the fact that the interior of a delivery van can get very hot even when the ambient, outdoor, air temperature is not. To add a finer point to the need for this protection, Weather.com reported maximum temperatures for my zip code to be 83°F on the 27th and 79°F on the 28th.
Leading carriers FedEx and UPS do not make accommodations to protect shipments from extreme heat (or extreme cold). Most of the time, the trucks do not have air conditioning for the drivers. Subsequently, wine shipments can spend a day in a hot van. If the driver has to re-attempt delivery, the exposure is repeated. There is also the question of climate control in the trucks which take the wine from their point of origin to the regional distribution center and in the regional warehouse itself.
It can be argued that major package delivery services owe it to wineries and consumers to protect the wines they ship from heat damage. I think there is a fortune to be made in establishing a nation-wide service specializing in long-distance shipping of individual orders of perishable goods. In the absence of that kind of initiative, producers and retailers must rely on packaging, which assures optimal quality of their product.
by Arthur Z. Przebinda
Arthur Przebinda publishes redwinebuzz.com and blogs about wine at winesooth.com. Follow him on twitter at: twitter.com/redwinebuzz.