Wine from China's Silk Road: The Challenges of Implementing a Wine Tourism Strategy
How does a burgeoning wine region far from major airports and struggling with basic infrastructure issues such as unfinished roads and ancient plumbing attract tourists and consumers to taste its wine? This was one of the issues addressed at the recent International Symposium on Sustainable Development of the Grape Industry in the World's Arid and Semi-Arid Areas held in Turpan, China -- home of China's second largest wine-grape growing region.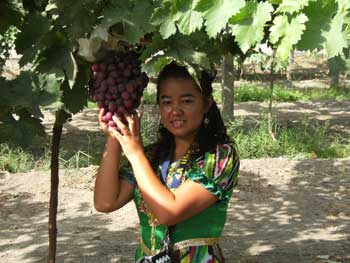 Ugyar Girl in Turpan Vineyards
Where is the Xinjiang (Silk Road) Region of China?

The Xinjiang Uygar Autonomous Region is located in the northwestern part of China bordering Mongolia, Kazakhstan, Pakistan, Kyrgyzstan, and Tajikistan. Its capital city is Urumqi, site of a brand new international airport, as well as ethnic rioting which left over 200 dead in July of this year. Xinjiang has the lowest percentage of Han Chinese compared to other regions of China, with the Uyghurs (thought to have originated from the nomadic Turkic populations and primarily Moslem) being in the majority.

The climate is high desert with very hot summers (35C/95F) and extremely cold winters (-25C/-13F), and yet it has been growing both wine and table grapes since 300 B.C. It is home of ancient buried cities and historical sites, as well as very successful oil and mining industries, in addition to large agriculture crops of melons, tomatoes, chili peppers, and other fresh organically grown vegetables. It is part of the Silk Road, because this region kept the secret of silk-weaving for thousands of years, which encouraged trade with the West.
Xinjiang's Role in China's Wine Industry

Conference speakers provided an update on China's wine industry, confirming that the country now has more than 600 wineries, produced 698 million liters of wine in 2008, and is currently the 6th largest wine producing nation in the world. The 4 largest wineries still produce more than 40% of the wine (Cofco - owner of Great Wall brand; Changyu; Dragon Seal; and Dynasty) -- with much of the bulk wine being produced in the Xinjiang region and trucked to the large wineries near Beijing and Shanghai to be blended.

The Xinjiang region currently only has 12 wineries, but several are quite large, including Loulan located 90 miles outside of Turpan City and the Niya brand -- part of the large Suntime Vineyard operation north of Urumqi. The other large wine grape-growing region is high in the mountains near Lake Bosten in an area called Heshuo where 3 wineries are located (Aromatic Gardens, Champion Dragon, and Refine). This region is so remote and unspoiled that all of the crops are grown organically, and the wine grapes do not need to be sprayed with sulfur (an approved organic substance) to protect from powdery mildew. All vines are on their own roots, but are planted on an unusual vertical shoot training system because they must be lowered to the ground and buried during the winter to protect them from the severe cold.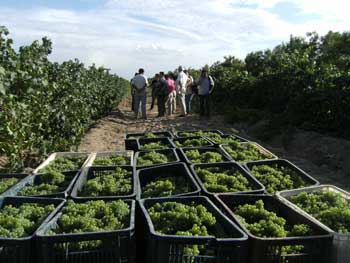 Riesling Harvest in Heshuo, China
Conference presenters reported that the Chinese government has created a 2015 wine vision for Xinjiang which includes: 1) increasing wine grape production (up to 50% in some locations); 2) improving wine quality by training more people in viticulture and winemaking; 3) developing new wine products to match consumer needs; 4) promoting collaboration between wineries, associations, and universities; and 5) increasing wine tourism to the region.

Assessing Readiness for Wine Tourism in Xinjiang

There are 5 major phases of wine tourism implementation with the first phase being Assessment to determine if the region is ready to move forward. Assessment analyzes 10 different points, and if these pass scrutiny, this suggests that the region has a good potential for success with wine tourism. When applying these 10 points to Xinjiang, the assessment shows mixed results -- at least during this present time frame:
1) Association of Wineries -- a group of wineries must be interested in implementing wine tourism, with at least 3 wineries in close proximity. Xinjiang has 12 wineries which are interested, but only 3 are close together -- in Heshuo. However, the 5 hour drive through the mountains from Urumqi to arrive there is rather difficult for many tourists.
2) Support of Hotels & Restaurants -- in this area Xinjiang excels. There are now several excellent 4 and 5 star hotels in Turpan, which is beautiful city (3 hours from Urumqi). Turpan, also called the City of Grapes, is an ancient oasis town on the Silk Trail. It is a cross between Arabia and Santa Fe with modern Arabic buildings and charming adobe houses. It has large tree lined boulevards with pink roses and canals on each side, as well as parks with lakes filled with fountains and lotus blossoms. The food in Xinjiang is excellent with innovative Chinese, Ugyar and Mongolian dishes made with fresh ingredients and tasty sauces.
3) Other Tourist Attractions -- it is generally easier to implement wine tourism if there are other tourist attractions already available. For example, most visitors to San Francisco would not think their visit complete without a day trip to Napa or Sonoma to taste wine. Xinjiang also has some good tourist attractions, such as Lake Bosten in Heshuo which has many new hotels along its gray sand beaches. Turpan, however, is blessed with many other attractions such as the UNESCO historical ancient cities of Jiaohe and Gaochang; the 1000 Buddha Caves; Grape Alley, the amazing system of Karezes (historic underground water canals), the Flaming Mountains, camel riding operations, and the Gobi Desert close-by. These attractions currently lure over 400,000 Chinese and Japanese visitors to Turpan each year.
4) Roads, Signage, and Wine Trails -- wine tourism requires good roads with easy to read signs to find wineries. Ideally the region should also develop wine trails which include maps of wineries with easy directions. Xinjiang does have some beautiful new modern highways to connect most of its major cities, but rest stops include unsightly toilet facilities that spill waste into the desert. Furthermore once you leave the highway, the side roads are often pitted and bumpy. The wineries are also too far apart to make wine trails and maps feasible at this point. When this occurs, the best solution is to begin with a regional wine center located in a high tourist area (such as Turpan). All of the wineries could be featured in the center, and it would become part of the regular tour for tourists.
5) At Least 2 Hour From Major Airport -- this is also a challenge for Xinjiang, as most of the wineries are at least 3 hours drive from Urumqi. Furthermore, it is a 3 hour flight from Beijing to even get to Urumqi.
6) Presence of Tour Operators -- most successful wine tourism regions partner with tour operators to insure that wineries are included on tourist itineraries. Currently there are a few tour operators which bring groups to Urumqi and Turpan. There is an opportunity to work with them to include a stop at a regional wine tasting center.
7) Safety/Medical -- tourists must feel it is safe to visit the area, and there must be modern hospitals and medical care should they become ill. With the current political unrest in Xinjiang, as well as some questions about medical care, this is probably the most negative issue for wine tourism in this region at the current time.
8) Customer Service & Hospitality Skills -- it is crucial that wine tourism regions hire and train employees skilled in excellent customer service and hospitality. Again, in this area, Xinjiang seems to excel as visitors are made to feel very welcome and treated to excellent service in hotels, restaurants, and at wineries. Xinjiang also has a rich cultural history of beautiful dances with colorful costumes which is part of their hospitality.
9) Wine Public Relations & Marketing Expertise -- wine tourism requires excellent skills in developing PR and marketing campaigns to lure visitors to the region. This includes scheduling festivals throughout the year, such as the famous Grape Festival in Turpan, as well as smaller wine-tasting events. It is not clear if this type of PR expertise is available, however wine promotion in China is quite sophisticated with seemingly large budgets as witnessed by many wine ads in magazines and on TVs and billboards. Furthermore, wine labels are very attractive and some brands include elaborate gold engraved script. A few wineries, such as Chateau Junding near Shanghai, have established elaborate complexes including hotel, restaurant, and spa facilities. Aromatic Gardens in Heshuo has created a more toned-down version with dormitory like facilities, conference center, restaurant, and the opportunity to walk through their organic vegetable gardens.
10) Regulations & Financing -- wine tourism can be expensive to implement, and community support and financing is necessary. It is important to involve all impacted parties including regulatory offices, financing institutions, and even neighbors so they will support -- rather than hinder -- wine tourism efforts. In this area, Xinjiang seems to have good support as wine tourism is part of the government's 2015 vision.

But How Does the Wine Taste? Another aspect of wine tourism which is helpful, but not required, is that the wine should be of high quality and taste good. If a region consistently wins awards in International Wine Competitions, this will naturally call attention to its wines. However, it is not always necessary -- which leads to the question about how the Xinjiang wines taste. The answer is that the wines are good, but not great. Since they are primarily a bulk wine region, there is still room for improvement on wine quality. Currently, 60% of production is cabernet sauvignon, followed by merlot, chardonnay and riesling. The majority of the wines are clean with fresh fruit nose and palate; medium-bodied, and with very little to no oak application. Modern winemaking equipment is used, and with organic grapes, the wine tastes fresh and pleasing; however they are currently lacking intensity and complexity. These issues can be addressed over time with more training in viticulture and enology, as well as careful consideration of site, varietal, rootstock, and canopy management.

In summary, Xinjiang has many positive aspects in terms of wine tourism -- not the least being strong government support for their industry and region. However, there are currently several compelling points which need to be addressed before the process can move forward in earnest.

About the Author: Dr. Liz Thach is a Wine Business and Management Professor at Sonoma State University in the Wine Business Institute. She has just returned from an 8 day trip to visit the Xinjiang region of China. For more detailed information on the trip, see 12 recent posts on www.winetravelstories.blogspot.com. Dr. Thach may also be contacted at lizthach@aol.com.