New Ventures to Assist Growers Making Wine
In an example of how the wine and grape market is reacting to the current economic climate, two experienced California winemakers have announced the formation of a new venture, Winecraft, to assist growers who are considering making wine to sell in bulk and wineries doing custom crush. Wineries have been limiting their grape purchases this year to the extent that some growers without contracts -- and even others with contracts that won't be honored -- may be unable to sell all of their grapes.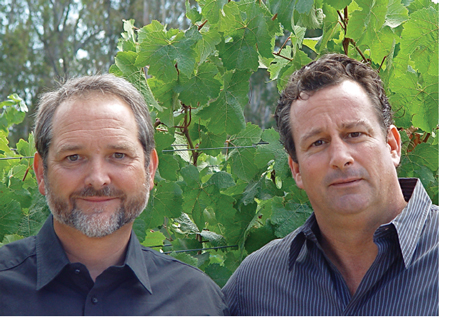 Dave Dobson (left) and Scott Peterson (right)

Winecraft is a partnership of Dave Dobson and Scott Peterson, each of whom have made wine for more than twenty years. For approximately $0.50 /wine gallon WineCraft will assist with harvest decisions, custom crush facility procurement, winemaking protocols and fermentation oversight. Rather than sending grapes into the local winery for processing, WineCraft works with the grower to optimize wine quality and is aggregating growers together to get volume discounts a single grower could not get on their own.

Dobson and Peterson aren't the only winemakers offering their services to growers considering the bulk option this harvest either. Long-time winemaker and grower Mike Draxton of Draxton Wines and Consulting is also consulting with growers on using the bulk market to diversify. "It's mainly to take the mystery out of it," he said. "It doesn't need to be a last ditch scenario."

Draxton's intention is to be an agent for growers, oversee the process, and to work with the Ciatti brokerage company to get the wines out and negotiate a sale. "There's no incentive for custom-crush operators (that charge for storage) to move the product," he said. (Draxton can be reached at 707-484-5211).


"What I'm trying to do is facilitate the process for the grower that doesn't know how any of that process works. A lot of people are sitting and waiting to see what happens (with the 2009 crush)," Draxton said. I'm trying to get the word out that there are other alternatives out there."

Dobson said growers will receive any discount earned from total WineCraft tons in a facility and that the winery will benefit by attracting more business. He says wineries prefer to deal with one experienced winemaker rather than with multiple winemakers (contact Dobson at davedobson@comcast.net or 707-738-6299).

The extent to which growers wind up crushing their own grapes this fall in hopes of selling the finished bulk wine in the near future remains to be seen, though harvest is well under way in California.

"It's going to be a last-minute decision for a lot of growers," John Wilkinson of a custom crush outfit Bin to Bottle said.

Bin to Bottle has been tapped this year to operate the Valley Gate Vineyards custom crush winery in Napa previously known as Kirkland Ranch Winery. Wilkinson expects to be working with a fair number of growers this harvest.

"A lot of guys are still on the fence," Wilkinson said. "Wineries and growers are "playing chicken to see who's going to blink first. If you wait too long, things go wrong in the vineyard. There are growers out there wanting to get fruit sold and picked, and there are buyers out there waiting until the last minute."

X Winery owner Reed Renaudin is consulting on the Valley Gate project. "We will probably have every tank full -- I think it is likely," he said. "The alternative, dropping fruit to the ground, is not pretty."

"There's a lot of opportunity to do it and people are talking about it, but it depends on each grower's individual situation," Steve Fredricks with Turrentine Brokerage said of the bulk wine option. "Wineries are thinking that some (growers) will go ahead and do it. The thought is it will happen but it may not happen to the degree they think it will. That's the problem."

"You have people advising wineries -- wait and buy it in bulk later and it will be there. Maybe that's the unintended message lenders are giving them," Fredricks said. "The same pressures are on the grower to say, 'don't make wine, cash is much better in our pockets.' It's a standoff."

"It's really a sad year," Renaudin said. "It appears a significant number of growers are going to need to (make bulk wine) this year. The question is, should they be doing that?"

Renaudin said XWinery is also offering up winemaking services to growers and in certain situations may even be willing to accept payment after a grower recoups their winemaking expenses.

"I think there will be some grapes left hanging on the vine," Allied Grape Growers president Nat Dibuduo said. "We're looking at expectations of what the bulk wine would sell for. We don't want growers to have unrealistic expectations so I'm not encouraging everybody with grapes unsold to go down and make bulk wine. We'd just feed the excess from a perishable form to an excess of bulk wine."

"Some growers are looking at making bulk wine and saying, I don't have the money and I don't have the time," Dibuduo said. "Some don't have the ability or desire to go through that process."