Top 100 Wine Brands & Top 100 Individual Wines in USA Restaurants in 2008 Unveiled by Restaurant Wine Magazine
September 10, 2009
The wine landscape in USA restaurants clearly shifted in 2008, according to a report released today by Restaurant Wine, a bimonthly journal for the hospitality and wine industries published since 1988

In two articles researched and written by Master of Wine and publisher, Ronn Wiegand, the Top 100 Wine Brands and Top 100 Wines sold in USA restaurants in 2008 are listed, based on total 9-liter cases consumed across the entire spectrum of American restaurants licensed to serve wine, from casual to fine dining restaurants and from bars and lounges to hotel banquet departments.
The Top 100 Individual Wines of 2008 On-Premise

Sales of the Top 100 Wines in US restaurants in 2008 were off 3.5 percent in volume, but significantly less than the total on-premise wine market (down 5.5 percent). Even as the overall market declined, however, the Top 100 Wines gained market share, rising from 23.9 percent of the total on-premise wine market in the USA (by volume sold) to 24.4 percent in 2008.

As in previous years, varietal wines dominated the list, accounting for 83 of the 100 slots, and 83.7 percent of the total wine volume sold. Overall, white wines and rose (White Zinfandel) declined modestly on this list; red wines increased.

The one category that showed significant growth was Riesling, up 16.7 percent in Top 100 volume sales in USA restaurants in 2008.

The 5 wines whose on-premise volumes increased the most from 2007 to 2008 were: Schmitt Soehne Relax Riesling (up 37.5 percent); Barefoot Cellars Merlot (up 23.6 percent); Louis M. Martini Sonoma County Cabernet Sauvignon (up 15.8 percent); La Terre Chardonnay (up 15.4 percent); and Salmon Creek Pinot Grigio (up 14.3 percent).

The minimum case sales in USA restaurants required to make the 2008 individual wines list dropped to 70,000 cases, down from 80,000 in 2007.

Figures for both reports were drawn from reliable industry sources, and from extensive interviews with restaurateurs, distributors, importers, and wineries throughout the USA..

It comes as no news that the on-premise wine market actually shrank in 2008. Wiegand estimates that the total market shrank by 5.5 percent in 2008 to roughly 65 million cases, a decline of more than one million cases.

However, established brands held their own, notes Wiegand in his report. "The Top 100 Wine Brands actually increased their market share in 2008," he said, "rising from 42.5 percent to 42.9 percent of the total US on-premise wine volume." He said that consumers were drawn in 2008 a bit more to 'tried and true' brands in restaurants, despite the overall decline in on-premise wine sales.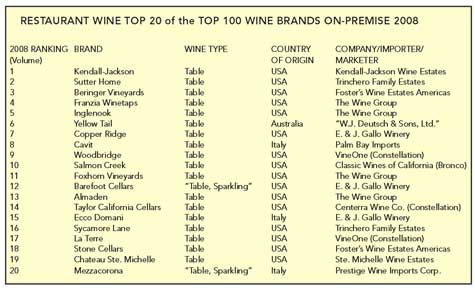 Restaurant Wine Top 20 of the Top 100 Wine Brands On-Premise 2008
(Click to enlarge)
Changes Among the Top 100 Wine Brands
One major surprise: in 2008, for the first time ever, Kendall-Jackson became the most popular wine brand in USA restaurants, outselling--bottle for bottle--every other brand on the Top 100 Brand list.
The "Top 100 Wine Brands" and "Top 100 Wines" lists are published only in Restaurant Wine, in the double issue (#131-#132). Single copies are available for $50/each in the USA, prepaid, or $56/each (prepaid in $US) in all other countries, and may be ordered online at www.restaurantwine.com or by calling (707) 224-4777. . Subscriptions are $109/year in the USA. Address: P.O. Box 222, Napa, CA 94559-0222.