Growers observe innovative robotic pruner in action
A group of mostly grape growers got a close-up and personal tour of Vision Robotics' new Intelligent Robotic Vineyard Pruner on Thursday. The demonstration, which took place at the Sutter Home Delta Ranch in Sacramento County, drew a large crowd eager to see the revolutionary pruner in action.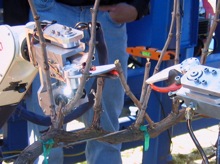 shearing arms/blades
Derek Morikawa, CEO of San Diego-based Vision Robotics, was on hand to present the new concept as well as answer any questions about the pruner, which is just starting phase 2 of development. The state-of-the-art pruner can (1) scan a vine, (2) create a computer model of it, (3) calculate a cutting plan, and (4) shear the vine. It is unique because it utilizes stereoscopic camera technology (two cameras that can visualize depth like human eyes), which is the key aspect of the pruner's ability to prune carefully and accurately.
In a presentation that preceded a tour of the pruner's abilities in the vineyards, Morikawa emphasized how the pruner's goal is to help growers with today's most critical concern: labor. "The writing is on the wall," he said. "We need to do something not only about the cost of labor, but most importantly the availability of labor." Morikawa noted that the pruner does not intend to replace labor, but to exist as another choice when needed, such as when service and construction industries are actively recruiting workers from the same labor pool.
The Intelligent Pruner provides the look and quality of a hand crew and can function day or night, with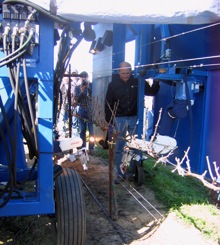 the whole rig
two pruning heads operating on two rows simultaneously. It can also take into account wires and trellis structures. The pruner operates at a stop-and-go pace with the use of a hydraulic link that expands and contracts every half-cordon step. While at this point in development the pruner is towed, it will ultimately self-propel.
Based on one acre of 726 vines, all the vines can be robotically pruned in about 4 hours (moving at a little over 8 feet a minute, spending about 20 seconds on each vine, and 1.5 seconds per cut). Morikawa stated that the pruner will save 40 to 50 percent over the cost of hand labor, with a fairly rapid payback within 2.5 seasons (working 18 to 20 hours a day over 12 to 13 weeks per season). The cost of robotic pruning calculates out to about $.17 per vine vs. $.35 per vine for manual pruning ($124 vs. $254 per acre). The cost of the pruner will be about $150,000.
The pruner works by scanning an entire vine as the machine's small hydraulic shears approach it. Multiple photos are taken from which a very accurate 3-D image is constructed. From here, pruning rules (based on how the grower wants to prune) are applied and the vines are then pruned. "It's a similar process that a human goes through," said Morikawa. "The entire cordon is considered, looking at cane position, thickness, how many buds there are, etc." Different "rules" can also be applied based on the grape variety and goals for quality and yield.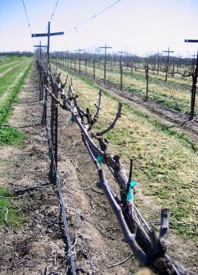 A row that has
just been pruned by the robotic pruner (with a row not yet pruned, to the right).
Phase 2 will span about two years, says Morikawa, who adds that the final pruner design will be faster and have collision avoidance software (so foreground canes you don't want cut will be avoided while aiming for background canes). Further down the line, the company hopes to integrate functions that will aid with suckering, tying, shoot thinning and crop estimation.
Morikawa emphasized that funding for the project has come mainly from those in the wine and grape industries since they are the ones most eager to put the pruner's technology to use. He added that Vision Robotics Corp. is currently seeking investment units of $125,000 from 20 investors, who will receive tax benefits, a discount on their first purchase, as well as other purchasing rights.
For more information, visit www.visionrobotics.com