The Recent Advances in Viticulture and Enology conference was held virtually this year
The Recent Advances in Viticulture and Enology (RAVE) seminar, held virtually on April 7 and 8 from the University of California Davis campus, was moderated by extension specialist Dr. Anita Oberholster. The two days of sessions included 10 presentations by faculty at UC Davis and 13 flash talks by graduate students and post-doctoral fellows. The presentations covered a number of general topics about how grapevines and wines are affected by rising climate temperatures, soil composting, investigation of physio-chemical processes through mapping and the analysis of fermentations.
Understanding Water Stress, Heat Waves on Grapevines
Dr. Megan Bartlett, assistant professor in viticulture and biology, is investigating grapevine physiological adaptations to drought. Her goal is to determine environmental factors effecting biochemical processes on stomatal cell turgor pressures. By understanding the biochemical changes that a plant makes when the environment presents locally hotter air temperatures, breeding or genetic engineering steps can be taken to select plants that have the ability to withstand drought conditions from veraison to harvest and still produce quality grapes. (Figure 1)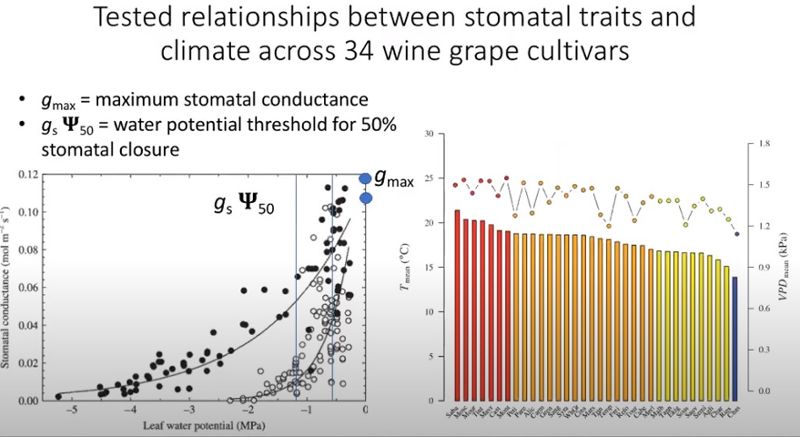 Dr. David Block, professor in both the department of viticulture and enology and the department of chemical engineering and materials science, spoke about his work on low-cost evapotranspiration (water loss) sensors. These sensors can determine the degree of water stress a single vine is experiencing and that information could trigger watering of that individual plant automatically. He presented research on his proof of principle and the start of commercialization of sensors that would cost less than $5/vine. (Figure 2)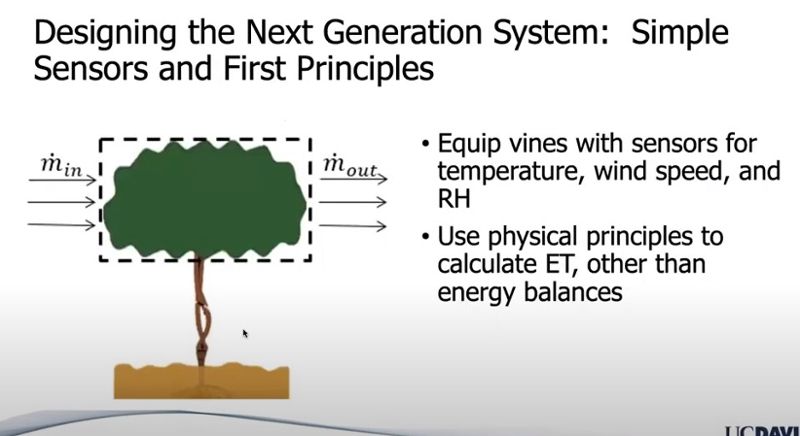 Block's talk was followed by Dr. Andrew McElrone, research plant physiologist with the USDA and adjunct associate professor at UC Davis. He is working to provide further information on ground-based sensors that increase the understanding of energy fluxes that a vine is experiencing. This information will give growers choices on how much, where, and when it is necessary to apply water to keep a plant productive. The ultimate goal of this project is the creation of a variable rate irrigation system for vineyards. (Figure 3)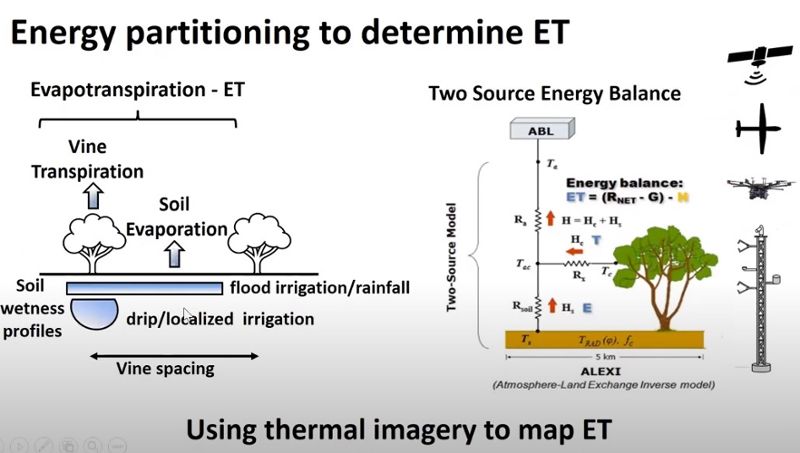 Dr. Kaan Kurtural, extension specialist in viticulture, has been investigating source sink adjustments of a grapevine's primary and secondary metabolism. His work looks at the canopy role in carbon fixation and the effect of solar radiation on skin anthocyanin accumulation. The more leaves a plant has, the higher the sugar content of berries. However, direct solar radiation did not influence skin anthocyanins. Small canopies reduced plant reserves (root starch) more than over cropping. For now, increasing yields is in the control of big canopies, and climate is on the vineyard side. (Figure 4)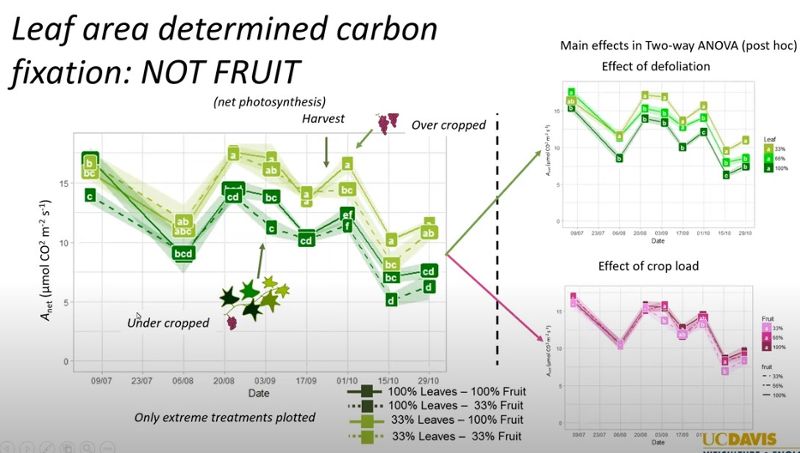 Dr. Elisabeth Forrestel, assistant professor in viticulture and enology, discussed drivers of heatwave impacts on vine physiology and berry chemistry. As shown in Figure 5, the drivers for grapevine physiology show influences in berry chemistry, translating into wine characteristics. Higher rates of transpiration will increase vine temperatures, and therefore it follows that these temperatures influence vine enzymatic pathways and photosynthesis. Higher rates of vine respiration result in lower sugars, which means there is less sugar available for conversion into alcohol. Finally, yields will be lower, with variable results in final wine quality. The conclusion of her presentation included strategies to moderate the environmental costs to the plant by making trellis changes, installing variable drip irrigation, changing rootstock and more.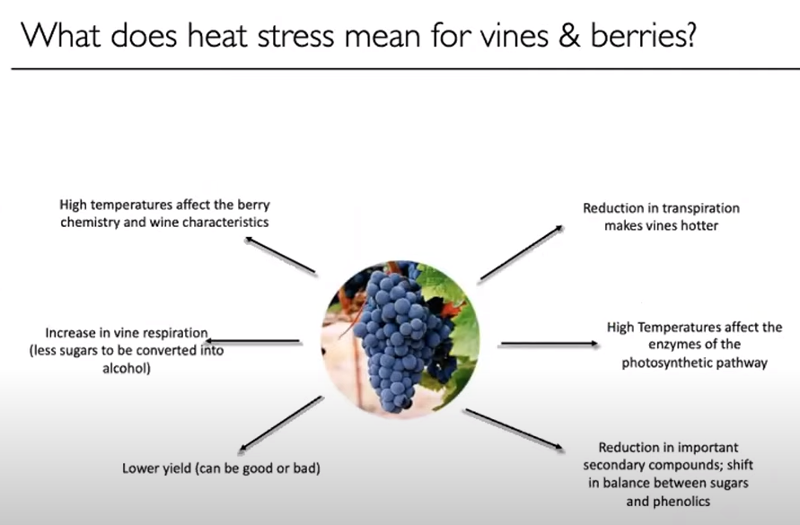 Composting Benefits in Degraded Soils
Dr. Jean-Jacques Lambert, specialist in viticulture and enology, presented work on adding compost to degraded soil in Lake County vineyards that had been planted on volcanic soils. To assess the effect of composting, vines were set up with a fertigation protocol and then compost was added at various rates from 0 to 33 T/HA. Vine yield, pruning rates and berry weights increased with increasing compost addition to the soil. There were no effects of compost addition on juice chemistry or vine balance (Ravaz Index). N-P-K concentrations at bloom all increased significantly at the highest treatment level. Small levels (11.2 t/ha) had no effect on vine performance, but both the 22.4 and 33.6 t/ha had significant benefits on vine health and on grape quality measures. (Figure 6)