Sokol Blosser Winery 2019 Evolution Pinot Noir: Tradition and Innovation Come Together in Super-Premium Boxed Wine
Hot Brands 2020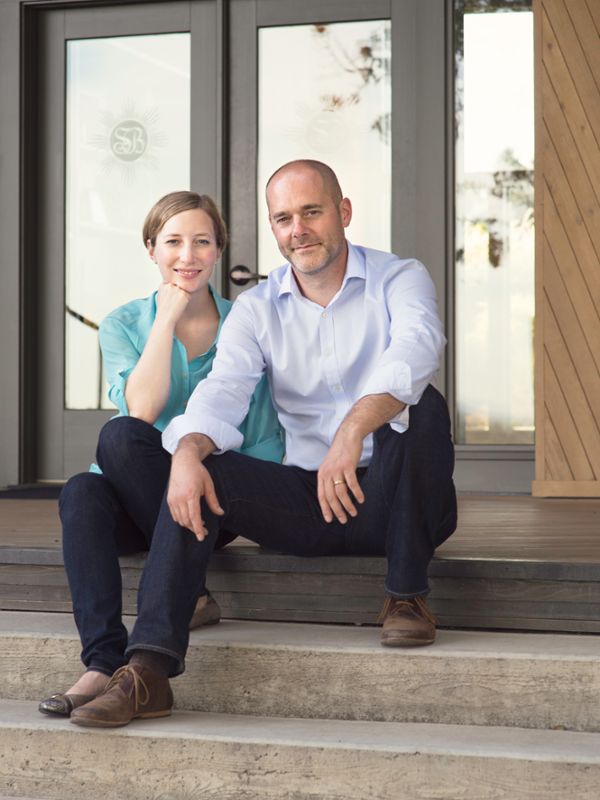 When Americans started spending more time at home, their purchasing patterns shifted. In addition to turning to trusted national brands, they also reconsidered the formats in which wine was stored. Pantry-loading was common, and many thought that boxed wines were worth a try. (In the 52 weeks ending Nov. 28, 2020, boxed wine sales rose 18.4 percent by value and 13.6 percent by volume, according to Nielsen scan data.) But more importantly, Americans moved their consumption away from the restaurant, which was forced to shut down, and into the home.
This presented an interesting challenge for Sokol Blosser Winery and its Evolution Pinot Noir—70 percent of production is sold on-premise.
But innovation is nothing new for the brand, and it would need to adapt as it had in the past. The Evolution line was created in the late '90s by Susan Sokol as one of the first white blends out of Oregon, and a chance for the ultra-premium winery to have a wine that is all about fun, great food and amazing value. It served as a compliment to the winery's more traditional, vineyard-based wines, and soon expanded to include other varieties and serve the company's on-premise accounts. Now the time had come for Evolution's next chapter, under the guidance of her daughter, co-president and CEO, Alison Sokol Blosser.
When the pandemic hit, the team needed a new way to bring the Evolution line to customers. The wine itself would need to be packaged soon, but its final sales destination was unclear. It was Alison's brother, co-president and winemaker Alex Sokol Blosser, who came out and suggested the wine be packaged in box. "I said, 'Are you nuts? We can't put a high-end Pinot Noir in a box,'" Alison recalled. "But we just kept saying to ourselves, 'If great pizza can come in a box, why can't great wine?'"
Because sustainability has always been at the core of Sokol Blosser's philosophy (it is Certified B Corp), alternative and more eco-friendly packaging had been a topic of discussion for a while. Boxed wine just wasn't at the top of their lists. Now, it seemed like the smartest path forward.
"We said, 'All right, let's do this. We're going to put the same wine that we put in the bottle, in the box, because we want people to know that we really believe this is a very viable quality packaging and provide great value to the consumer,'" said Alison. "We know they don't want to go to the grocery store as often, but they still want great wine. So, let's give it to them in a 1.5 liter and just make it super easy."
The Sokol Blosser team delivered—quickly. The original boxed wine email suggestion came at the end of March 2020. The project was green-lighted on April 1 and the first wines were shipped out on July 1.
"When I think back, we were all, and I think maybe the world was also, running on adrenaline to a certain extent. We were in survival mode," Alison said. "The more we talked about it, the more excited we got t, and it just kept motivating us to keep going with this. It's definitely the fastest we have ever come out with a new item, especially when designing it from scratch."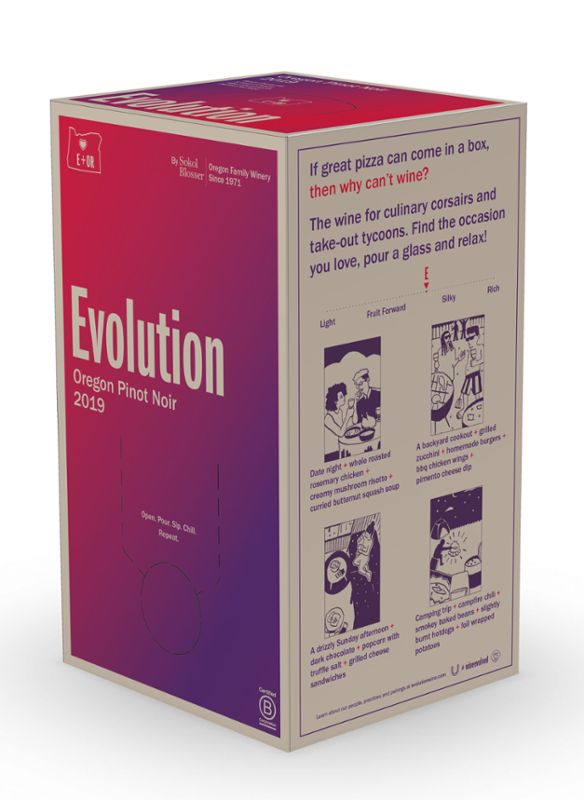 As Alison put it, she and the team poured everything into the launch of this wine. Evolution's business with restaurants, cruise ships, airlines, and even in the export market, was at a standstill. She, like the rest of the world, didn't know how long it would last, and finding a new outlet for the wine seemed a challenge.
But she found some support for distributors who, despite not wanting to take on new products early-on in the pandemic, were excited about the project. It launched locally first, filling the shelves of Oregonian Safeways and Whole Foods, before rolling out nationally. It's now featured in Total Wines, Central Market in Texas and soon, Wegman's in the Northeast. The Evolution boxed Pinot Noir has even been selling well in independent retailers in Michigan and Ohio.
"That's been awesome because they can just go crazy and sell it, too, where there's a lot more local decisions being made. They've had good success with it," said Alison.
It's been such a hit that Sokol Blosser will continue its plans to grow the brand in bottle and box across all channels.
At the end of the day, it's reminded Alison of the team's resiliency and, pun entirely intended, to think outside the box.
"We're celebrating our 50th anniversary this year. And we're often thought of as the pioneer for Oregon, because my parents started back before there really was an Oregon wine industry," she said. "Oftentimes, people think of the pioneers as not changing. I'm really proud of the fact that Alex and I are second generation and we're still trying to push the envelope. We're still trying to be innovative. We're still true to our roots, true to the land, but also trying to make wines that appeal to today's consumer and delivering it in a way that they want."
by Erin Kirschenmann
Erin Kirschenmann is the managing editor for Wine Business Monthly and has been with the company since 2012. In addition to production responsibilities for the monthly trade magazine, she writes about business, technology, sales and marketing, and also oversees content and programming for WBM's symposiums. She speaks on industry trends at numerous conferences, including the Unified Wine & Grape Symposium and the World Bulk Wine Exhibition, and guest lectures on wine, media and public relations. Erin has served as a judge in the international Concours Mondial de Bruxelles wine competition since 2016 and at several regional competitions. She earned her Bachelor of Arts in communications with a journalism emphasis from Sonoma State University. Reach her at erin@winebusiness.com or @erinakirsch.