Sharrott Winery 2018 Merlot: Fine New Jersey Wine That Competes with the World's Best
Hot Brands 2020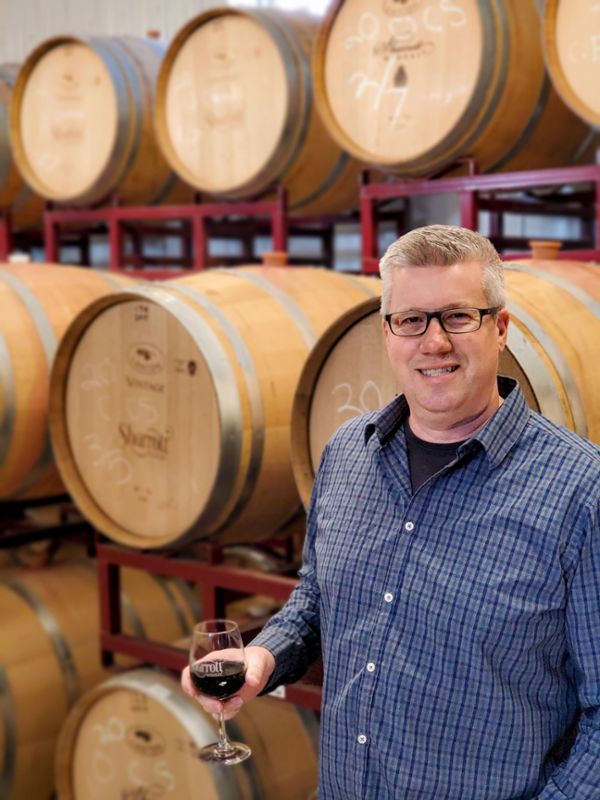 There's a stigma that quality wine is not made in New Jersey, and Larry Sharrott will be the first to tell you that the naysayers are wrong.
"If you look at the East Coast, there's great wine is being made in Virginia. There's great wine being made in New York. There's no reason we can't make great wines," he said. "It's just that for decades, they focused on fruit wines and sweet wines and things like that. It's really only been the last decade, maybe two decades that wineries have really focused on making fine wines that we're actually now becoming a region that people might be more interested in."
Despite an inconsistent climate, southern New Jersey still has a decent ripening season. Sharrott likens the area to Bordeaux—large bodies of water moderate climate, meaning summers only occasionally hit the 90s and the winters don't reach freezing temperatures. While Sharrott's estate vineyard is on a flat plain, the sandy soils full of quartz encourage water run off during late summer thunderstorms, which can easily drop a couple inches of rain in an afternoon.
Merlot is very well-suited to this climate. "One of the real advantages with that grape is the fact that it's an early ripening variety, whereas with Cabernet Sauvignon and some of those other grapes, we might be fighting to get it to ripen late in the season," he said. "We don't have the problem with Merlot. It always ripens on time."
Some of the other red varieties, however, have been a challenge. "One of the things that I find, too, is that it's harder to maintain quality from year to year with our top high-end reds. We're doing things a little differently than some of the other growers in our area," he said. That includes higher-density plantings, as tight as their machinery will allow, to slow vigor and concentrate the flavors in the grape.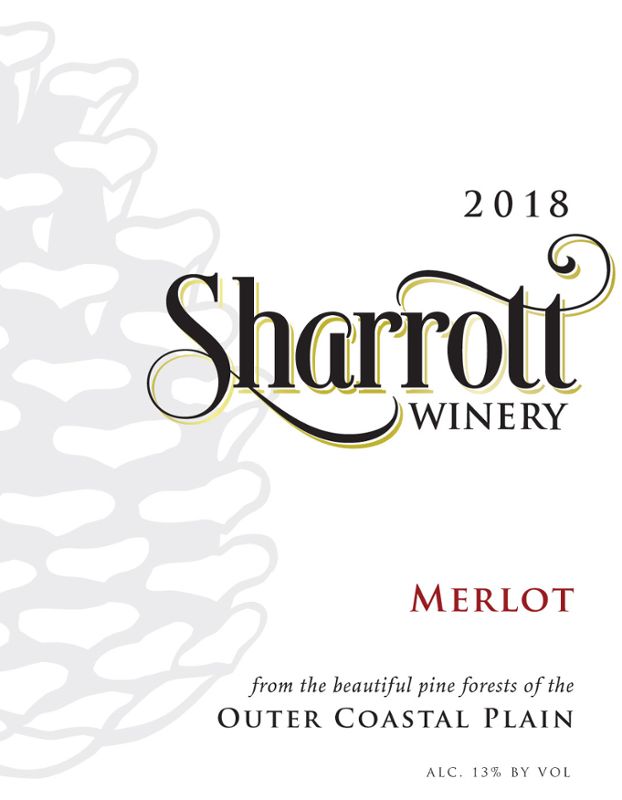 Using tactics like this to produce fine wine has been top of mind for Sharrott Winery since its inception. Both Larry and his father hailed from the tech industry—Larry doing simulation software for the Navy and his father the former president of InfoShare and looking to retire. Both had a love for wine and food.
"To me, it's kind of like alchemy," he said. "You're taking a simple product, like grape juice, and you're turning it into this completely different, amazing thing. So, one day, we were talking. We were like, 'Hey, this could be a real business.'"
Like true scientists, they did their research. They attended East-Coast wine-focused seminars. They sat down to write a business plan. When all was said and done, they knew that it was the right course. "It's one of those things that we finally fell into and I felt like I found what I was supposed to be doing in my life," Larry said.
But even at that inspiring and life-changing moment, they knew that their mission to produce world-class wines might not align with the local customers—yet.
"We wanted to make Chardonnays, Cabernet Sauvignon, Merlots. That was really our target. But of course, by the second year, and with customers coming in the door and not really being terribly interested in a lot of our dry stuff, we started making a little bit more of some fruit wines and some sweeter wines," he said. "Of course, they were very popular because that's what the customer base in our area was looking for."
Like others, the Sharrotts produced the ever-popular blueberry wine. Eventually, though, customers caught on to the dry wines as well. Sales shifted from some of those "traditional" New Jersey wines to dry, varietal-specific SKUs. Medals, including a Best in Class from the Finger Lakes International Wine Competition for his second vintage of un-oaked Chardonnay, came rolling in.
Today, business is booming. Over the last decade, the duo has spent time building demand for their products. As that desire grew, the Sharrotts stumbled into hospitality, as they wanted to provide a place for their guests to sit, relax and enjoy the wine. "Of course, we found if we had a small reason for people to come out, like live music or anything along those lines, that our business that day would triple, or more, what we would have done if people just came down and did a tasting," he said.
Realizing the sales boost, they tried more avenues to entice both locals and tourists. Now, they not only have a wine bar, but a restaurant and a live music and event space, featuring local bands, trivia nights and more. The space is a destination, almost equidistant between Philadelphia and Atlantic City, attracting Pennsylvanians on their way to the Jersey Shore.
Even when COVID-19 forced shutdowns for businesses like the Sharrotts', the winery was able to adapt. "We focused on our online presence. We focused on our wine club, which has always been a huge part of our business. We focused on those things," Sharrott said. "We managed to increase those areas of our business by pretty good margins, which was great, but obviously it didn't replace people coming and actually visiting us onsite and doing a tasting."
None of that has stopped their growth or their dedication to high-quality wines. In fact, they're doubling down on plantings of Merlot, Cabernet Sauvignon, blending varieties and Chardonnay, the latter meant for some sparkling wines to be released in a few years. Of their 34 acre property, about 25 will be planted to vines, and Larry is considering purchasing additional land as well. They're also looking to establish new tasting rooms in population centers within the state.
by Erin Kirschenmann
Erin Kirschenmann is the managing editor for Wine Business Monthly and has been with the company since 2012. In addition to production responsibilities for the monthly trade magazine, she writes about business, technology, sales and marketing, and also oversees content and programming for WBM's symposiums. She speaks on industry trends at numerous conferences, including the Unified Wine & Grape Symposium and the World Bulk Wine Exhibition, and guest lectures on wine, media and public relations. Erin has served as a judge in the international Concours Mondial de Bruxelles wine competition since 2016 and at several regional competitions. She earned her Bachelor of Arts in communications with a journalism emphasis from Sonoma State University. Reach her at erin@winebusiness.com or @erinakirsch.