Cheramie Wine 2019 Riesling: Diving in Headfirst, Ex-Military Couple Shines in Inaugural Release
Hot Brands 2020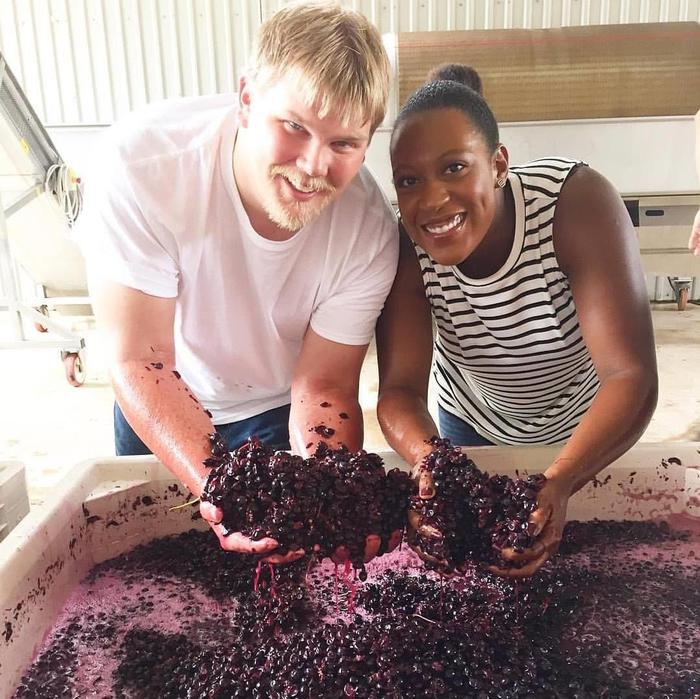 It all started when Cheramie Law was in the Marine Corps., stationed in San Onofre, Calif. She would drive up to San Clemente on the weekends to attend church, whose members became close family and friends. This was her break from the day-to-day of serving in the military, a place that she could enjoy a sense of normalcy—and where was first exposed to wine.
"They loved their wine, and they loved good wine," Law said. "And at the time I didn't understand wine. I just knew they were drinking it and I wanted to drink it with them."
After her service with the Corps was complete, she attended college in Denton, Texas. There, the owner of a wine bar, Wine Squared, loved to help the older college students understand the different varieties, regions, and styles. It was the first time, Cheramie said, that she realized that anyone could find a wine they enjoyed, and it opened a new world to her. So, when her now-fiancé, Todd Aho, suggested a trip to Fredericksburg and the local wine country for their third date, she readily accepted.
"It's breathtaking," she said, remembering that first trip into town. "Going into Fredericksburg and walking around the town and drinking wine… it sucks you in. I really, I just fell in love." She and Todd would spend a lot of their getaways in Texas Hill Country, visiting wineries, meeting growers.
But perhaps one of the most important people they met ended up being Todd's brother's girlfriend, who sold wine in New York. Cheramie asked her if she'd heard of Texas wines.
"And she looked at us like we were just two dummies, and we were, but she didn't respond. She didn't say yes, she didn't say no. She looked at us and turned her head," Cheramie said. "Todd and I are military, so we took that as a challenge."
Not realizing why they had received such a reaction, the two returned to Texas Hill Country and spoke with more winemakers, growers and industry leaders. They came to understand that only a few companies were really selling Texas wine outside the state, and even more smaller wineries weren't selling to the on- and off-premise in cities within Texas. So, naturally, they became brokers and founded Salt & Pepper Wine Co.
They threw herself into the job with gusto, all while working full-time jobs. Cheramie started connecting wine brands with sommeliers and buyers, doing her part to build the reputation of Texas wines in Dallas, where the couple now lived, and across the country.
Even so, the fact remained there were only a handful of Texas wines that people outside the state could name. She wanted to change that. She wanted to do it herself, in her own way and with her own brand. And thus, Cheramie Wine, a brand dedicated to 100 percent Texas fruit was born.
As she puts it, it's been a trial by fire, but the couple simply started asking for help, and Texans showed up. "When you need something, when you want something, especially if you're a nice person, people will literally just lay it all out for you," she said. "They invite you into their home. They invite you into their families. They invite you into their operations and they teach you."
The two have learned, and will continue to learn, so much this way—including when to leave it to the experts.
"These farmers have given so much of themselves, put so much on the line to figure out what grows best here in Texas and how best to grow it. We don't have grapes of our own, but we get to partner with awesome vineyards that do have good grapes," Cheramie said. "I leave it to the vineyard managers to grow the really good grapes. That's why we work with the best, right?"
The 2019 Riesling was the debut wine, sourced from vineyards in the Texas High Plains AVA. From the outset, Cheramie knew she wanted to source varieties that would peak people's interest. It felt right, she said, that Riesling would be the first. Not just because it was over a glass of Riesling at Texsom that a prominent wine director gave her the encouragement to move forward with her idea, or that it's a variety that most sommeliers wouldn't expect from Texas.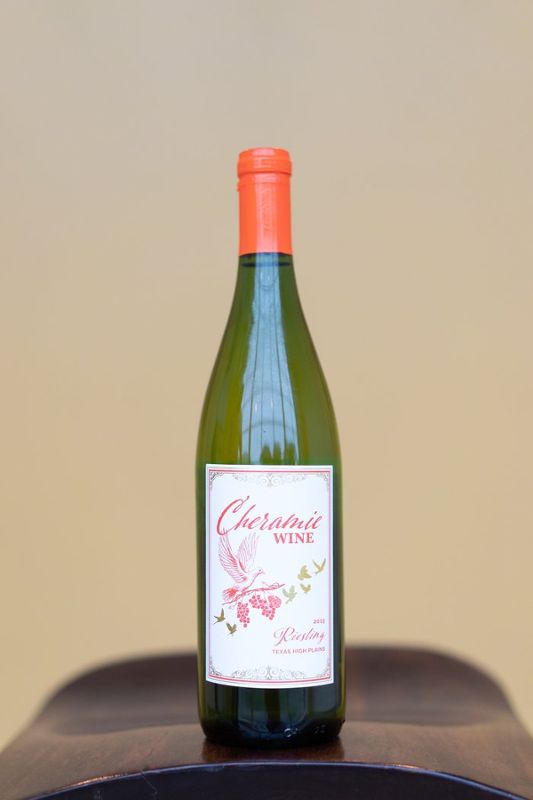 "It's the consumers. When they think of Riesling they mostly think of really sweet wines. That gives us an opportunity, as ours is 2.4 percent residual sugar," she said. "It gives it just a kiss of sweetness and gives us an opportunity to be able to talk about the range of what Riesling can do."
It's not the only variety you'll see. They just released the first Rosé of Montepulciano, and different combinations for the Red Blend are being trialed as this article heads to press.
All wines are sold online— from the start Cheramie knew she didn't want to focus on the tasting room model—and that left them well-equipped to launch the brand even as the pandemic flipped the world upside down.
"I forgot how much we sold in our first month of sales. It was insane. So, it was good for us, because everybody was, at the time, stuck at home, and everybody was on social media," she said.
The wine is now sold to supporters and fans in 27 states, but Cheramie has much loftier goals, and Todd is 100 percent on board. She hopes that one day Cheramie Wine is a global brand, bringing 100 percent Texas wine to the masses.
by Erin Kirschenmann
Erin Kirschenmann is the managing editor for Wine Business Monthly and has been with the company since 2012. In addition to production responsibilities for the monthly trade magazine, she writes about business, technology, sales and marketing, and also oversees content and programming for WBM's symposiums. She speaks on industry trends at numerous conferences, including the Unified Wine & Grape Symposium and the World Bulk Wine Exhibition, and guest lectures on wine, media and public relations. Erin has served as a judge in the international Concours Mondial de Bruxelles wine competition since 2016 and at several regional competitions. She earned her Bachelor of Arts in communications with a journalism emphasis from Sonoma State University. Reach her at erin@winebusiness.com or @erinakirsch.