California Crushed nearly 4.3 Million Tons of Winegrapes in 2018
April 10, 2019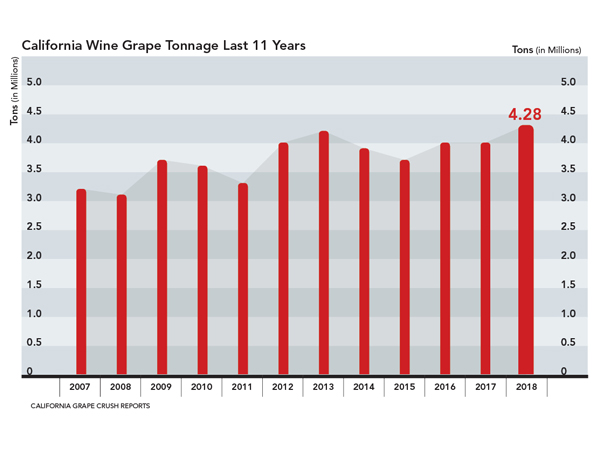 The California Agricultural Statistics Service released the 2018 Crush report today. According to the report, the state crushed more than 4.28 million tons of winegrapes in 2018 – up by roughly 7 percent over 2017, when the state crushed approximately 4 million tons of winegrapes.

This is in line with industry estimates.

According to today's report, the 2018 crush totaled 4,506,583 tons, up 6.2 percent from the 2017 crush of 4,241,945 tons. Red wine varieties accounted for the largest share of all grapes crushed, at 2,447,930 tons, up 8.8 percent from 2017. The 2018 white wine variety crush totaled 1,833,755 tons, up 3.8 percent from 2017. Tons crushed of raisin type varieties totaled 82,508, down 12.5 percent from 2017, and tons crushed of table type varieties totaled 142,391, up 8.0 percent from 2017.

In determining grape tonnage crushed for concentrate production, each processor was required to report the estimated equivalent tons of grapes crushed for grape concentrate. For the 2018 season, this total was 449,904 tons, 10.0 percent of the 2018 grape crush total. This aggregate figure does not include information by district, type, or variety.

The 2018 average price of all varieties was $831.63, up 6.8 percent from 2017. Average prices for the 2018 crop by type were as follows: red wine grapes, $1,019.03, up 5.5 percent from 2017; white wine grapes, $634.84, up 8.0 percent from 2017; raisin grapes, $299.48, up 18.4 percent; and table grapes, $192.01, up 7.6 percent.
The average price of grapes produced in Napa rose 6.67 percent to $5,571 per ton, the report said.
The California Department of Food and Agriculture's Final Grape Crush Report is considered a barometer for the wine and grape industry.
The report provides insight into inventory and pricing positions and influences bulk wine market dynamics.

The traditional February release of the USDA's official preliminary harvest figure, and the breakdown of that figure, was delayed by the 35-day government shutdown in December through January. Today's release combines the preliminary and final reports.

The report is available at: www.nass.usda.gov/ca
Check back with us for updates