Wine Directors and Sommeliers from US Michelin-starred restaurants Visit the Napa Valley
Wine directors and sommeliers from about 20 US Michelin-starred restaurants took part this week in a Napa Valley-style boot camp.
The Napa Valley Vintners organized the tour which started Sunday with a diner at Revana Family Vineyard near St. Helena and ended Wednesday with a town hall for sommeliers and wine directors. It included seminars on Cabernet Sauvignon, Sauvignon Blanc and other varieties as well as tours of vineyards and green wineries in the Napa Valley.
A goal: turn the group of men and women from restaurants throughout the United States into ambassadors for the Napa Valley.
"As wine directors at restaurants that are known to have amazing quality of not only cuisine but also beverage and service, they have a clientele that looks to them to discover and learn about new wines," said Korinne Munson, director of communications at Napa Valley Vintners.
"They are very much 'gatekeepers' in the wine industry, they determine the wine list, train the restaurant staff and also interact directly with the customers, so they are in the position to be the ultimate ambassadors for the Napa Valley if they are excited about our wines," Munson said in an email.
Speakers included Karen McNeil, author of The Wine Bible; Lisa Perrotti-Brown, editor-in-chief, Robert Parker Wine Advocate; and Kenji Miyaishi, chef at Kenzo.
The invited participants included representatives from Eleven Madison Park, Gabriel Kreuther Restaurant, Jungsik in New York, Nix Restaurant, Gunter Seeger and Atera New York City; The Inn at Little Washington, the Blue Duck Tavern, Plume, Masseria and The Dabney in Washington D.C.; Elske, Sepia and Proxi, Entente and Boka in Chicago. San Francisco Bay Area attendees included of ADEGA in San Jose; The Plumed Horse in Los Gatos; Commis in Oakland; Mourad, Intercontinental San Francisco/Luce Restaurant, Hashiri San Francisco and Crenn Dining Group in San Francisco,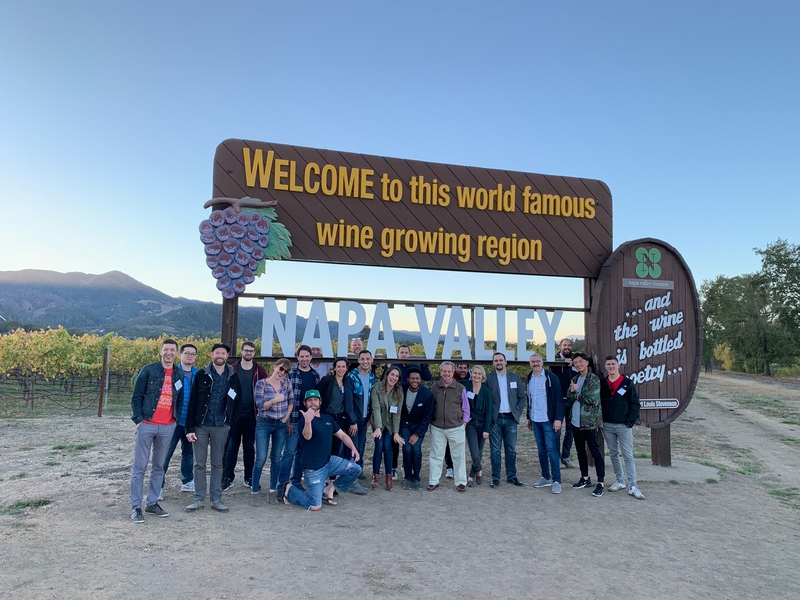 Wine directors and sommeliers from US Michelin-starred restaurants were in the Napa Valley this week for The Michelin guide - Napa Valley Summit. Photo courtesy of Napa Valley Vintners.