Francis Ford Coppola Launches Cannabis Product
The Grower's Series by Francis Ford Coppola is a cannabis lifestyle brand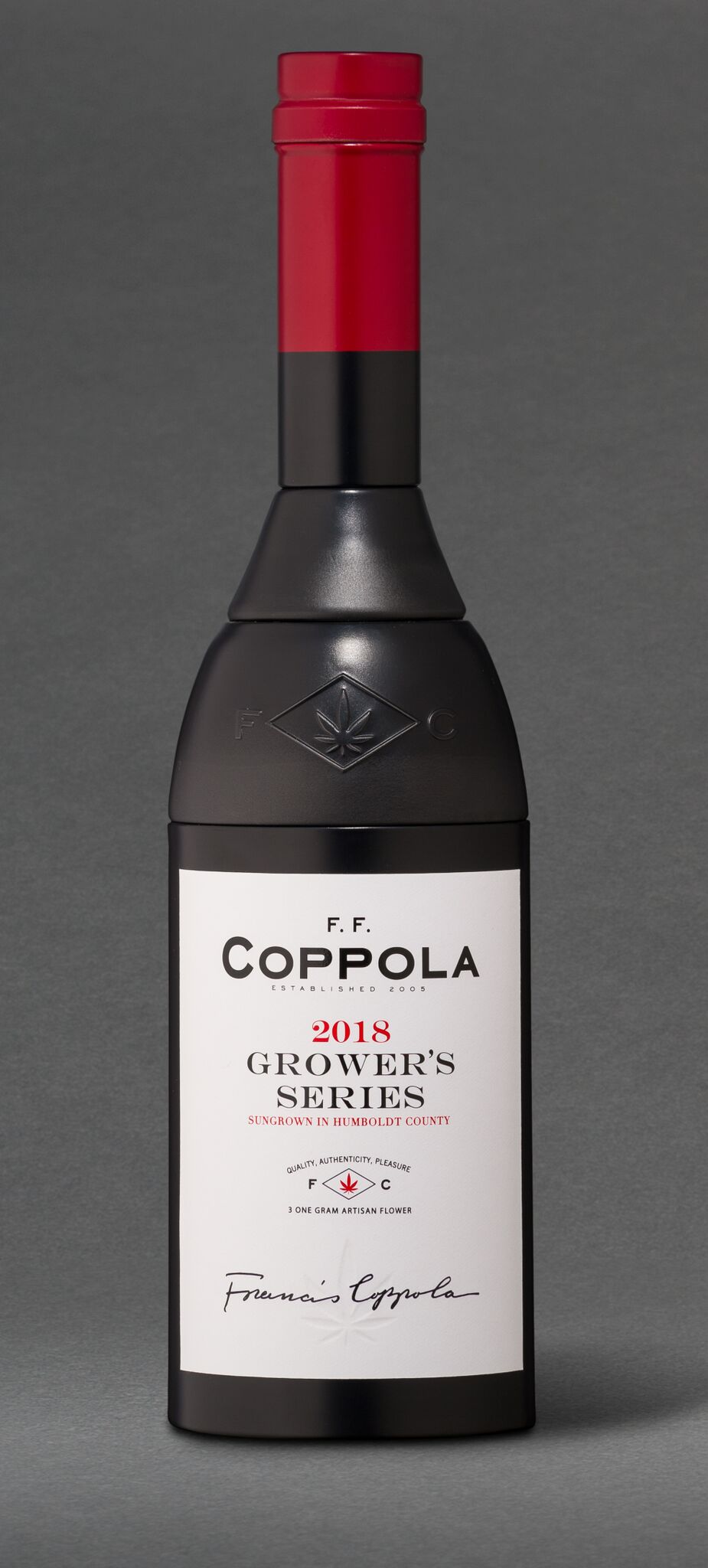 The limited edition offering includes a tin canister shaped like a 375 ml wine bottle. Inside are three grams of flower, a glass pipe, matches, and rolling paper
Francis Ford Coppola is launching The Grower's Series by Francis Ford Coppola, a cannabis lifestyle brand, starting with a limited edition collection featuring three appellation-specific organic cannabis flower strains selected to offer distinct and memorable experiences.
In a news release, the six-time Academy Award winning director, entrepreneur, and winery owner, said he created his newest company to give life to a vision for pioneering the highest quality, sun-grown cannabis products through sustainable farming.
"Wine and cannabis are two ancient and bounteous gifts of Mother Nature, linked by great care, terroir and temperateness. Expertise making one applies to the other," Coppola said.
Wineries aren't legally allowed to sell cannabis: This venture is separate from the Francis Ford Coppola Winery, and involves a licensing partnership with growers in Humboldt County.

The collaboration follows California's move earlier this year to allow the private cultivation and recreational use of cannabis for those aged 21 and over. Few cannabis offerings thus far are branded in this manner. The goal of the new venture is to sell online and to dispensaries while continuing to connect the messaging with Francis Coppola Wines and The Francis Coppola Winery.
The Grower's Series by Francis Ford Coppola limited edition collection is produced by Johnny Deim and Brett Todoroff of the Humboldt Brothers.
"This is another avenue we've created for a tasting experience," Francis Ford Coppola Winery Chief Executive Corey Beck told Wine Business Monthly.
"We need to be able to market to our consumers, wherever they may be. If they are in a dispensary, they can see that bottle and it may resonate with them the next time they see that bottle when they're in a Safeway or Kroger," Beck said. "The more we can get out in front of our consumers and attract new ones, the better."
The release said The Grower's Series by Francis Ford Coppola will engage California's growing number of recreational and medicinal users discovering (or rediscovering) cannabis. "Education is important so that cannabis-curious consumers can engage in the emerging space with knowledge to safely discover preferences and with confidence to maximize enjoyment. Throughout launch, The Grower's Series by Francis Ford Coppola is collaborating with The Herb Somm, a lifestyle brand that addresses the gourmet side of the cannabis industry."
The initial limted edition offering includes a tin canister shaped like a 375 ml wine bottle with three grams of flower. "Each strain offers a unique experience that reflects the diverse Humboldt County microclimates."

"There is an uplifting and creative sativa-dominant strain that is cultivated at Tan Oak Farms (elevation 1,700 feet) where the climate is warm from continuous sunshine. An indica-dominant strain that relaxes the body and mind is nurtured at Benbow Farm (elevation 600 feet), and a truly hybrid experience influencing enhanced mood and focus is grown at the Salmon Creek Farm (elevation 2,400 feet) where this strain benefits from cooler temperatures and diverse soil."
Starting November 1, Northern California residents can pre-order through the licensed retailer www.CaliChill.com for delivery to personal residence mid-December through year end, or find it at select California dispensaries.
Earlier this year Constellation Brands announced it would invest $4 billion in Canopy Growth, a diversified cannabis company.