St. Francis Buys 80-acre Chardonnay vineyard in the Russian River Valley for $9.2 Million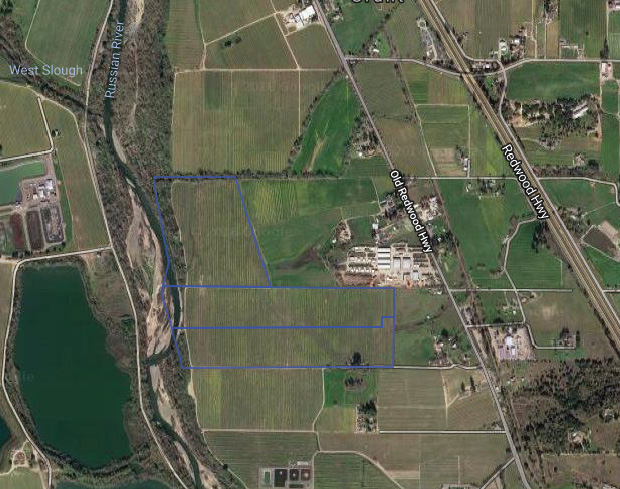 St. Francis Winery and Vineyards purchased the River East vineyard, currently planted to Chardonnay, in the Russian River Valley appellation near Healdsburg. Map courtesy of ParcelQuest
St. Francis Winery and Vineyards has purchased an 80-acre vineyard in the Russian River Valley for $9.2 million, according to a company announcement and county records.

The winery last week purchased the land off Old Redwood Highway near Healdsburg from Silverado Sonoma Vineyards LLC, a company based in Napa.

St. Francis Winery and Vineyards now owns nearly 500 acres of planted vineyards in Sonoma County. The company also owns three other estate vineyards in Sonoma County – one in the Russian River Valley and two others in the Sonoma Valley.

"This acquisition will assist in further solidifying the platform for our future growth opportunities. We look forward to continuing to invest in Sonoma County," Rick Bonitati, president and chief executive officer at St. Francis Winery and Vineyards, said in a written statement.

The vineyard, currently planted to Chardonnay, will supply St. Francis Winery's Sonoma County and Artisan Collection wine programs, said Kristin Coughtry, a representative for St. Francis Winery and Vineyards. Known as River East, the property will be replanted in multiple varieties, possibly beginning next summer.

A two-bedroom house is on the land purchased from Silverado Sonoma Vineyards, according to ParcelQuest. The future plans for the house are unknown.

The winery, which currently produces 200,000 cases a year, sources about half of its fruit from growers throughout Sonoma County.

St. Francis Winery and Vineyards is part of the French American Vintners group, which is owned by the Kopf family. French American Vintners' other properties in the United States and France include Sequoia Grove in Napa, Resonance Vineyards in the Willamette Valley in Oregon as well as Maison Louis Jadot, Maison Jean Loron, Domaine Ferret and Chateau de Jacques. The Kopf family also owns the importing, sales and marketing company, Kobrand Corporation.

Silverado Sonoma Vineyards LLC is a division of Westchester Group Investment Management Inc., a Delaware corporation.