Saverglass Celebrates New Acatlan Plant at Opening Ceremony
Saverglass, a premium glass company headquartered in France, officially celebrated the opening of its fifth bottle production plant in Acatlan de Juarez, just outside of Guadalajara in Jalisco, Mexico on October 18, 2018.
At a conference and tour for press, clients and team members, hundreds gathered to celebrate and see the new $120 million facility. The ceremony was led by Saverglass CEO Loic Quentin de Gromard, managing director Jean Marc Arrambourg and Governor of Jalisco Jorge Aristóteles Sandoval Díaz, who presented the team with a plaque to commemorate the occasion.
"Jalisco is a state that is more than tequila or mariachi or charros. It's a state that wants innovation in Mexico. It is a phenomenal place to create innovation," said Sandoval Díaz. "With this plant, we are trying to bring together not only our countries, but our nature and essence. I'm looking forward to the brotherhood that brings together French, Mexicans, Americans and Canadians. If Saverglass is well and successful, then Jalisco will be well and successful."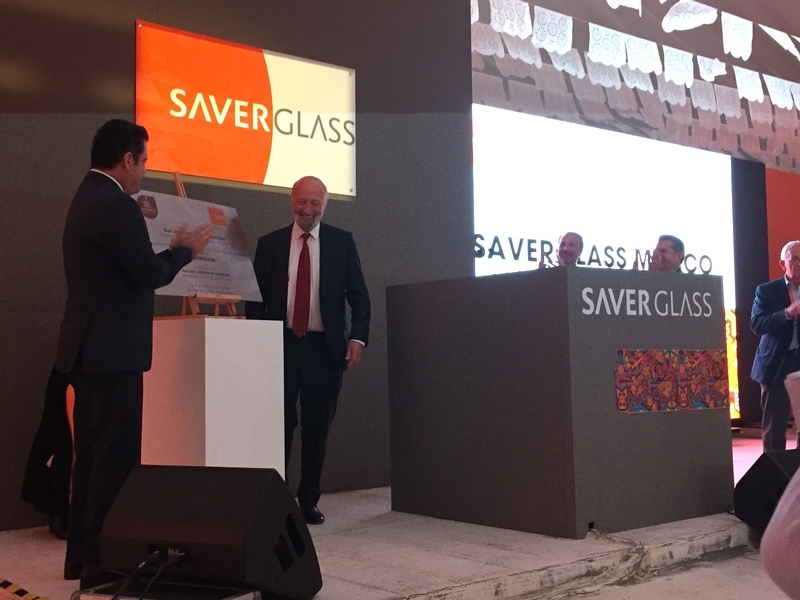 Governor of Jalisco Jorge Aristóteles Sandoval Díaz (left) and Saverglass CEO Loic Quentin de Gromard (right). Photo: Wine Business Monthly
The New Facility Specs
Built to serve the North, Central and South American wine and spirits markets, the Acatlan de Juarez site serves as a more efficient alternative to shipments from the company's existing plants in France and the United Arab Emirates—its proximity to nearby ports, railways and trucking options can decrease shipping time by 2 months, according to Arrambourg, who will take over as CEO from current leader Quentin de Gromard in November.
Its location was also a strategic decision based on projected growth of the premium drinks market. Arrambourg cited some key statistics: There has been a 32.2 percent increase of craft distillers in the Western United States and a 29.8 percent increase in the South in the last five years; and the Mexican tequila market (of which he reports that 45 percent is considered premium and has fostered a culture of complex bottles) has grown by 10 percent in that same time frame. In addition, increasing interest in unique, highly decorated bottles has also been shown by the American wine industry.
Construction of the facility was completed in 327 days. In addition to a 5,700 square foot batch plant, a 72,000 square-foot decoration building, a 29,00 square-foot packaging stock building and a 236,000 square-foot finished product stock building, the company had to build its own train station and lay 70 miles of railway track to connect to the national railway system.
"It is a powerful plant, but with the flexibility to serve small, medium and big brands. Always," Arrambourg said. Using its patented Qualiflex process, machines can currently produce 120 bottles per minute, using two separate models (e.g. one screw cap and one cork closed).
Production began on June 2, 2018, and the company plans to produce 120 million bottles out of the facility, bringing the company total to 700 million bottles. Currently, production is operating off of one furnace, though there is space enough to add two more, which will be added as needed.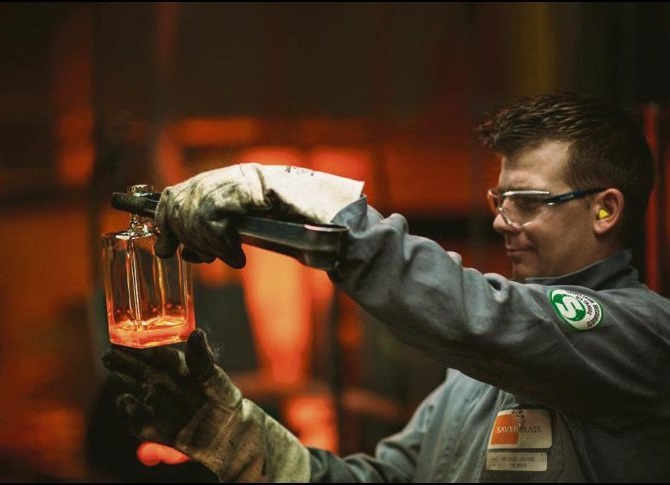 An employee inspects a newly made spirits bottle. Photo: Saverglass
Saverglass' decoration plant is fitted with a one machine for automatic screen printing and six for semi-automatic, two lehrs for enamel and organic inks, and one line for each water-soluble varnishes, coating samples and pre-series, UV printing and a pilot line for semi-automatic hot stamping.
Plans are in the works to add in a sandblasting machine and a line for frosting and enabling the "oily" effect. Under construction is an acid etching unit, which should be operational by mid-2019.
"[The plant's] designers had no delusions of grandeur in creating such an impressive structure, only a vision for future growth and expansion. The goal is to leave all options open for expanding our capacities, for adopting technologies that don't yet exist," said Quentin de Gromard. "The large degree of automation you will see serves as a guarantee of both quality and production consistency."
Twenty French and 100 U.A.E. employees have been brought in to assist in production with 320 newly hired Mexican employees (more than 5,000 candidates applied). That number will likely grow as more furnaces are added and production increases.
"Above all, this was a human endeavor, a cultural adventure, bringing together 320 employees in Mexico and their 120 colleagues from France and the United Arab Emirates, who all worked so hard to ensure the successful start of these factories," said Quentin de Gromard.